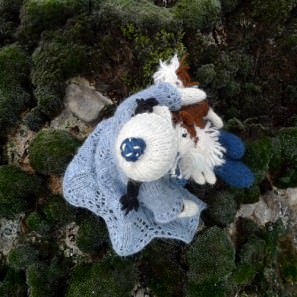 Vetrar tölublaðið er komið út
!
Einhver ykkar hafa kannski skoðað það á ensku eða frönsku, en það tók svolítinn tíma að koma því út á íslensku líka. Til að fagna íslensku útgáfunni verður
happdrætti á Facebook
síðu Hélène Magnússon (nánari upplýsingar hér fyrir neðan).
Það eru margar fallegar uppskriftir í nýja tölublaðinu, bæði eftir mig og aðra sjálfstæða hönnuði. Ég kynni líka nýja garnið mitt, Love Story, sem er 100% íslensk, einstaklega mjúk og fíngerð ull.

Harpa Jónsdóttir gleður okkur aftur með hugljúfri sögu úr flokknumÆvintýri Theodóru. Í þetta sinn hittum við hana Oliviu og duglega hundinn Smala. Mig langar að nota tækifærið og segja ykkur að það var að koma út ný skáldsaga eftir Hörpu, Eitt andartak í einu, sem Salka gefur út.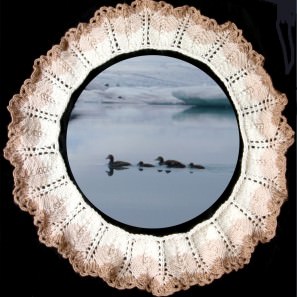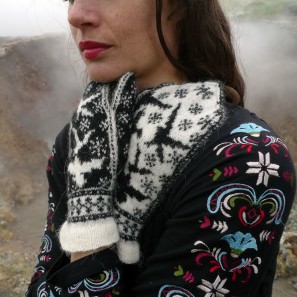 Dagskrá göngu- og prjónaferðanna fyrir árið 2012

er tilbúin

. Hvernig væri að fara á prjónanámskeið (kannski á gönguskíði líka) í Landmannalaugum í vetur? Eða að prjóna peysu, gangandi yfir Fimmvörðuháls? Allar göngu- og

prjónaferðirnar eru jafnt fyrir íslenskt sem erlent prjónafólk.

Vertu með, þetta er óviðjafnanlegt tækifæri til að kynnast ólíkum prjónaaðferðum í hópi fólks frá mismunandi löndum. Athugaðu að þú gætir fengið lægra verð en það sem gefið er upp, ef þú þarft ekki að gista á gistiheimili í Reykjavík (kannski býrð þú þar, eða getur gist hjá vinum eða fjölskyldu). Hafðu samband við dagny@mountainguides.is til að fá tilboð.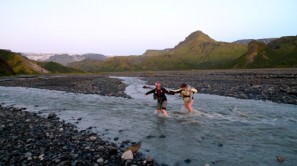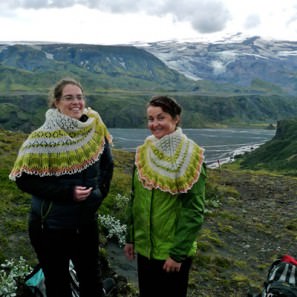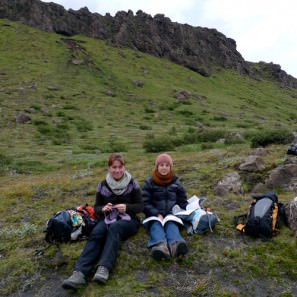 Facebook Happdrætti

: það er auðvelt að taka þátt.

-Smellið á ,,líka við" á Facebook síðu Hélène Magnússon
-Setjið athugasemd undir póstinn ,,happdrætti" og segið mér hvaða þrjár uppskriftir frá nýja tölublaðinu ykkur líka best.
– Ef þið viljið tvöfalda vinningslíkurnar, deilið þá með vinum ykkar og kvittið aftur á vegg síðunnar. Þá farið þið tvisvar í ,,pottinn".
– Fimmtudaginn 15 des. kl. 10 verða dregnir út 3 heppnir vinningshafar, sem vinna þrjár uppskriftir hver, að eigin vali.
Gangi ykkur vel!

PS: this is a special post for Icelanders only about the coming of the Issue 04 in Icelandic, I was running late with it!
PS: un spécial islandais, vous l'aurez compris, pour célébrer le no 4 qui est sorti en islandais, un peu plus tard!