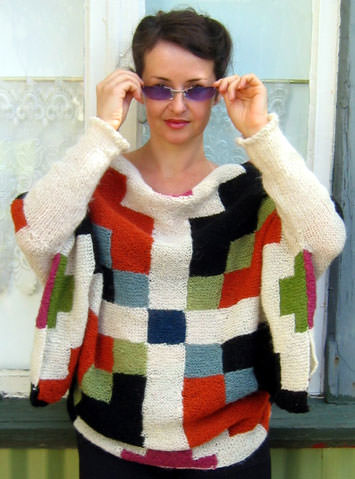 Hélène Magnússonis a leading knit designer in Iceland. Born in 1969, she has both the Icelandic and French nationality but was brought up in France. She began her professional life as a lawyer in Paris before she made a complete life change and moved to Iceland in 1995. There she learned the language while working in a sheep farm and soon after studied mountaineering and Textiles and Fashion Design at the Iceland Academy of Arts. She worked as a cook during the winter and a mountain guide during the summer. The varied skills she learned in those early years richly inform her work today and make for her unique approach to design and sense of style.
Hélène's passion for textiles led her to extensively research Icelandic knitting traditions. She is the author of two important patterns books about Icelandic knitting: Icelandic Color Knitting: using rose-patterns brought back to life the unique Icelandic intarsia as seen in old shoe-inserts and Icelandic Handknits: 25 Heirloom projects and techniques gives an overview of the various knitting traditions in the 19th century and beginning of 20th century. Her expertise has earned her the respect of textile historians and museum curators in Iceland and worldwide. Hélène believes the best way to preserve traditions is to continue using them.
This is what led her to found The Icelandic Knitter (icelandicknitter.com) in 2010, dedicated to the Icelandic knitting heritage. Hélène's aim is to revive traditions and give them new life: she publishes unique patterns inspired by the past with a modern twist, produces specialty Icelandic yarns Love Story and Grýla, teaches, lectures and organizes hiking and knitting tours in Iceland for knitters around the globe. Along the way, she shares her love of Iceland's breathtaking nature, her insights into traditions and culture, and her knitting expertise through workshop intensives making for a one of a kind experience and an unforgettable journey to the land of fire and ice.
Partners
All the knitting tours are organized in close parnership with Icelandic Mountain Guides – Iceland Rovers, a leading tour operator in Iceland with over fifteen years of experience serving customers from all over the world. They offer a great selection of guided adventure tours in Iceland and Greenland, including hiking, glacier tours, backpacking, trekking, mountain climbing, ice climbing, cross country skiing and … knitting tours!
Ístex wool producer kindly provides yarn support for all our projects using their yarns. Wool processing has been a trade in Mosfellsbaer since 1896, previously with the the company Álafoss of Iceland until the company Ístex was formed and took over the wool processing in 1991. Istex is buying the wool directly from the farmers in Iceland and then process it to yarns. It is Iceland main wool producer.