Tuto: les boules feutrées de Théa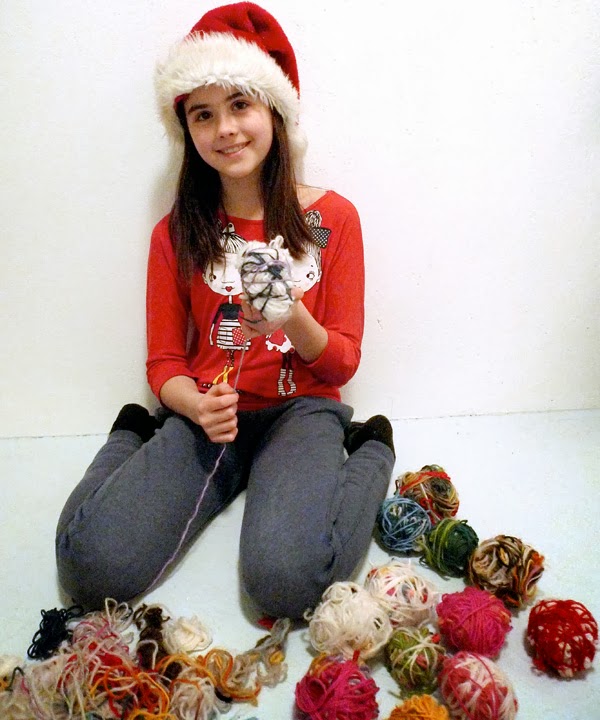 Scraps yarns, leftovers, tangled yarns, bits of knit: what to do with them? Felted balls says Thea!
Que faire avec tous ces restes de laine, ces fils emmêlés, ces bouts de tricot? Des boules en feutre dit Théa!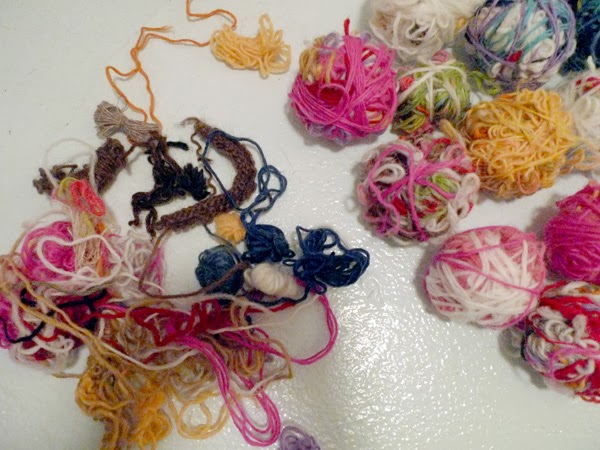 Start making a tight little ball to give a rounded form, then win yarn around. Be aware, this works only with fibers that felt such as wool (no superwash!) Théa used mostly
lopi
scraps and the left overs from my
Elves Lights
.
Commencez par faire une petite boule bien serrée pour donner une forme ronde, puis enrouler la laine autour. Attention cela marche seulement avec des fibres qui feutrent comme la laine (pas de superwash!) Théa a utilisé essentiellement des bouts de lopi et les restes de mes Lumières des Elfes.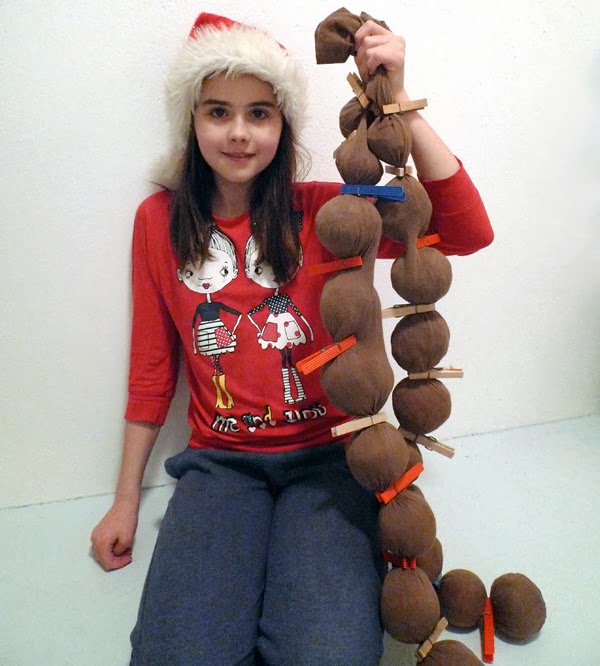 Toss the yarn balls in an old tight with pins in between and hop, in the washing machine! This a pre-felting: best to remove the balls from the tights before they are completely felted and "stick" to the tights. A lid-opening machine will allow you to check the process as it felts. Théa simply added the "sausage" to my usual laundry (medium cycle, 40-50°C).
Enfermez les boules dans un vieux collant et des pinces à linges entre et hop, dans la machine à laver! Il s'agit d'un pré-feutrage: il vaut mieux retirer les boules du collant avant qu'elles soient complètement feutrées et "attachent" aux collants. Une machine à ouverture sur le dessus permet de vérifier le processus en cours. Théa a simplement ajouté la "saucisse" à ma lessive habituelle (cycle moyen, 40-50°C).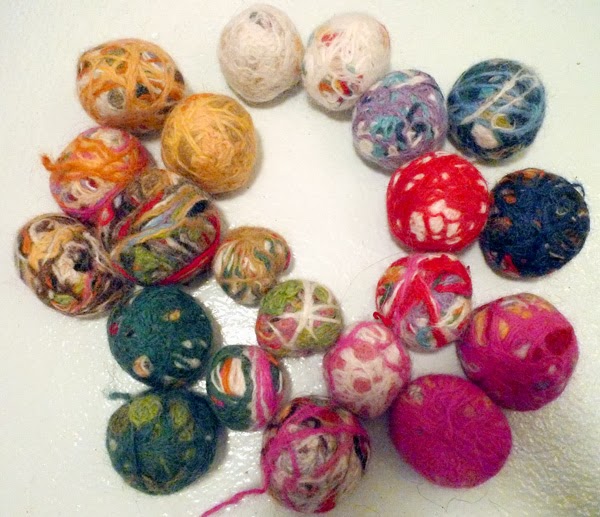 This is what the balls look like after pre-felting. Repeat process until heavily felted. You can do it in the washing machine but also, like Théa, in the dryer: put the wet balls in a plastic bag and run in hot dryer for as long as required.
Voici ce à quoi ressemblent les boules pré-feutrées. Répétez le processus jusqu'à ce qu'elles soient complètement feutrées. Vous pouvez le faire dans la machine à laver mais aussi comme Théa, dans le séchoir à linge: enfermez les boules mouillées dans un sac plastique et faites tourner dans le séchoir bien chaud aussi longtemps que nécessaire.
Voilà!