L´heure du thé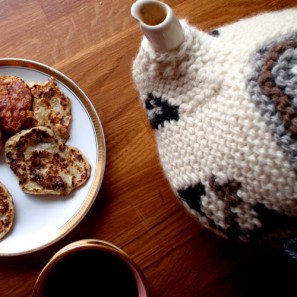 It´s tea time and I have a tea cozy pattern published in latest
Yarn Forward
British magazine. I didn´t get the magazine yet but I can show you some pictures, not the best, I took before I sent the samples over.
C´est l´heure du thé et j´ai un modèle pour théière publié dans le dernier magasine anglais
Yarn Forward
. Je n´ai pas envore vu le magasine mais je peux vous montrer les quelques – pas excellentes – photos que j´ai prises avant d´envoyer les prototypes.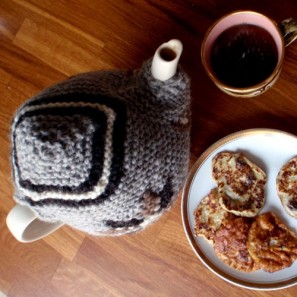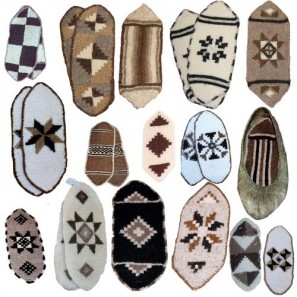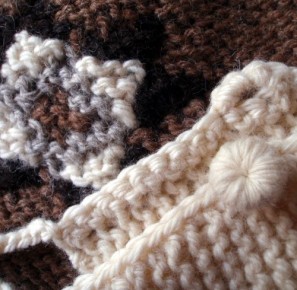 This tea cosy was the perfect occasion for me to talk about
my book
and the old technique of Icelandic intarsia, mostly seen in old Icelandic inserts in shoes from the past centuries. The tea cosy is, in fact, constructed almost exactly like a pair of inserts.
Ce cache-théière était pour moi l´occasion de parler de
mon livre
et de la technique du tricot jacquard islandais, qu´on trouvait dans les vieilles semelles tricotées portées dans les chaussures souples en Islande aux siècles passés. Le cache-théière est , de fait, construit presque exactement comme une paire de semelles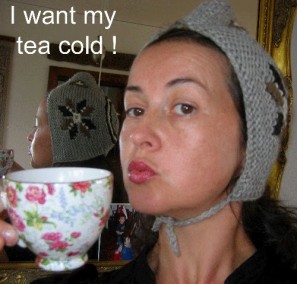 The tea cozy is knitted in garter stitch as most inserts were: this ensured that a great deal of air was captured between the stitches, which made them warmer. But, hey, I want my tea cold!
Le cache-théièreets tricoté au point mousse comme les semelles l´étaient: de cette façon, une grande quantité d´air était prisonnière entre les mailles les rendant plus chaudes et isolantes. Mais, ben quoi, je veux mon thé froid!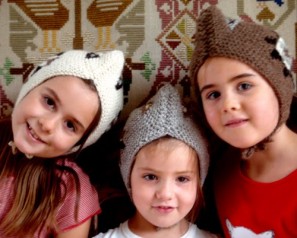 It´s not fair, we can´t drink tea! Mum doesn´t allow!
C´est pas juste, on n´a pas droit de boire de thé! Maman veut pas!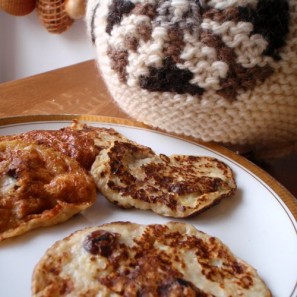 Pattern won´t be available on my website before 6 months, but I can, at least, let you have the recipe of the Icelandic pancakes:
In the spirit of the old inserts (using yarn left overs) and to go with the hot tea, here is a recipe for traditional Icelandic pancakes, called
lummur
, main ingredient being whatever is left of the morning's oatmeal porridge. Rice pudding can also be used. When I was given the recipe, I was told to "blend a little bit of everything altogether". This is best with raisins, I think. Mix together about 3 cups oatmeal porridge (or 1 cup oatmeal soaked in 1 cup milk/water overnight, raisins optional), about 2 tablespoons of flour, 1 egg, a little salt, sugar optional and to taste. Add milk until the batter is reasonably thick to pour.
Cook on a frying pan with a little bit of butter over medium heat. Using a tablespoon, pour batter in pan to form small round pancakes. Brown on one side and turn to cook the other side. Recipe makes about 20-25 lummur.
Le modèle ne sera pas disponible sur mon site avant 6 mois, mais, en attendant, je peux vous donner la recette des petites crêpes islandaises qui va avec:
Dans l´esprit des vieilles semelles (utiliser les restes de laine) et pour accompagner le thé, voici la recette des petites crêpes traditionnelles islandaise, appelées lummur. L´ingrédient principal en est les restes de bouillie aux flocons d´avoine du matin (comme le cache-théière, typiquement anglais aussi). On peut aussi utiliser les restes de riz au lait, et pour dire vrai, "un peu tout et n´importe quoi". C´est en tous cas ainsi que la recette m´a été transmise. Je les préfère avec des raisins secs. Mélanger ensemble 3 tasses de bouillie (ou une tasse de flocons détrempés pendant la nuit avec 1 tasse de lait ou d´eau), 2 cuillères à soupe de farine, 1 oeuf, une pincée de sel, du sucre selon le goût. Ajouter du lait jusqu´à ce que la pâte fasse le ruban. Avec une cuillère à soupe, verser des petits ronds dans une poêle beurrée et faire dorer de chaque côté feu moyen. La recette permet de faire une bonne vingtaine de lummur.