I know it often doesn´t look like that, but when I´m away (manage to escape from) my computer, I do knit a bit. Not as much as I´d like, though. Here are my latest projects:
Lorsque je ne suis pas (arrive à échapper à) mon ordinateur, je tricote un peu, si, si. Pas autant que je le voudrais, mais voici mes derniers ouvrages: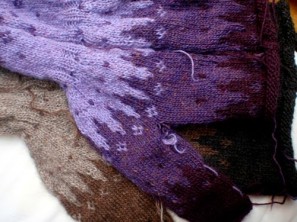 Three
Olga sweaters
waiting to be finished. Had to knit two in browns because Miss Sylvía didn´t like my first color sheme (she could have said it before I reached the hood, though…). The lilac Olga is for little Olga, Olga´s latest great-grand child, lilac being Olga´s favourite color. I´m working on the pattern (on the computer…).
Trois pulls
Olga
attendant d´être terminés. J´en ai tricoté deux en brun parce que Mlle Sylvía n´aimait pas mon premier assortiment de couleurs (elle aurait pu le dire avant que je n´arrive à la capuche d´ailleurs…). Le Olga violet est pour la petite Olga, la dernière arrière-petite -fille de Olga, le violet étant la couleur préférée de Olga. Je travaille les instructions (sur l´ordinateur…).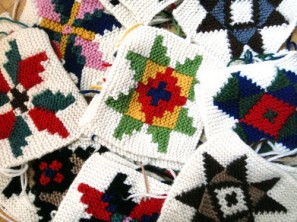 Des carrés Granny revisité en tricot jacquard islandais. Un project pour
Knitpicks
, avec leur
Swish Worsted Yarn
, une mérino lavable en machine, toute douce.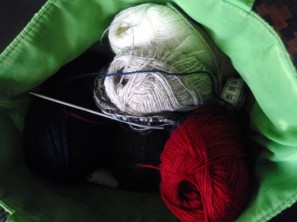 A secret pair of socks, to be published in a wonderful book by
Voyageurs Press
. Deadline is getting closed and I have to hurry!
Une paire de chaussettes, projet secret qui sera publié dans un merveilleux livre par
Voyageurs Press
. La date limite est pour bientôt, il faut que je me dépêche!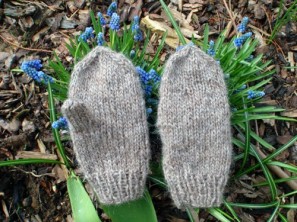 In the car, I knitted really quick a new pair of mittens for Théa who had lost hers : it´s still cold in the mornings bicycling to school. It would nave been nice to have more colors available, but at least, they are a perfect fit on her hands. May be I embellish them with a bit of embroidery later…
Dans al voiture, très vite, j´ai tricoté une nouvelle paire de moufles pour Théa qui aviat perdu les siennes: il fait toujours froid le matin à vélo sur le chemin de l´école. Ca aurait été plus joli si j´avais eu plus de couleurs sous la main, mais au moins les moufles sont faites sur mesure et lui vont…comme un gant! J´y ajouterai peut-être une petite broderie, plus tard, un jour…