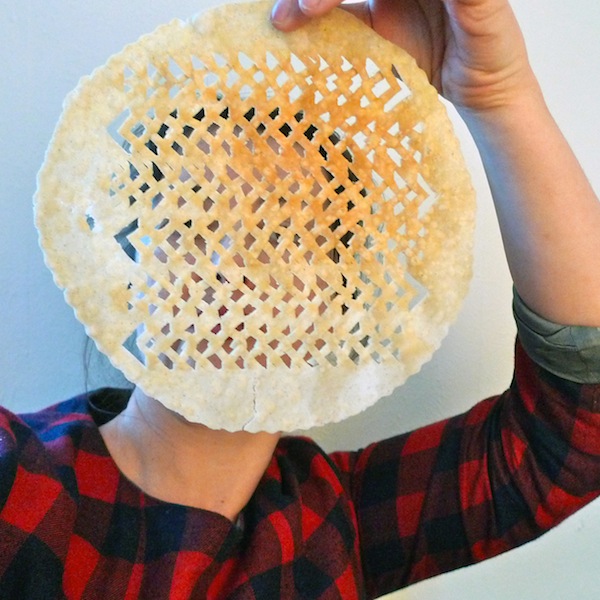 I don't really get into a Xmas mood before we made Laufabrauð (leafbread), a traditional festive bread from the North of Iceland, made at times when wheat was scarce. It is a very thin bread, but artistically decorated to make up for the poor dough. Like often, we had "open house" on Sunday with family, neighbourgs and friends gathering to cut the delicate motifs in the bread. There are different recipes: I included the one from my family in my book "Icelandic Handknits" and here it as well:
4 1/3 c. (1000 g) flour
¾ c. (200 g) rye flour
1 tsp. sugar
1 tsp. salt
¼ c. (50 g) butter, melted
4 1/3 c. (1 l) warm milk
Oil or fat for frying (about 1 liter)
In a large mixing bowl, combine flour, rye flour, sugar, and salt. Add melted butter, warm milk (heat it to just below the boiling point then allow to cool slightly) until you obtain a smooth dough. Flatten the dough into very thin circles, like pancakes. Decorate by cutting out patterns with a sharp knife. Using the tines of a fork, poke holes all over the dough circles (to prevent the formation of bubbles when frying). To prevent the dough from drying out before frying, stack the breads on top of one another, placing a sheet of parchment paper between each. Heat oil or fat in a deep pan until very hot (180°C). Using 2 forks to put them in oil, fry the circles of dough for about 1 minute on both sides until golden then immediately press the bread between newspaper and papertowels with a flat pot lid. Store the breads stacked in a tin box in a cool, dry place so that they don't break. Laufabrauð is traditionally eaten with hangikjöt (smoked lamb).
Sometimes I replace the rye flour by buckwheat flour: it tastes different but mostly it makes it a bit easier to flatten the dough (a hard job usually carried on by my husband).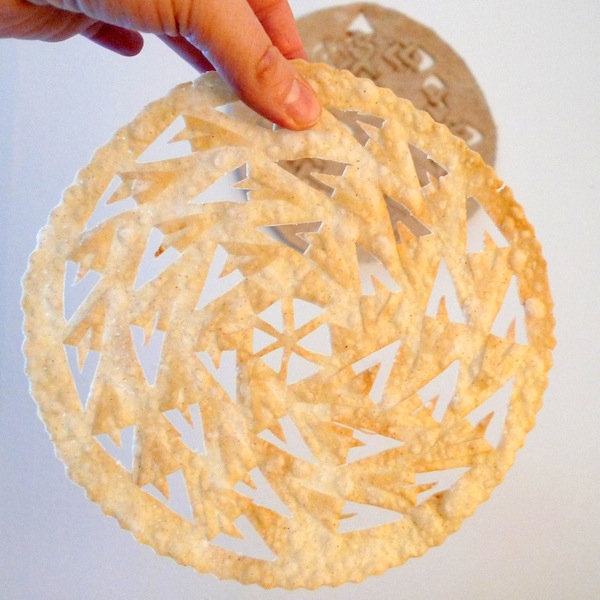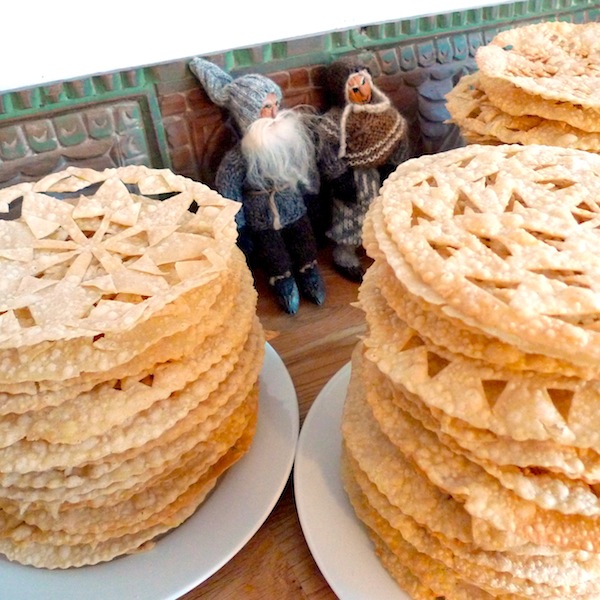 The fun part is of course the cut out. They are many traditional Laufabrauð patterns, but you also have the freedom be creative. Here are the basic cuts: cut and fold triangles on top. At bottom, cake is fold in two, cut, opened again, then every other arrow motif is folded making the typical leafbread braids. In my family, we use mostly a knife but you also use a metal wheel that you can roll in the dough to cut the arrow motifs.