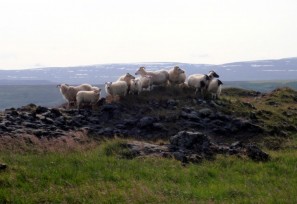 In North of Iceland, we stopped at the farm where I worked at the time and learned Icelandic.
Au Nord de l´Islande, nous nous sommes arrêtés dans la ferme où j´ai travaillé à l´époque et appris l´islandais.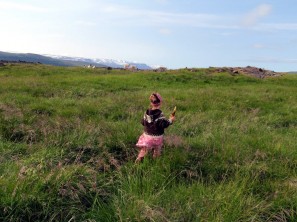 The girls tried and tried to give milk to drink to a few lambs. They had been bottle-feeded during the spring but as much as the lambs showed an high interest in the bottle full of warm milk, adult cheeps decided they would not be approached…
Les filles ont essayé encore et encore de donner le biberon aux agneaux. Certains avaient été nourris au biberon au printemps. Les agneaux se seraient bien laissés tenter par le lait tiède mais les moutons adultes ont décidé qu´ils ne se laisseraient pas approcher…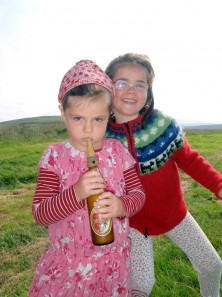 Well, the milk was not lost for everyone !
Le lait n´a pas été perdu pour tout le monde !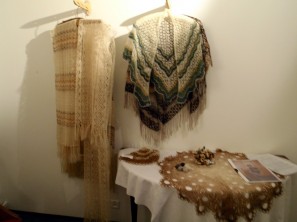 On our way back to Reykjavík, we marvelled at the Textile Museum in Blönduós. Handed over with white gloves, you are allowed to actually touch the garments. A real treat !
En retournant sur Reykjavík, nous avons fait une halte au Musée textile de Blönduós. Les maisn gantées de blanc, il vous ait permis de toucher. Un vrai bonheur!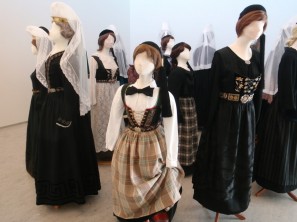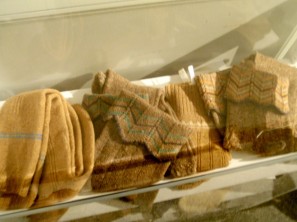 I always feel touched when I meet again the old knitted insoles that have inspired me…
Je me sens toujours un peu chose lorsque je revois les semelles tricotées qui m´ont inspirées…