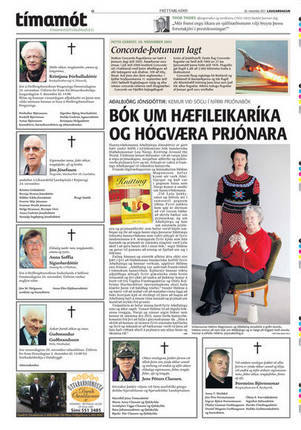 There was a nice interview with me in the Icelandic paper Fréttablaðið last Saturday about the book
Knitting around the World
by Lela Nargi where I said how important it is to preserve the work of
Aðalbjörg Jónsdóttir
. Aðalbjörg, who is approaching 95 years old, was so happy with it!
Une jolie interview avec moi dans le journal islandais Fréttablaðið samedi passé à propos du livre
Knitting around the World
de Lela Nargi où j'explique l'importance de préserver le travail de
Aðalbjörg Jónsdóttir
. Aðalbjörg, bientôt 95 anS, était aux anges!
PS: the results of the giveaway for the book Knitting scarves around the world is online,
HERE
.
Sinon les résultats du petit jeu pour gagner le livre sur les écharpes est en ligne ICI.