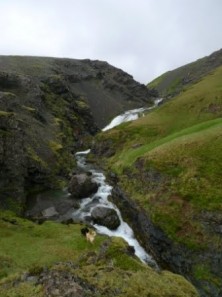 Finally back home after a great first knitting trip . Participants were coming from the US, Canada, UK and even Australia!
Finalement de retour à la maison après un fanstastique premier voyage de tricot. Les participantes venaient des Etats-Unis, du Canada, de Grande-Bretagne et même d´Australie!
First contact with raw Icelandic wool at Rita´s where we also got a bit crazy with buttons and jewels made of sheep and deer horns… The process to transform the horns take at least one year.
Largest natural hot spring in Iceland.