As you probably know if you follow my Instagram feed or Facebook page, I have spent almost 2 weeks in Shetland: I was lucky to have been invited to teach at Shetland Wool Week and then took a few days off to see a bit more of the islands with my middle daughter Theodora, who joined me the last week (this trip alone with her mum was her 13 years old's birthday present!). I didn't just love the landscapes, which remind me of a strange mix of Iceland, the isles of Bretagne and my native Normandy, the inhabitants so generous of their time and so easy to talk to, all the cute animals (those ponies!!), not to mention of course all the fabulous people, designers, teachers, students, friends, spinners, dyers, wool producers that I met during the Wool Week, I was completely amazed by the facilities available on such a small island and the diversity that is to find in the wool industry and it got me to reflect on this other and bigger island that Iceland is and on the Icelandic wool industry and see my own work with different eyes. The whole experience has been fabulous and quite nourishing and I'm not sure how to summarize this trip and make a choice between the hundreds of pictures I took. So I thought I'd simply show you what I came back with in my luggage. Miraculously, it all fit into the Shetland Wool Week bag beautifully illustrated by Felix aka Felicity Ford aka Knitsonik.
YARNS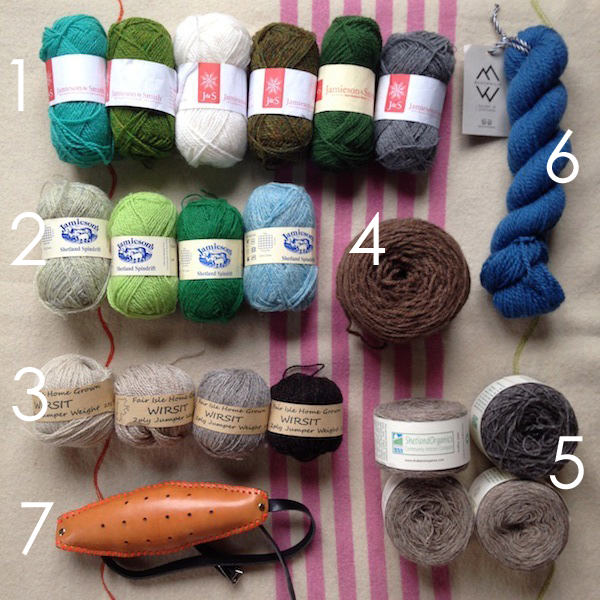 First of all I brought back yarn! I chose mostly Jumper weight yarns which is a weight I feel is missing in Iceland and that I don't have the occasion to use that often.
1. Shetland Yarn from Jamieson & Smith:
Jamieson & Smith has the greatest choice of handknitting yarns, from very fine cob web to chunky ones. The wool is carefully sorted by hand and used in different types of products. It is sorted locally in Shetland then send to the mainland to be spun into yarns. It was absolutely fascinating  listening to Oliver at Jamieson & Smith about the process of sorting the wool and grading it, from the roughest to the finest. The roughest find a débouché into carpeting, the medium quality goes into blankets whereas the fine wool is used in the handknitting yarns. Then the finest wool let to the development of  delightful luxury yarns such as the very soft Shetland heritage, a reproduction of the yarn used in old Fair Isle knitting (handspun wursit), coming into delightful vintage colors. The Shetland Supreme Lace 2 ply and Supreme Lace 1 ply (cob weight) are absolutely amazing, they were developed with the Shetland Museum and Archives as part of the Shetland Fine Lace Project– I didn't bring back any since I have already plenty at home (I'm using them in my upcoming Icelandic lace dresses book) but I was happy to see their birth place. I was  also really  impressed by the numbers of natural colors (undyed) that are offered in the Shetland Supreme Jumper weight.  I wish we had that choice in Iceland!
I chose mostly Jumper weigh 2 ply and Shetland Heritage  but also a skein of 2 ply Lace to mend a sleeve of my Flag cardigan which I have destroyed in a door some years ago…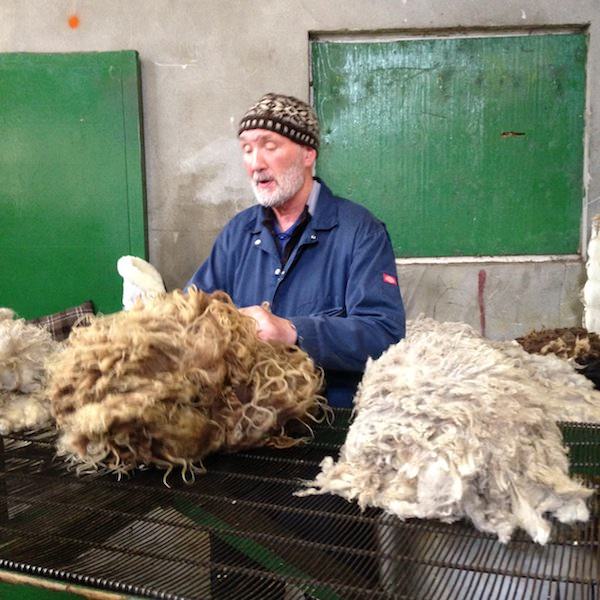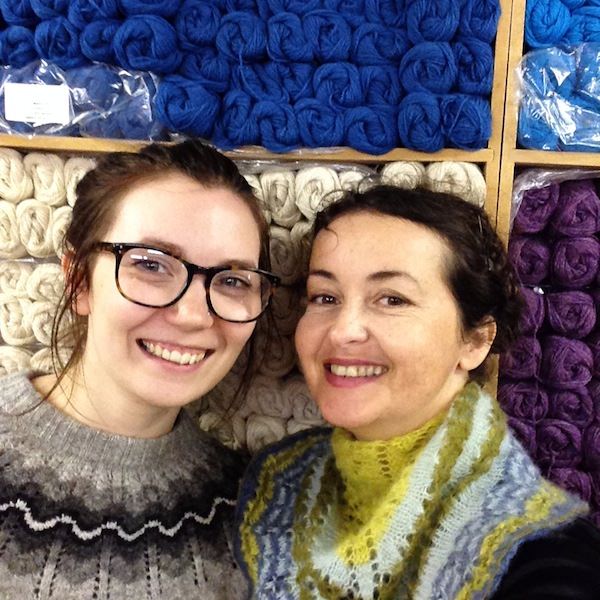 Posing in front of the yarn wall with Ella
2. Shetland Yarn from Jamieson of Shetland
Jamieson of Shetland is the only spinning mill in Shetland and is located in Sandness. They make beautiful yarns in an amazing range of colors but also produce a lot of machine knitted items like sweaters and weave beautiful tweeds (see 19 and 26). I brought back some Spindrift And Double Knitting (jumper weight again).
3. Fair isle Home grown Wirsit from Kathy Coull
This is a small production using exclusively the wool from the sheep that grow in the island of Fair Isle, the one famous for its colorful stranded knitting and that give the name to Fair Isle knitting. The wool is send to the mainland in a mill that take little quantities at the time – the minimun is only 20 kg. It comes into natural sheep colors, undyed and 2 weights, Aran and Jumper weight. I brought back the Wirsit (jumper weight), in all but one of the natural colors.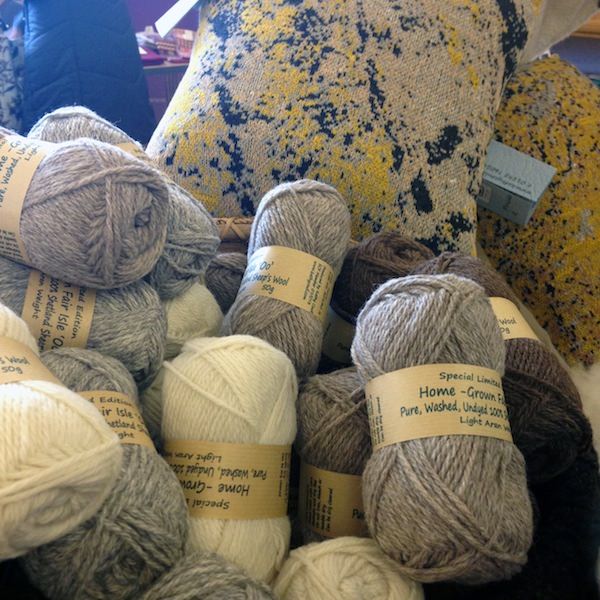 4. Foula wool
This is another example of a small production using the wool from the island of Foula. Having been quite isolated, the sheep there are probably the closest to the native Shetland sheep. Making yarn from their wool is not just about making a rare product, it's also about preserving the sheep by making a sustainable business. I must say I completly fell in love with the sheep that remind me of the Icelandic ones. Again the wool is sent to a mill on the mainland that take only little quantities at the time. I got one big ball of what was left – in aran weight!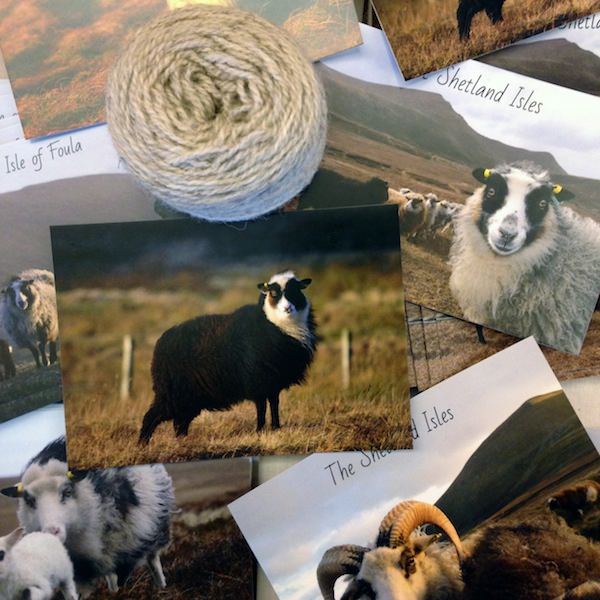 Shetland Organics is a Community interest company regrouping farmers . Organic yarn means There are  yarn
6. Buachaille from Kate Davies:
Kate and Ella made a presentation of their respective collection of vintage sweaters that was fascinating. I was so lucky that Kate gave me a skein of her new yarn Buachaille in a lovely "Between wheathers" shade of blue.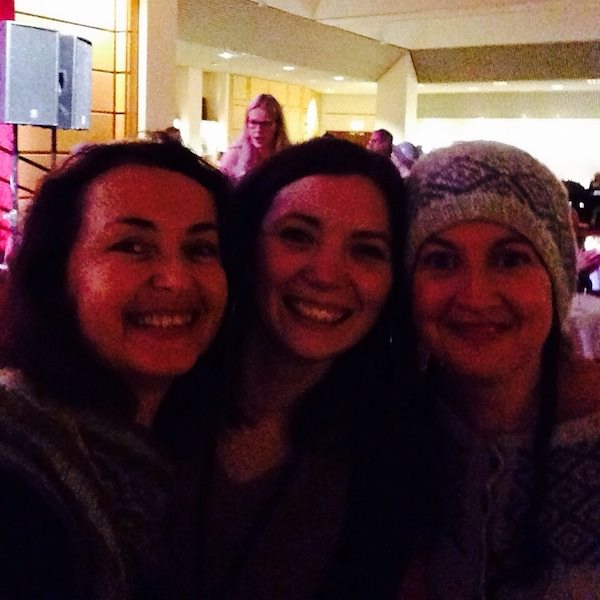 7. Knitting belt: made of leather and stuffed with horse hair.
Thea and I went to a Maakin and Yaakin informal knitting session at the Scalloway Museum and learned to knit with a belt in the traditional Shetland way.  It's a very clever way to knit in the round (half of the stitches at a time), while being able to easily free your hands if you need to attempt other duties (like preparing the meal). Basically, you knit with three needles: one needle, hold in the belt, works as sort of an arm and the stitches on it are knitted with the other two needles. We exchanged our books with our lovely teacher and I taught her Magic loop on a circular needle!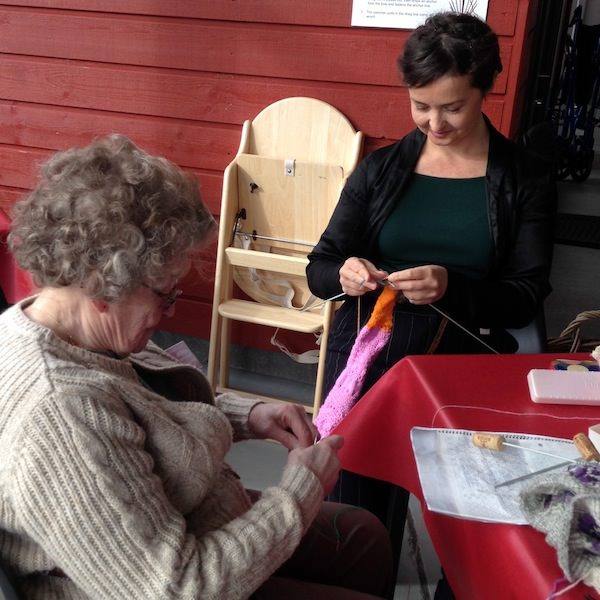 BOOKS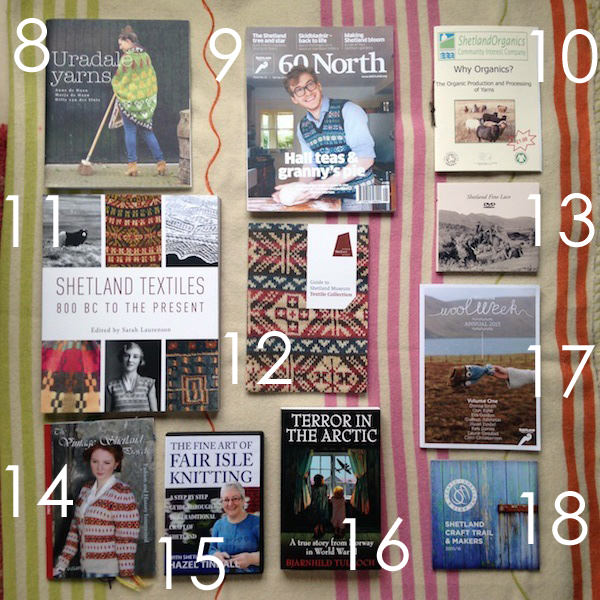 8. Uradale yarns:
Uradale farm is where I was staying during my journey: in the millogordo cottage with a grass roof and surrounded by sheep: it felt just like home!
Most of the little yarn productions are in the natural sheep colors and I was happy to see Uradale beautiful organic yarn in all sorts of colors!
Of course, I had to purchase this little pattern book based  the result of a collaboration between Uradale yarns and Dutch designers Anne de Haam, Marja de Haam and Hilly van der Sluis. The patterns are all based on 6 motifs representative of Shetland – such as a ram, Yellow Flag, Crofthouse, Curlew, etc… – I like that the Yellow Flags were indeed one of the first thing that caught my attention me when driving to Lerwick the first evening!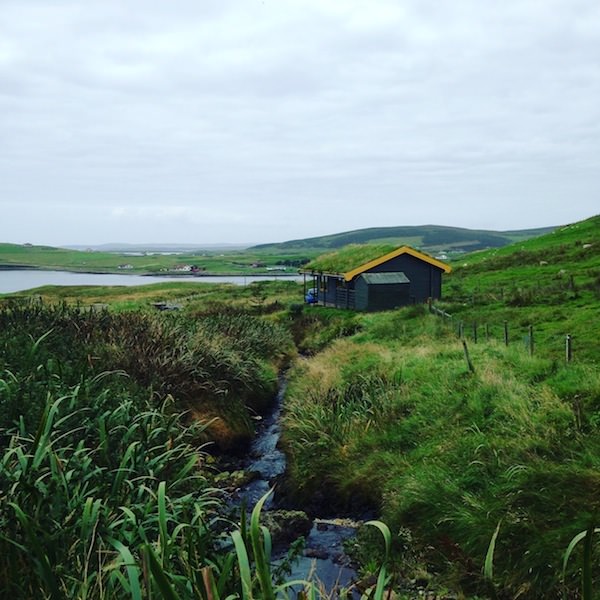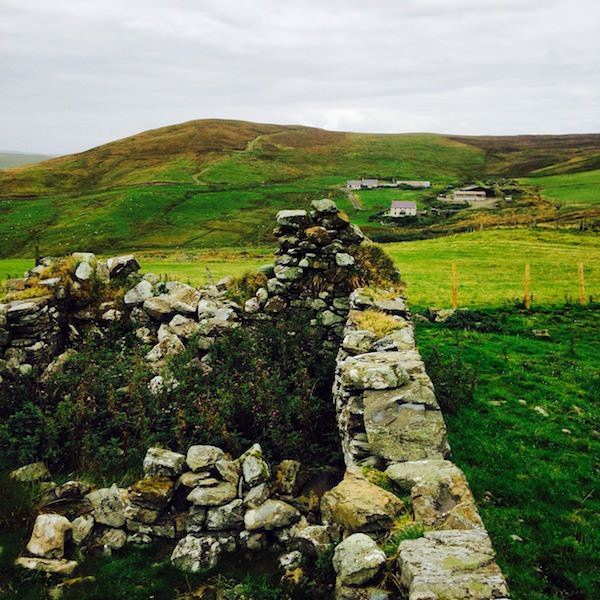 Uradale farm in the background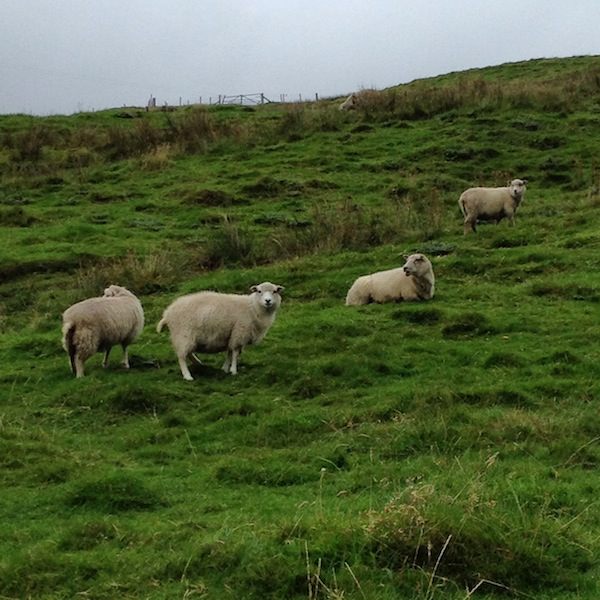 The view through the window from my bed!
9. 60 North magazine is a quaterly publication about the life in Shetland. The issue 12, which contains stories about knitting was actually given to me by Kate when she came and visit in Iceland last summer. I thought I would read it again in Shetland!
10. Certified organics: this leaflet explains better what organic wool is and means: (see also 5 and 8).
11. Shetland Textiles 800 BC to present: I already own quite a lot of books about Shetland knitting but this one was missing to my library. It's fabulous, very informative and has beautiful photography along side the interesting texts.
12. Guide to Shetland Museum Textile Collection : an informative leaflet retracing shortly the history of textiles and knitting in Shetland with beautiful pictures of old artifacts in the Museum. I was also lucky to be able to visit the Archives and saw some marvelous pieces of knitting.
13. Shetland Fine Lace DVD: since I was not able to intend any of the classes taught during Wool week (both for lack of time and also because they fully booked so quickly!), I bought myself this wonderful DVD that tells the story of lace knitting in Shetland. I saw extracts at the Textile Museum along with some absolutely stunning lace samples from the Museum collection and it sounds quite fascinating. I will watch it fully in November when I dive into finishing my book about Icelandic lace dresses.
14. Vintage Shetland project: Susan Crawford has been working on the Vintage Shetland Project (the book is for pre-order here) in collaboration with the Shetland Museum for over three years.  She showed a selection of the incredible finished items that she recreated from the Shetland Museum textile archives. She distributed this little preview brochure for us to take home  as well as shade cards of her lovely Fenella, a vintage yarn she developed especially to reproduce the items. This exciting book is for pre-order here.
15. The Fine Art of Fair isle knitting: a native Shetland knitter coming from a family of knitters, Hazel Tindall is not just the world's fastest knitter, she always has a smile on her face and although we met almost everyday during Wool week, I didn't get a chance to take a class with her. But I'll do it from my home and so can you! Her great class can be purchased as a dvd or download.
16. Terror in the Arctic: a true story from Norway in World War II tells about a family; It's always a good idea.s the Shetland knitting wool industry into a wider context, helping.
17. Wool week: this pattern book published for the Wool Week contains many lovely Shetland designs by local designers. Thea started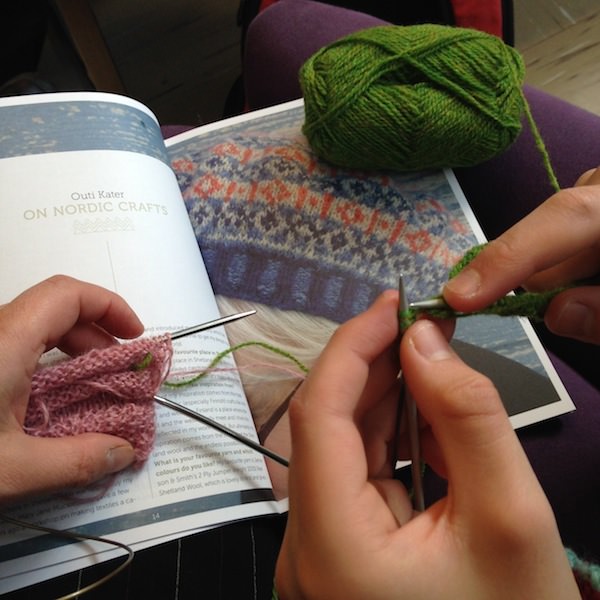 18. Shetland Craft trail and makers
 GOODIES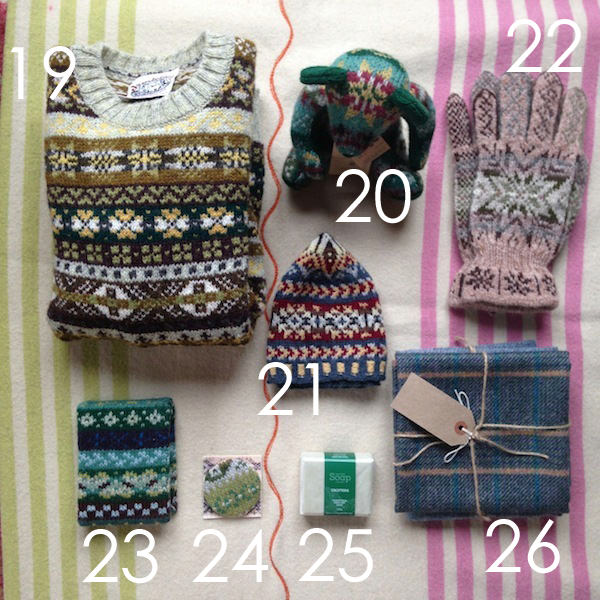 19. A beautiful machine knitted sweater from Jamieson of Shetland. My intention is to steek it to make a cardigan and also shorten it as I think it fits me better. That's why I bought some matching yarn to knit the button bands. (see also 2)
20. Burra bear: those cute bears were originally all made from old sweaters but today also from leftovers/mistakes  in machine-knitted sweaters from the Jamieson of Shetland factory and unused samples from the Shetland college museum. Sometimes, has some fabric knitted for her when no leftovers are available or for special projects.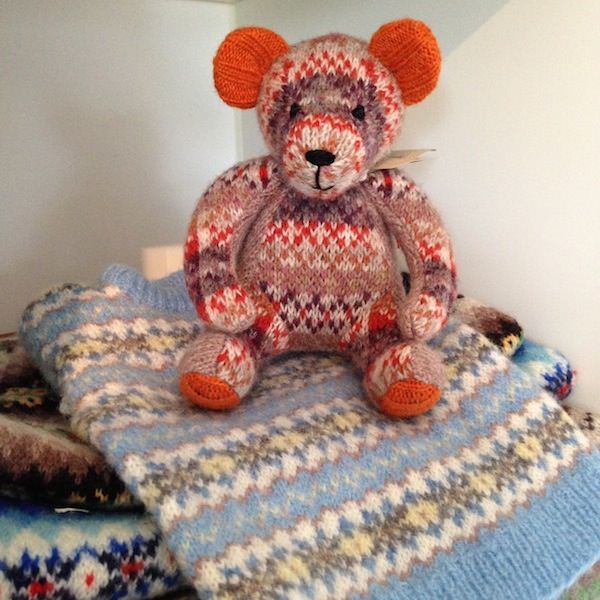 21. and 22. At the Spiders web in Lerwick is a great choice of handknitted goods by local knitters: I love the gloves with a different color in each finger and chose the smallest hat of all for my father in law's birthday (he likes to wear his hats over the ears).
23. Local Shetland bookbinder Mary Fraser makes lovely hand bound books covered in traditional Shetland Fair Isle, thus combining the traditional skills of bookbinding and Fair Isle knitting.
24. A pocket mirror covered in Shetland Fair Isle knitting. It reminds me of the buttons and magnets made by Roð in Iceland, covered in fish skin.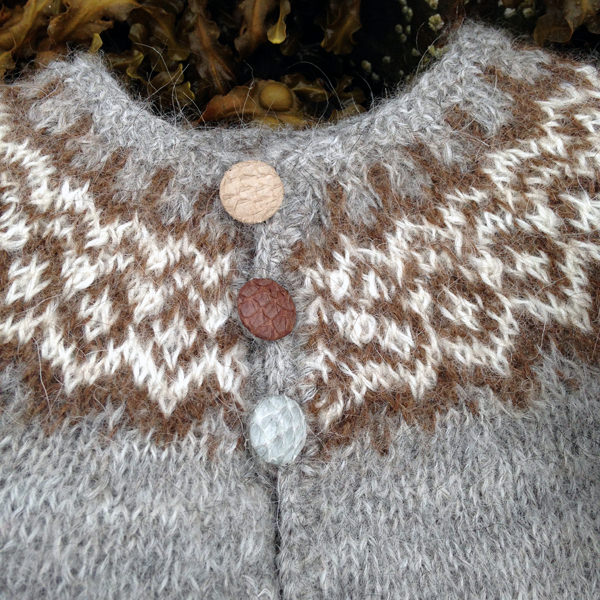 3  buttons covered with salmon skin on my Gilipeysa sweater.
25. Handmade soap: there was one at the Millogordi cottage where I was staying and I liked the smell of it – Crofters
26. Beautifud tweed fat quarters woven at Jamieson of Shetland mill in Sandness. Cushion covers and purses-to-be.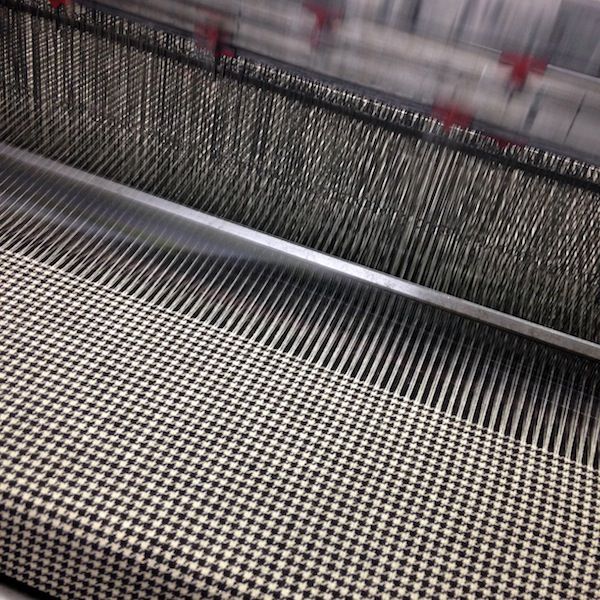 FOOD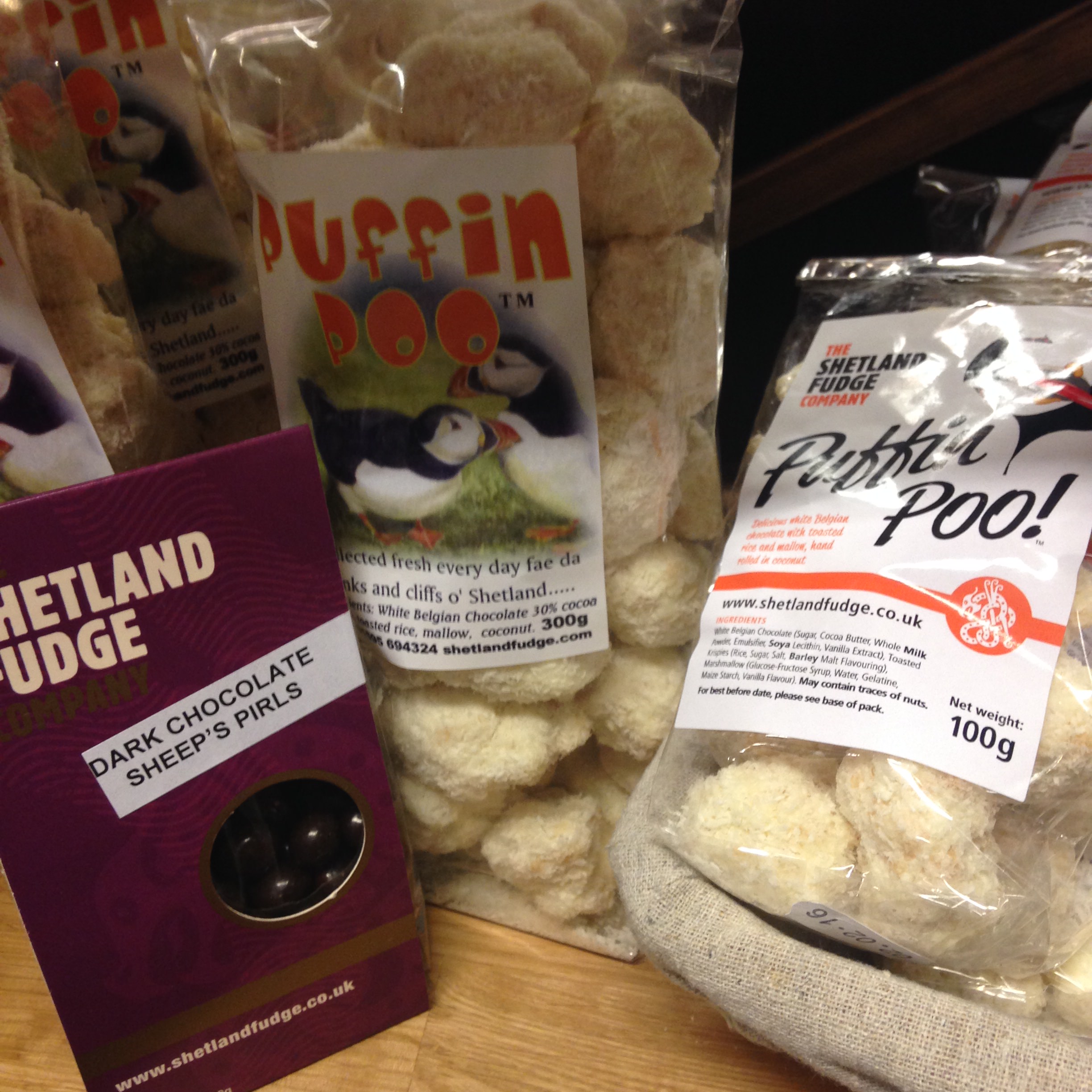 27. In Iceland, we have Rotten shark and Pickled ram testicules but in Shetland they have Puffin poo and Sheep's pirls!
PICTURES
and to finish this long post, a "few" pictures of Thea, Henrietta, Bjarni, Smali and myself as Icelandic tourists in Shetland!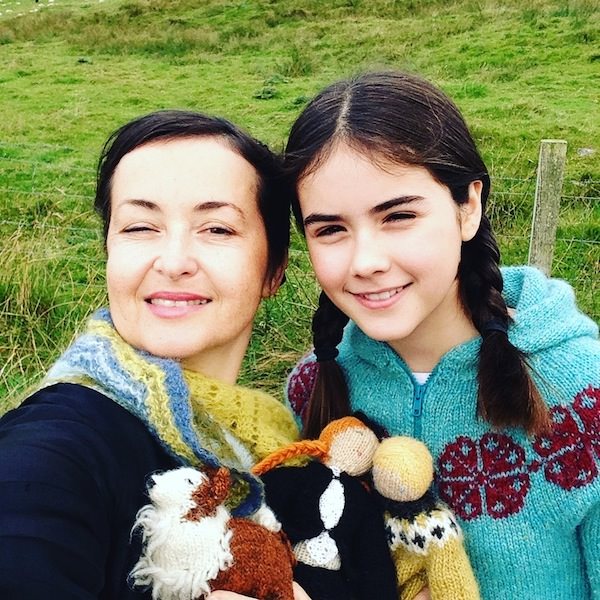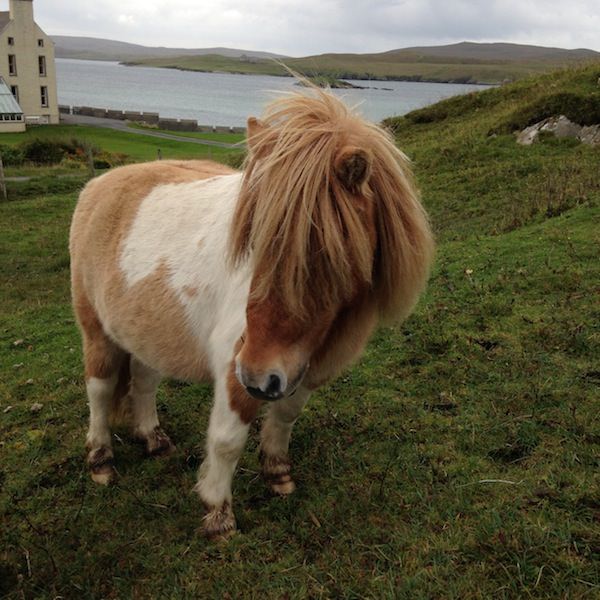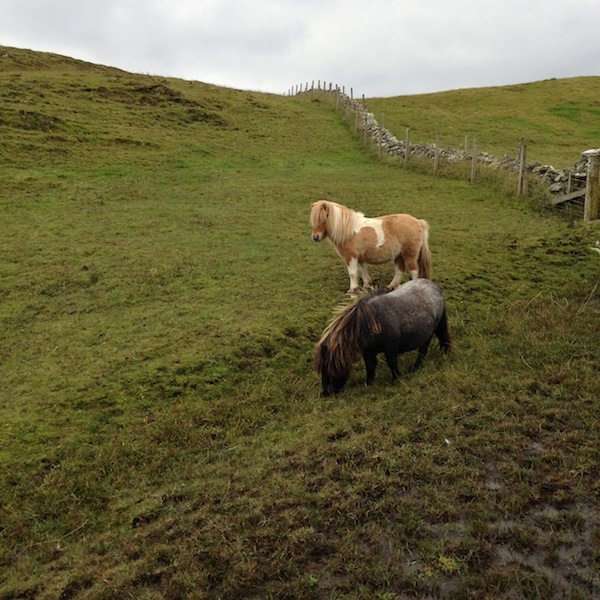 The ponies!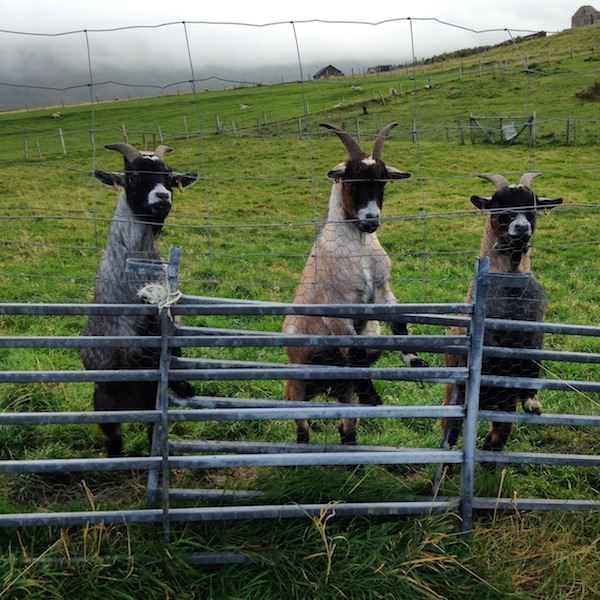 Bravo, Charlie and Walco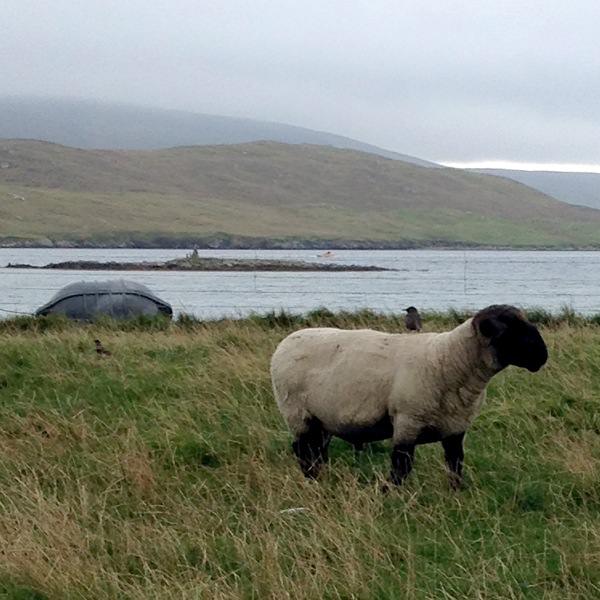 A black head and a bird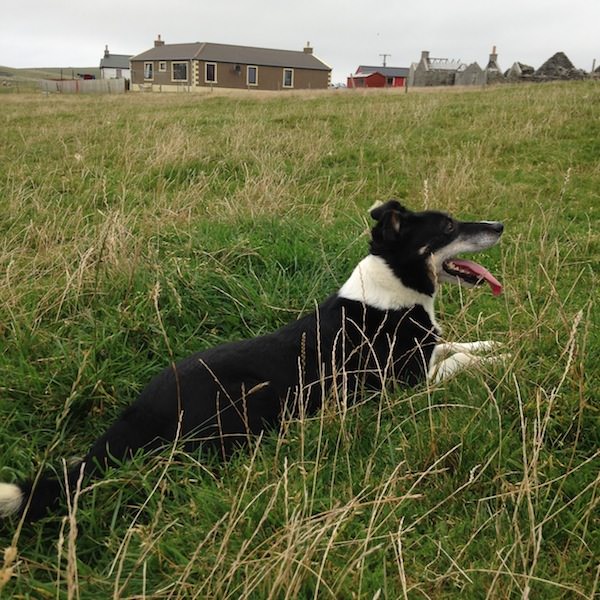 A local sheep dog that Thea and I helped herding some really stubborn Shetland sheep!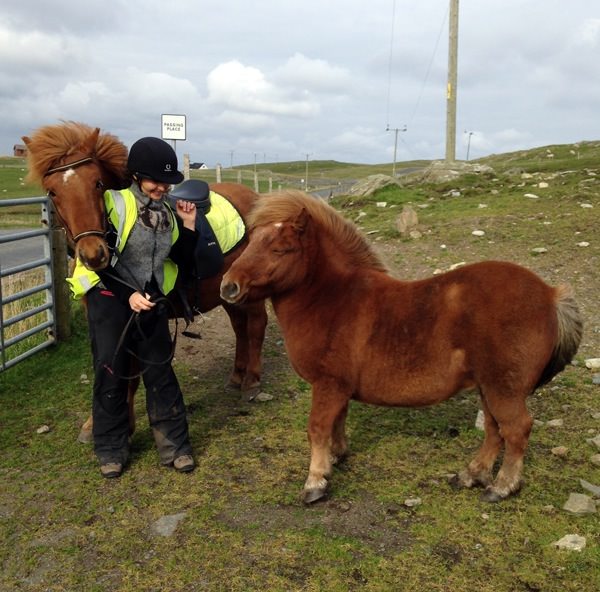 Shetland pony and Icelandic horse at Houlls, Horses and Hounds!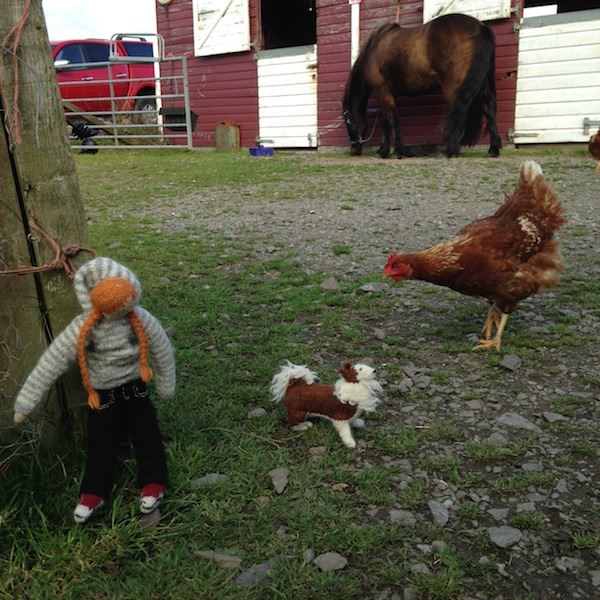 Henrietta, Smali our Icelandic sheep dog and a curious Shetland chicken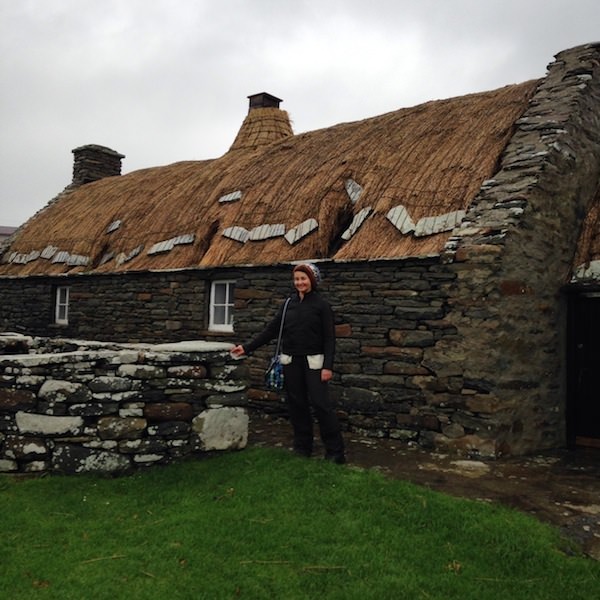 At the Crofthouse Museum and in the wind wearing our Baa-ble hats.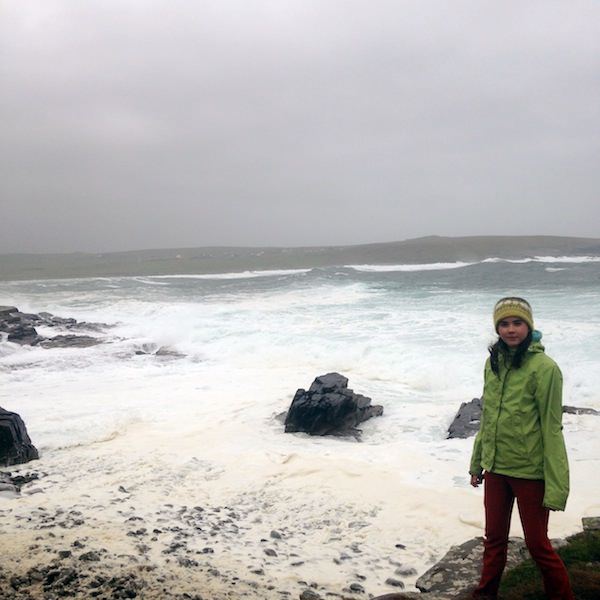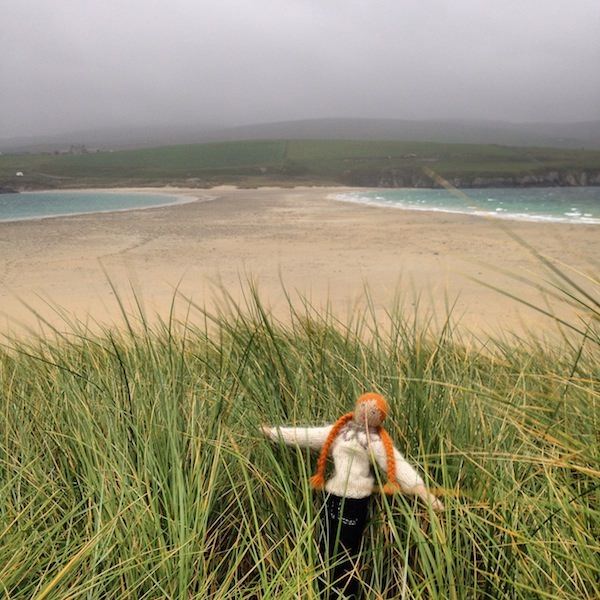 St Ninjan's famous Tombolo, puffin holes and snow like sand formation made by the wind.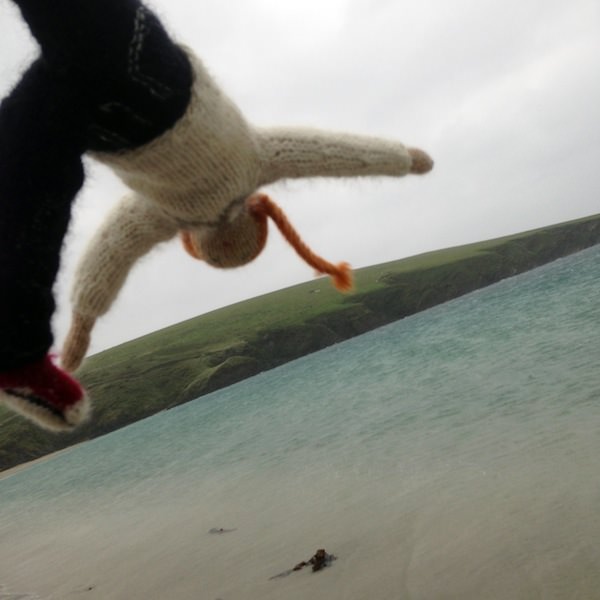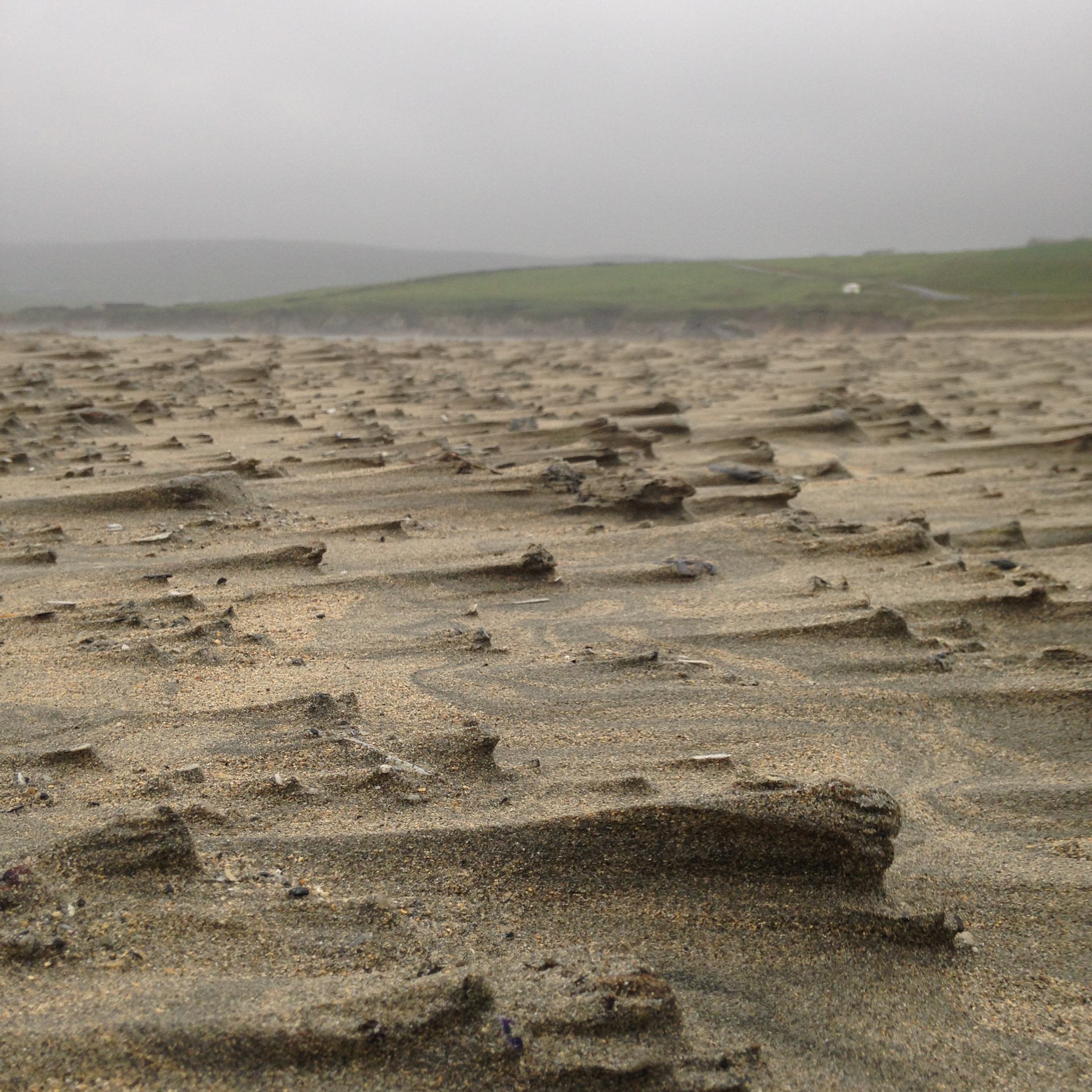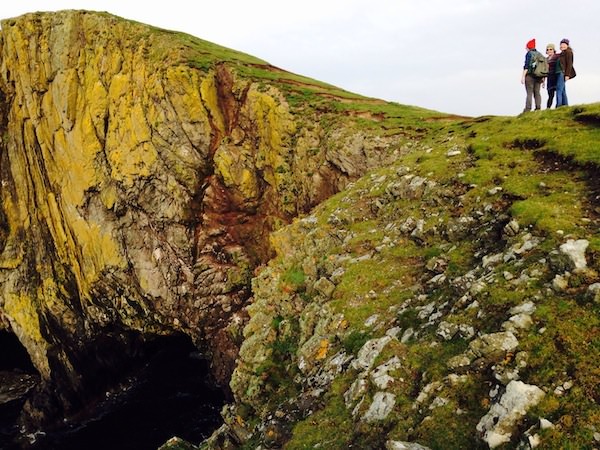 A lovely hike with Bjarni, Henrietta, Maryjane, Ysolda and her adorable assistant Bex (Can we clone her? Please?)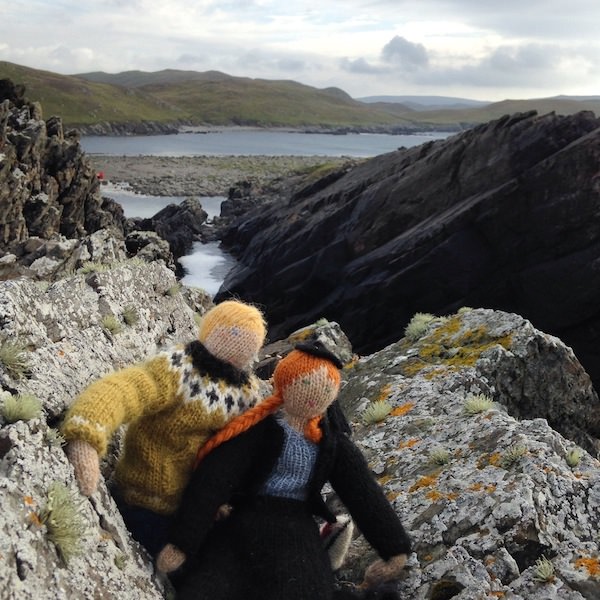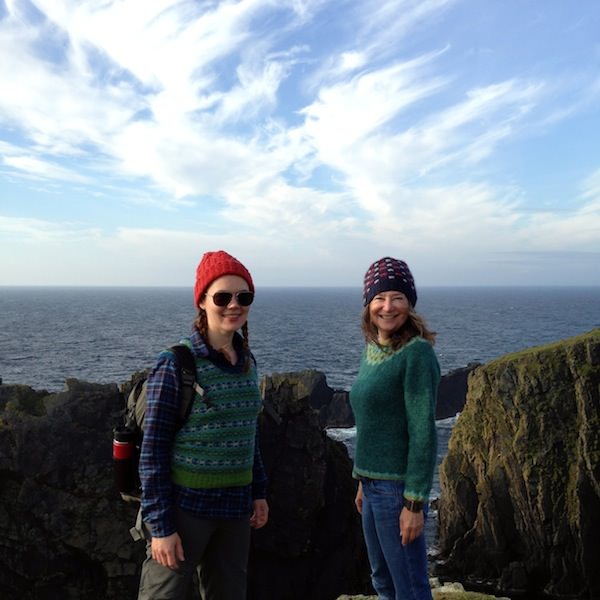 A lovely evening drink with Donna and Johanna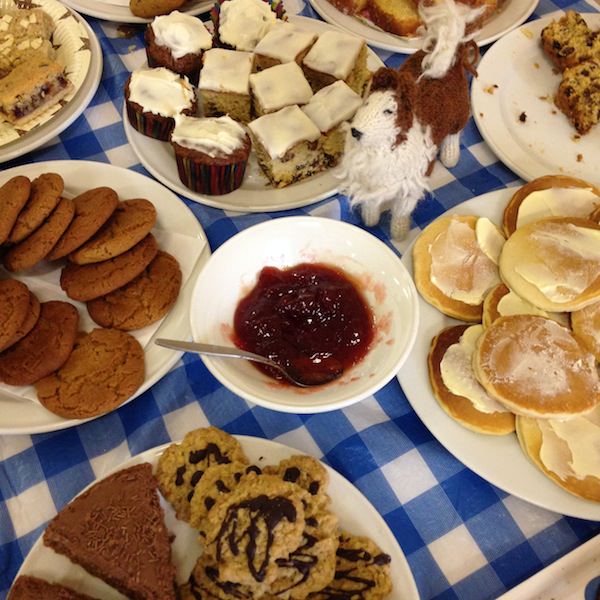 Famous tea at Þingvellir!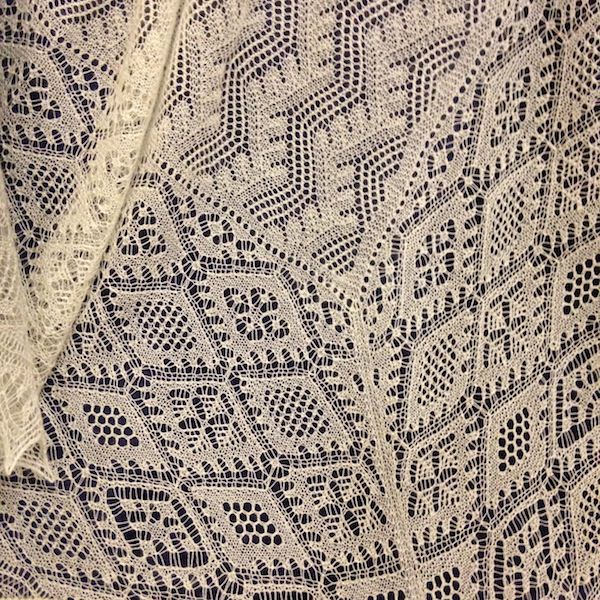 A piece of art by lace knitter extraordinaire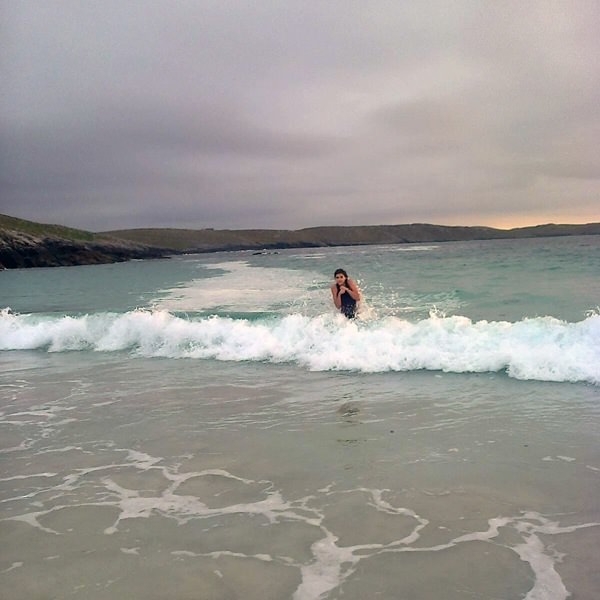 Thea and I simming with the seals!