Le col de chasseresse en lopi de Sylvia aka Katniss Everdeen…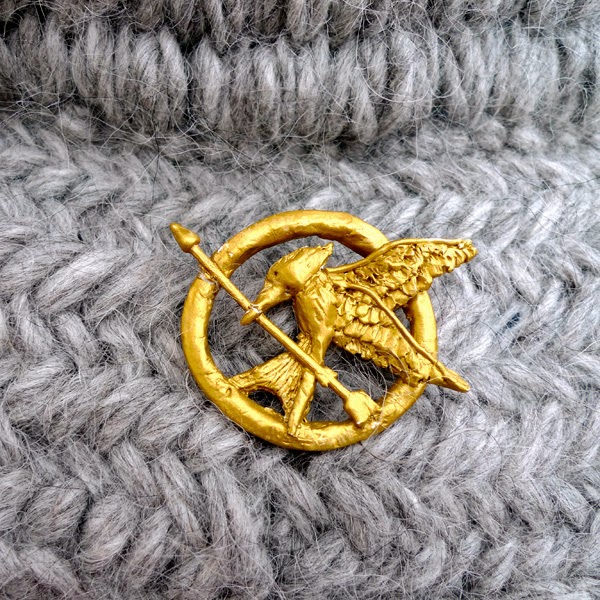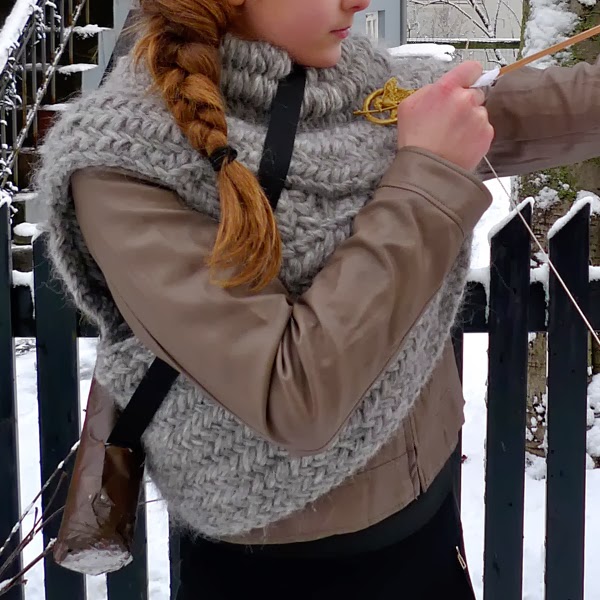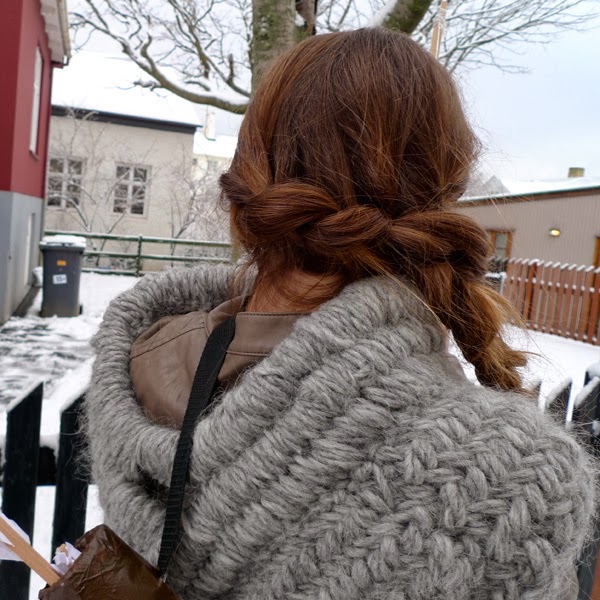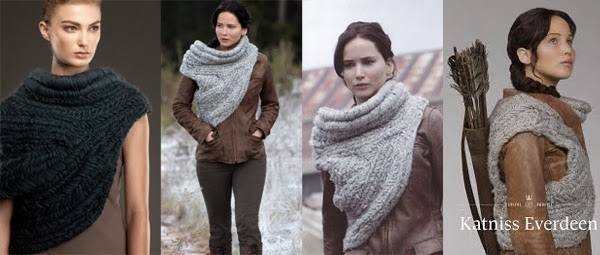 Katniss Everdeen's cowl in the
Hunger Games – Catching Fire
was designed by Los Angeles based knitwear designer
Maria Dora
. It is a deep blue asymetrical cowl from one of her knitwear collection that led her to collaborate with fashion designer
Trish Summerville
, the Capitol costumes designer, on a new cowl, very rustic and handwoven. Soon, you could find many lookalike and some knitted/crocheted patterns (with the copyright issues that this may cause).
For Öskudagur (an Icelandic carnaval via Denmark), Sylvia wanted to be Katniss, so I improvised a cowl for her: I used
Bulky Lopi
double with the biggest circular needle I could find (12mm/US 17) and knitted very very loose. Herringbone stitch, short rows, steeks (yes, you can steek double Bulky!) were involved as well as crochet loops around some strands of yarn. It's big and squishy and very warm and actually very wearable!
PS: Sylvia made herself the brooch (with Fimo and gold paint) and the arch stuff (carton, paper, wood, brown paint and an old backpack strap).
Le col de Katniss Everdeen dans le film Hunger Games – Catching Fire a été créé par la styliste basée à Los Angeles Maria Dora. C'est l'une de ses collections avec un magnifique col bleu asymétrique qui l'a amenée à collaborer avec le styliste Trish Summerville, le designer des costumes Capitol du film. Le résultat est un col asymétrique lui aussi mais très rustique et tissé à la main. Très vite, de nombreuses copies sont apparues et puis surtout des patrons au crochet ou au tricot (avec tous les problèmes de droit d'auteur que cela peut engager).
Pour Öskudagur (le carnaval islandais via le Danemark), Sylvia voulait être Katniss, alors j'ai improvisé un col pour elle: j'ai utilisé du Bulky Lopi en double avec la plus grosse aiguille circulaire que j'ai pu trouvée (nr. 12) et tricoté hyper lâche. Point de hareng, rangs raccourcis, steeks (dans le Bulky, même pas peur!) ont été utilisés et aussi des boucles crochetées autour de brins de laine. Le col est gros et spongieux et très chaud mais étonnamment portable!
PS: Sylvia a fait elle-même la broche (pâte Fimo et peinture dorée), le carquois l'arc et les flèches (carton, baguettes en bois, papier, peinture marron et une bretelle d'un vieux sac à dos).