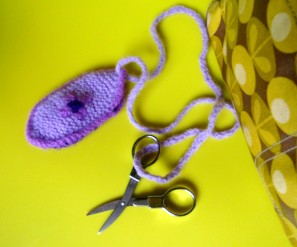 The other day, I had a wonderful surprise when receiving a package from the post: inside there was the loveliest Scissors Keeper. It was a gift from Mary Hawkins. The Skóleppar Scissors Keeper is made of two tiny inserts in shoes (meaning skóleppar in Icelandic). Mary made it up when she wanted to introduce
my book
to her knitting group and to her friends. Remember, Mary had already allow me to publish the pattern on my blog,
here
. She has now started to make lots of scissor keepers for Christmas presents, and is planning to knit a larger one as a spectacle case as well.
L´autre jour est arrivé par la poste un paquet avec dedans la plus mignonne des pochettes pour ciseaux pliants. C´était un cadeau de Mary Hawkins. La pochette est faite de deux toutes petites semelles tricotées islandaises. C´était une idée que Mary avait eu pour présenter
mon livre
à son groupe de tricot et ses amis. Elle m´avait alors contactée et depuis elle a tricoté pleins de petites pochettes pour Noël et travaille sur une autre, plus grande, destinée à une paire de lunettes. Souvenez-vous, Mary m´avait autorisé à publier les instructions sur mon blog, ici.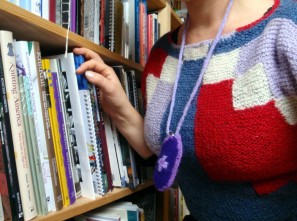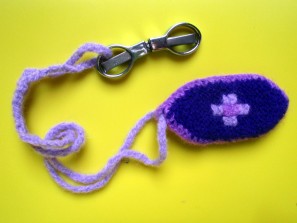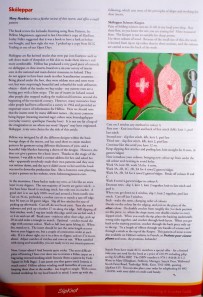 In Slipknot you can also find Mary´s pattern and read a very nice review of my book (click on picture to enlarge and read).
Dans Slipknot, vous trouverez aussi le modèle de pochette de Mary accompagné d´un bel article sur mon livre (cliquez sur l´image pour agrandir et lire).