Souvenirs et secret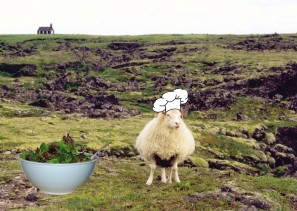 Je cherchais une photo bien en particulier: celle d´un mouton islandais avec Búðir à Snæfesness dans le fond. C´est alors que je suis tombée sur de vieilles photos prises lorsque j´écrivais mon livre de cuisine,
Le secret de la vinaigrette révélé aux Islandais.
The book is dedicated to my father who died suddenly when I was writting it
, back in 2004
Le livre est dédié à mon père qui est mort subitement tandis que j´écrivais, fin 2004.
I remember the salad was coming from our garden in Stykki: autumn salad does grow in Iceland during the summer !
Je me rappelle que la salade venait de notre potager à Stykki: les salades d´automne poussent très très bien l´été en Islande!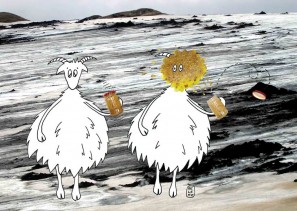 I draw the sheeps, scanned them and arrange them on a picture I had taken on glacier Törfajökull.
J´ai dessiné les moutons, les ai scannés puis arrangés sur une photo prise sur le glacier Törfajökull.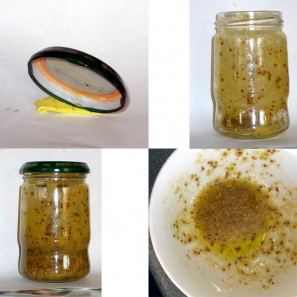 Look at the gum to held the lid uppright. I obviously changed the color of the lid as well, probably so it would see better in red. Of course, this is all done in Photoshop.
Regardez le bout de chewing-gum pour garder le couvercle droit. Apparemment, j´en ai changé la couleur aussi, probalement pour qu´on le voit mieux en rouge. Tout cela avec Photoshop.
The sauce, a vinaigrette with mustard "à l´ancienne", and the salad were eaten at the end !
La sauce et la salade ont été mangé à la fin!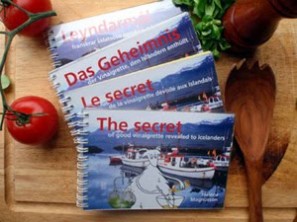 More than 30 delicious recipes to find in my book:

The secret of good vinaigrette revealed to Icelanders

(Salka 2005). You´ll find it in my shop.
Plus d´une trentaine de délicieuses recettes de vinaigrettes dans mon livre: Le secret de la vinaigrette révélé aux Islandais (Salka 2005). Tout un programme ! Vous le trouverez dans ma boutique.