Graine d'Hélène… the name of this pattern is a pun on the name of the yarn I used, called Graine de laine, literally "Seed of Wool", which sounds like "Seed of Hélène". Graine de Laine is a range of yarns handyed by French blogger Laurence Mériat (froufrouetcapucine.fr) who I met when she came in a hiking and knitting tour with me in Iceland. her artisanale production is very small but you can used many substitutes (I listed a few with the Wool info) and I look forward to seeing all the beautiful yarns and colors you will be using! Knitted from the bottom up, this sweet little sweater with three quarters sleeves was a first research to use the short rows that create the neckline of a yoke sweater as a decorative element. The stripes help to visualize how the short rows interact with each other. My Lopi Affection sweater is of the same facture.
Design: Hélène Magnússon
Sizes: XS,S,M(L,1X,2X). Fitted sweater best worn with a lot of negative ease 6-10 cm/ 2.25"-4". Choose the size accordingly but keep in mind that if the sweater is not fitted enough around the bust, some disgraceful bumps may appear where the short rows are. The model shown is a size S.
Finished dimensions: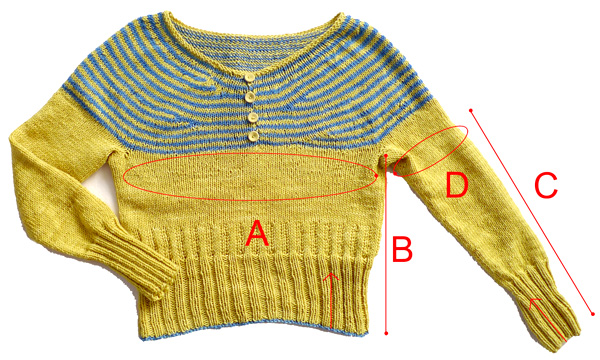 Bust: A = 64,74,84(94,104,114) cm/ 25,29,33(37,41,45)"
Length to underarm: B = 26,27,28(29,31,32) cm/ 10.25,10.5,11(11.5,12.25,12.5)"
Sleeve length: C = 37,38,39(40,41,42) cm/ 14.5,15,15.25(15.75,16,16.5)"
Upper arm: D = 27,29,31(33,35,37) cm/ 10.5,11.5,12.25(13,13.75,14.5)"
Yarn: Plötulopi by Ístex: 100% new wool, unspun, plate  100-110 g = approx. 300 m/328 yds (brown sweater)
MC: #1032 2,2,2(3,3,3) plates
CC1/CC2/CC3/CC4: #0001/#9268/#0003/#1424, 1 plate each
or Physalis, Graine de Laine, 100% mérino, superwash, 100g/skein = approx. 251 m (blue/yellow sweater)
MC: 2,2,2(3,3,3) skeins
CC: 1 skein
Examples of yarn substitutes: Madelintosh Tosh DK, Malabrigo worsted, Cascade superwash, Rowan worsted, Fonty Gueret, Kambgarn Ístex.
Other material: 4 buttons
Needles: circ needle 4 mm. Magic-loop is used for smaller diameters but you can also use DPN's.
Notions: markers, 4 stitch holders or safety pins
Gauge: 10 x 10 cm/ 4 x 4" = 20 sts and 26 rows on needle 4 mm/US 6 in stocking st
Techniques: sleeves and body are knitted in the round from the bottom up. At the underarms, they are combined on one needle and the yoke is knitted back and forth with short rows. Underarms sts are grafted together. The yoke is sewn at the front and decorative buttons hide the seam.
Knitting in the round, Magic loop (but you can use DPN's), increases and decreases, yo short rows.
Pattern: once you've made your paiement, you will receive an email with a link to dowload the pattern PDF. We don't send patterns by snailmail.
Errata: no mistake was found in this pattern