DESIGNER: HELENE MAGNUSSON
Gamlalón is a little Icelandic yoke cropped sweater, a very fine and ultralight, knitted with the soft Icelandic lambswool yarn Gilitrutt. With its feminine flair, it's a wink both in name and shape to Hélène's popular Gamaldags sweater.
Sizes: 1(2,3,4)5,6,7.
Sweater with darted waist. Slim fit: 0-5 cm/ 0-2" ease. Options for a larger size for a looser fit.
Sweater on pictures is a size 3 (about medium)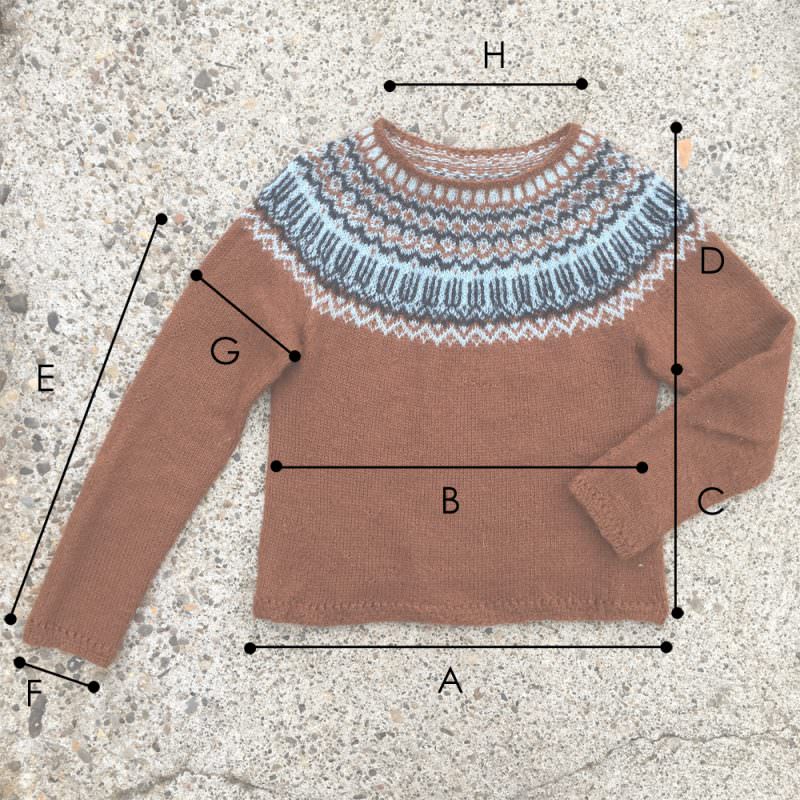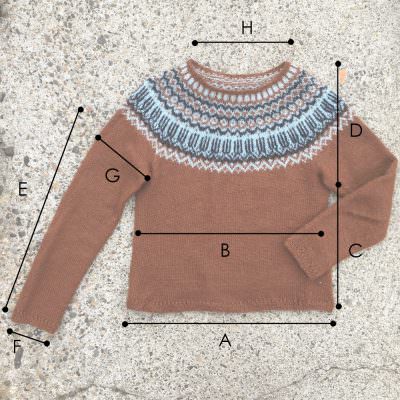 Finished measurements:
A: Bust/higher hips circumference: 80(85,90,95)100,105,110 cm / 31.5(33.5,35.5,37.5)39.25,41.25,43.25" B: Waist circumference: 71.5(76.5,81.5,86.5)91.5,96.5,101.5 cm / 28.25(30,32,34)36,38,40"
C: Body length to underarm: 35(36,37,38)39,40,41 cm / 13.75(14.25,14.5,15)15.25,15.75,16.25"
D: Back yoke depth: 19.5(20,20.5,21)21,21.5,21.5 cm / 7.75(7.75,8,8.25)8.25,8.5,8.5"
E: Sleeve length to underarm: 41(42,42,43)43,44,44 cm / 16.25(16.5,16.5,17)17,17.25,17.25"
F: Wrist circumference: 20(21,21.5,22.5)23.5,23.5,24 cm/ 7.75(8.25,8.5,8.75)9.25,9.25,9.5"
G: Upper arm circumference: 28.5(31,33.5,36)38.5,41,43.5 cm / 11.25(12.25,13.25,14.25)15.25,16.25,17.25"
H: Neckline circumference: 45(47.5,50,52.5)53.5,54,55 cm / 18(19,20,21,211⁄4,211⁄2,22"
Gauge:
10 cm/4" = 24 sts and 32 rnds on needle 3.25 mm/ US 3
Wool: Gilitrutt Tvíband from Hélène Magnússon, 100% new wool, 100% Icelandic lambswool, plied lace weight, 2 ply, 25 g skein = 112 m/ 122 yds
MC: Viking Rust, 7(8,8,9)9,10,11 skeins
CC1: Askja blue, 1(1,1,2)2,2,2 skein(s)
CC2: Raven black, 1 skein
Needles: 2.75 mm/US 2 and 3.25 mm/US 3 circular needles.
Notions: darning needle, markers, 6 stitch holders
Techniques: The body and sleeves are knitted in the round in stocking stitch and the back is knitted higher up back and forth. The underarms are grafted.
Pattern: Patterns by snailmail is not an option.
Errata: There's no mistake was found in this Gamlalón pattern.