Mon petit matériel de tricot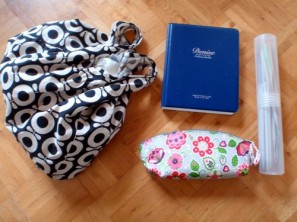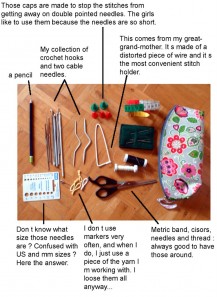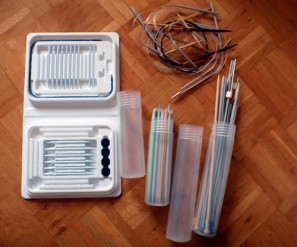 I don´t use band needles anymore : too long and too heavy to knit with. I prefer circular needles, even when knitting back and forth. I use the 
Denise 
interchangeable needles set, very convenient, it can take the plane but first size is rather big, already a US 5.
Je n´utilise plus les longues aiguilles : je les trouve trop longues, trop lourdes, et je leur préfère les circulaires même pour tricoter en allers retours. Le set d´aiguilles interchangeables 
Denise
est très pratique et prend l´avion, mais les aiguilles les plus fines font déjà 3,75 mm.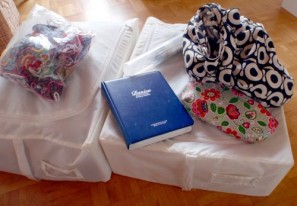 I keep my stash into two IKEA cases. One for the Icelandic wool, the other for the "foreign" yarns. I keep all short ends, even tiny, and use them as stuffing.
Je garde mes pelotes dans deux poches IKEA: l´une pour la laine islandaise, l´autre pour les fils "étrangers". Je conserve tous les bouts de fils, même les plus courts et m´en sert comme
bourre.