My mum just called to tell me about it : I´m in the newest issue of
Marie Claire Idées
! Thanks Marie Claire ! Off to buy the magasine !
Ma maman vient de m´appeler pour me le dire : je suis dans le nouveau MC Idées ! Ca alors, merciiii MC ! Je cours l´acheter !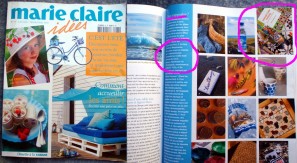 EDIT :
What to bring back from Iceland ? My knitting book, says Marie Claire !
Que rapporter d´Islande ? Mon livre de tricot, dit MC !