Laufabrauð ou les Galettes feuilles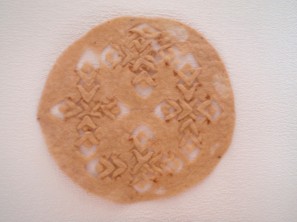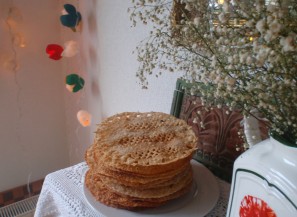 On Sunday, we made Laufabrauð with our friends. A few years ago, I had made a woolen version of the traditionnal Icelandic leafbread, felted, cut, glued and dyed with onion´s peel…
Dimanche, nous avons confectionné le Laufabrauð avec nos amis et voisins. Quelques années plus tôt, j´en avais fait une en laine feutrée islandaise, coupée, collée et teinte avec des pelures d´oignon…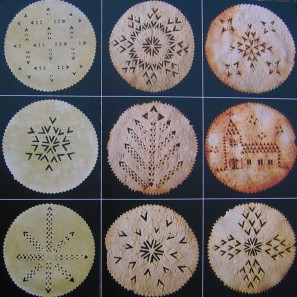 "Laufabrauð is an extremely thin bread, evolved in poverty in Iceland, when wheat was a rarity except among the rich. The practical housewives flattened the dough into thin circles, like pancakes. The cake was then artistically carved by the family, gathered for making the leafbread for Christmas. The carving was to make up for the poor dough quality. Thus, the carved Leafbread reflects the unique economy, folk art and the culinary culture in Iceland." says Hugrún Ívarsdóttir. The leafbread inspired her Icelandic Patterned Delicatessen´s project, involving beautiful paper napkins, lovely woven tea towels, tablecloths and aprons, delicate golden Christmas decorations and even a postage stamp ! Hugrún also organised a Laufabrauð Day in Akureyri.
"Les galettes feuilles sont le pain festif des islandais. Ce sont de fines galette de blé joliment découpés. Leur décoration était censée compenser la minceur de produit. Des phrases poétiques telles que : "Il faut donner du pain à grignoter aux enfants à Noël" évoquent les temps où la farine était un mets de luxe qui n´apparaissait guère sur les tables ordinaires sinon à Noël. La décoration des galettes feuilles amena chacun à tester son adresse et son sens artistique. Tout le monde se réjouissait à l´avance de la journée consacrée à leur confection. Dégustez ce mets à motifs avec respect et attention."
C´est ce que nous explique Hugrún Ívarsdóttir. Les Galettes feuilles inspirent ses créations : des serviettes magnifiques en papier, des torchons, nappes et tabliers tissés, de délicates décorations de Noël plaqués or, et même un timbre-poste ! Elle est aussi l´instigatrice de la Journée du Laufabrauð à Akureyri.