Knitting and Crochet Blog week – Day 3
: Write about a knitter whose work (whether because of project choice, photography, styling, scale of projects, stash, etc) you enjoy. If they have an enjoyable blog, you might find it a good opportunity to send a smile their way.
Semaine Tricot et Crochet – Jour 3
: Ecris au sujet d'un tricoteur / d'une tricoteuse dont le travail (que ce soit pour le choix d'un projet, d'une photo, du style, de la gamme de projets, du stock de laine…) t'enthousiasme. S'il / elle a un blog agréable, tu pourras trouver là une bonne opportunité de lui envoyer un sourire.
This is a really tough question. There are son many great knitters whose work I find inspiring.
Solveig Hisdal
and her book
Poetry in stitches
is among my favourite. I have it in Icelandic, called "Ljóð í lykkjum". I also enjoy to see how her designs are being adapted between craft and industry and how her handknit collection relates to the machine knit
collection
, "fair made" in the Norwegian
Oleana factory
.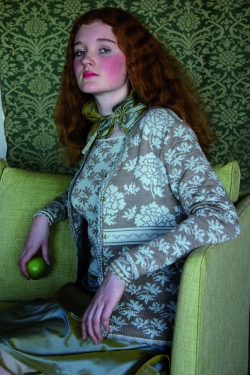 C´est vraiment une question difficile. Il y a tellement de créatrices (plus que de créateurs d´ailleurs…) dont le travail m´inspire. Parmi mes favoris,
Solveig Hisdal
et son livre
Poetry in stitches
(Poésie en mailles). Je l´ai en islandais, "Ljóð í lykkjum". J´aime comme ses créations sont adaptées selon qu´elles sont produites artisanalement ou industriellement, et comment ses tricots faits à la main rejoignent ses collections faites à la machine, d´un façon éthique, dans l´une des rares usines encore implantée en Norvège,
Oleana
.