Semaine blog du tricot et du crochet – Jour 2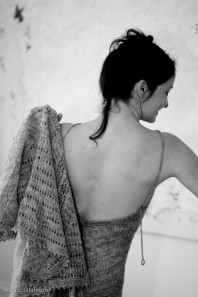 Knitting and Crochet Blog week
, day 2 :
Blog about a pattern or project which you aspire to. Whether it happens to be because the skills needed are ones which you have not yet acquired, or just because it seems like a huge undertaking of time and dedication, most people feel they still have something to aspire to in their craft. If you don't feel like you have any left of the mountain of learning yet to climb, say so!
I´m currently compiling documents for on a new book project, about a wonderful knitter, Aðalbjörg Jónsdóttir, 93 years old today, who was making the most amazing lace dresses ever and who is herself an amazing woman. See my
previous post
. Among all the dresses, one I find especially challenging, is a wonderful dress knitted all in the biais, with change of needles sizes giving it its flared shape.
Pictures
Bergur Ólafsson
.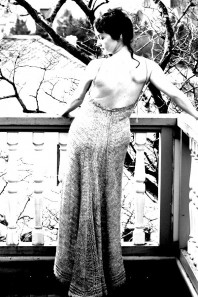 Knitting and Crochet Blog week
, jour 2:
Rédige un article sur un modèle ou un projet qui t´inspire. QWye ce soit parce que tu n´as pas les compétences requises pour le réaliser ou just parce qu´il semble nécessiter beaucoup de temps et de dévouement, la plupart des gens érpouvent le besoin de se mettre à l´épreuve. Si tu trouves que tu n´as plus rien à apprendre dis-le !
Je travaille en ce moment à compiler des informations pour un nouveau livre sur la fascinante Aðalbjörg Jónsdóttir, 93 ans aujourd´hui, qui tricotait des robes merveilleuses en dentelle de tricot. Voyez mon article précédent. Parmi les robes que j´ai pu admirer, l´une me semble particulirement insurmontable à mettre sur papier, toute tricotée dans le biais, avec différentes tailles d´aiguilles lui donnant sa forme évasée.
Photos Bergur Ólafsson.