Tricoter un pull en passant un col de montagne?

The other day, there was a very nice article in
Fréttablaðið
. It told about the fabulous Hiking and Knitting tour
and explained how I knitted a sweater while walking. You don't believe me? Have a look at the pictures!
Un bien joli article dans Fréttablaðið l'autre jour. Il y parle de ce fabuleux tricot-treck par-desssus le col de Fimmvörðuháls et explique comment j'ai tricoté un pull quasiment entier en marchant. Vous ne me croyez pas? Regardez plutôt les photos!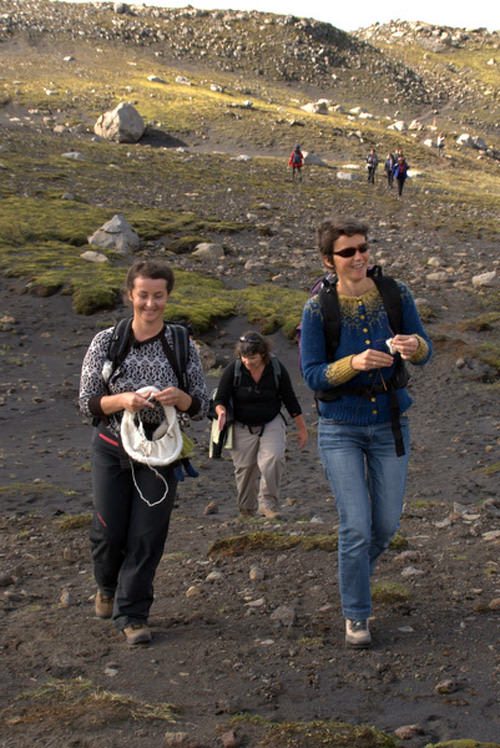 Photo Froufrouetcapucine
I hold the skein under my armpit, just like in the Old days when no time could be lost and Icelandic men and women where knitting when going from one farm to another or, especially the men, when working around in the fields.
It was much easier than I thought to walk and knit all together because when you look at your knitting or your feet, you look in the same direction. Also, knitting helped me to keep a slow and regular rythme, very important when guiding a group.
On the other hand, knitting a sweater is not something that I would recommend:socks or mittens would be more appropriate. The body was really heavy to knit and I had to knit sitting, as usual, to knit the yoke.
The sweater is of course named after Fimmvörðuháls and the pattern will be published next year in a book from US editor Voyageurs Press.
Je tenais la pelote sous l'aisselle, tout comme il était commun en Islande aux siècles passés et qu'on n'avait pas de temps à perdre en visite d'une ferme à l'autre ou, les hommes en particulier, en travaillant autour de la ferme.
Tricoter en marchant, c'est bien plus facile que je ne pensais car on regarde ses pieds et son tricot en même temps. Et pour dire le vrai, cela m'a aidé à garder une cadence lente et régulière, important lorqu'on guide.
En revanche je conseillerais un plus petit projet qu'un pull, comme des chaussettes ou des gants: le corps était bien lourd à tricoter, et l'encolure je l'ai tricoté assise comme d'habitude! Le pull porte bien sûr le nom de Fimmvörduháls et le modèle sera publié dans un livre de Voyageurs Press, un éditeur américain, l'année prochaine.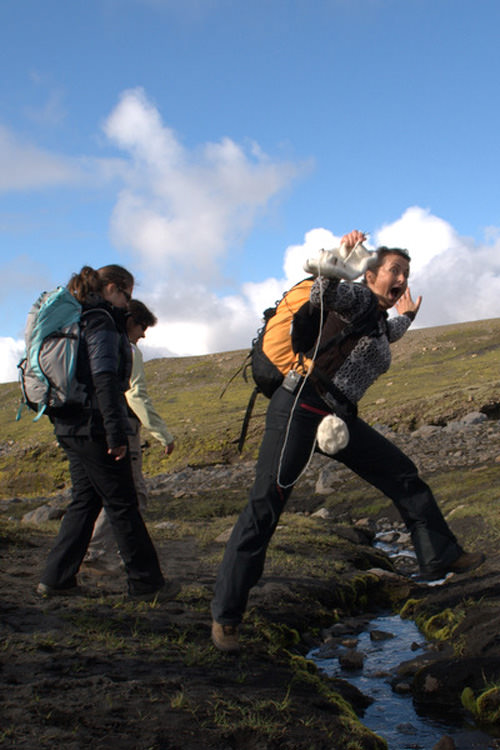 Photo Froufrouetcapucine
Photo Froufrouetcapucine