Tricot: je jubile !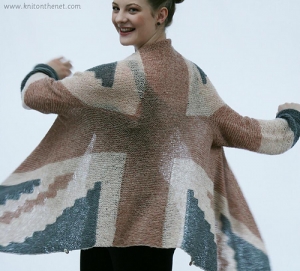 It was back in 2009 when the
pattern
for my british
Flag
was published for the first time on the
Knitonthenet
website, hosted by
Susan Crawford
. A quite successful design (thank you all of you!) that seems to fit perfectly in the actuality and it's one of my designs I really like a lot; Its versatility, the use of Icelandic techniques, the incorporation of Icelandic knitting traditions in a decisively modern design.
Inspired by Icelandic artist
Birgir Andrésson
, I knitted it with natural sheep colors, a color scheme I want to believe I started the trend of for the Union Jack in the handknitting world. I used
Jamieson & Smith 2 ply
but
Holst garn
would be a good alternative and of course Icelandic lace weight too.