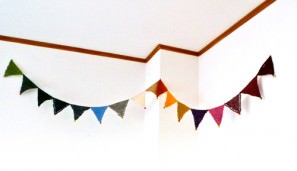 The other day, I taught Sylvia, my oldest daughter 9 years old, how to increase : make one, after thought yarn over, yarn over, knit in front and back, make one away, lifted increases, central increases, on the sides, a few stitches from the side, etc… This is the result, a lovely garland displaying the beautiful colors of Icelandic Léttlopi. Next we'll make decreases!
L'autre jour, j'ai appris à Sylvia, ma fille aînée de 9 ans, quelques méthodes pour faire des augmentations: augmentation intercalaire, invisible, deux mailles dans la même maille, par enroulement, en faisant un jeté, centrales, en fin de rang, à 1 ou 2 mailles du bord, etc… Voici le résultat: une jolie guirlande qui met en valeur les jolis coloris de la laine islandaise Léttlopi. La prochaine fois, nous ferons des diminutions!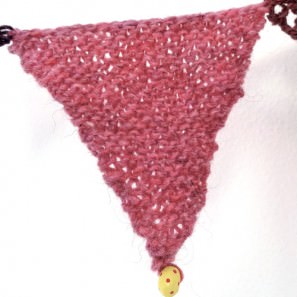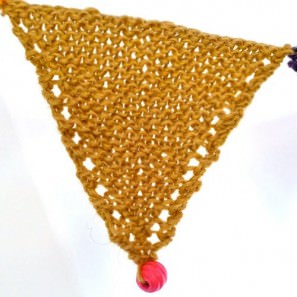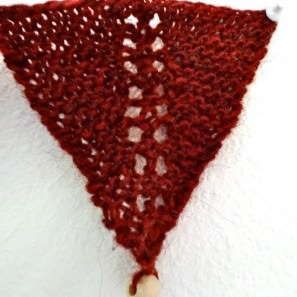 Instructions: cast on 3 sts, knit in garter stitch. Increase 2 sts every other row until you have 19 sts. Cast off. The cast on end is used to sew the wooden pearl. The cast off ends are used to sew each triangle to the other.
Instructions: montez 3 mailles, tricotez au point mousse. Augmentez 2 mailles de chaque côté tous les 2 rangs jusqu'à ce que vous ayez 19 mailles et rabattez. Le fil de montage sert à coudre la perle de bois et les fil de rabattage servent à coudre les triangles ensemble.