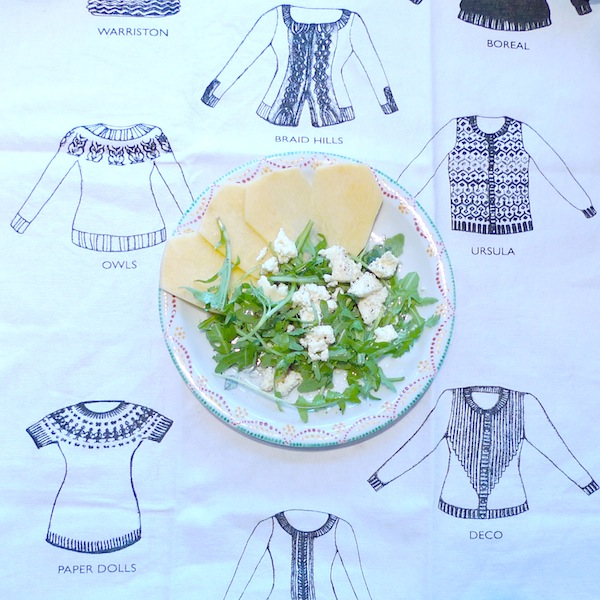 A few months ago, I had the great pleasure to meet Scottish designer and writer 
Kate Davies
whose work I have admired for a long time. Kate was working on her new book, 
Yokes
, that 
illustrate the story of knitted yokes from many different perspectives around the world, soon to be published (follow Kate's blog as she is unraveling the designs).  As you have probably already guessed, Kate
 was in Iceland to research the Icelandic yoke, the lopapeysa. We spent an afternoon in my home in Reykjavík, chatting, drinking tea and tasting some specialities of Iceland, smoked lamb and flat bread, smoked trout and geothermal rye bread. I enjoyed her food curiosity as much as her knitting expertise! Kate wrote a 
blogpost
 about our meeting, continuing our chat, and here is some more (sorry I didn't take ANY pictures, too busy chatting!)
Me: Your Ecclefechan mitts include a typical tart recipe, you designed a Sheep Carousel teacozy and a Tea Jenny hat for tea drinkers, your Neep Heid tam is inspired by the turnips growing in your garden, your Caller Herrin' tam means "fresh herring" in Scottish and I confess having bought your Firth o' Forth cardigan pattern just to know more about the oysters of the same name! You regularly post pictures on your blog of home grown vegetables, pastries, teas and mugs. Then recently you printed not just a tote bag for knitting projects but also a tea towel with wonderful drawings of your sweater patterns. Do you have any special relation to food?  How does it influence your designs?
Kate: Thank you Hélène! It was wonderful to meet you, and I particularly enjoyed being able to sample some of the culinary treats of Iceland in your home.  I  have an abiding interest in material culture – both now and in the past – and I suppose food and cooking are a principal expression of human materiality. I think that food is a sort of window onto everyday life  — the simple act of making bread, and sharing it, can say so much about a society and the way people live. The oysters and herring that inspired my
Firth o' Forth
 and
Caller Herrin'
 designs aren't just tasty seafood, but have been importantly integral to Scotland's economy and culture for centuries. Oysters were our original street-food, and the movement of shoals of herring around our coastline determined the structure of the lives of so many Scottish folk, from the fishermen who regularly risked their lives, to the women who gutted and sold the fish. I also think that overlooked and humble foodstuffs – such as the turnips that inspired my
Neep Heid
 tam – are genuinely wonderful things that deserve to be celebrated, and I really enjoy celebrating them in my designs! And of course, I enjoy eating these things too.
How did you get the idea of making a tea towel? I found it such a brilliant idea (thank you so much for the gift by the way, it is in good use too!) 
I have a special affection for tea towels – which are often sold as souvenirs from Britain's tourist destinations with designs that can be genuinely aesthetically pleasing or wonderfully cheesy, or both! Several years ago I began a collection of tourist tea towels, with the aim of making a gigantic stitched-together map of the British isles composed entirely of tea towels from the various locations they represented. Perhaps one day I'll actually get to make this, though I suspect its size will make storing and displaying it a problem. Anyway, I just love tea towels, and was very excited to make one with the wonderful illustrations of my sweaters by my friend,
Felicity Ford
!
Me: You also gave me some salt (very tasty!): what is so special about it? 
Kate: This salt comes from Anglesey, a small island off the North coast of Wales, on which I used to spend my holidays as a child, and where sea salt has traditionally been produced for centuries. Its name is Halen Môn – which simply means "Anglesey salt" in Welsh. It is naturally produced and hand-harvested and I really think its the most delicious salt produced in the UK!
Me: Do you have any special recipe for this salt you would like to share?
Kate: Yes! I have a recipe for Crowdie —  a simple-to-make Scottish curd cheese, which I imagine would also appeal to the Icelandic palate. The salt is added as the curds are draining, and it is essential for removing excess whey from the cheese. I think that a good quality sea salt, such as those produced in Iceland or Anglesey –  makes all the difference to the final taste of the cheese. Anyone can make this cheese: the only special equipment* you'll need is a square of butter muslin for draining, and you can buy citric acid for cheesemaking, and rennet in tablet form from many online retailers. Use your local milk, and experiment! Crowdie makes a superb accompaniment to roast vegetables such as beetroot, tastes wonderful in a Winter salad, or is delicious eaten simply on a Scottish oatcake.
* for my readers in Iceland, I found them at ostagerd.is
Me (later): Thank you so much for the recipe, I experimented using local milk and Icelandic geothermal salt. We had it with fresh rucola from my garden, fresh sliced rutabaga and olive oil. It was tremendously delicious! Also I read that Crowdie was introduced into Scotland by the Vikings in the eighth century! Back to the sources? We'll be doing Crowdie often!
 Scottish Crowdie
This recipe will make approximately 900g / 2lbs Crowdie
You will need:
8 pints  / 4.5 litres good quality whole milk
1 tsp citric acid
1/4 tablet calf's rennet or vegetarian rennet if preferred
1teaspoon sea salt
100ml water, boiled and left to cool
(optional) crushed black pepper or pinhead oatmeal for rolling
Butter muslin and colander for draining
thermometer
a large deep pan
slotted spoon
small plate
weights, or vase filled with water,  for pressing.
Dish for storing
Instructions
1. Add the rennet to 50 ml cooled boiled water.
Stir, allowing the rennet to dissolve
Set aside.
2. Add the citric acid to 50ml cooled boiled water.
Stir, allowing the citric acid to dissolve.
Set aside.
3. Pour the milk into the pan and heat gently to 90F / 30C
4. Add the citric acid solution to the milk, gently combining it with the slotted spoon in an 'up and down' rather than circular motion to ensure an even distribution.
5. Remove the pan from the heat, put the lid on, and set aside for 30 minutes.
6. Add the rennet mixture to the pan, gently combining it with an up and down motion as before.
7. Heat the milk to 105F / 40.5C and maintain at this temperature for 3 minutes.
8. Line a colander with the butter muslin and place over a large bowl (if you wish to retain the whey) or the sink (if you do not). Carefully ladle the curds into the colander and allow them to drain for 15 minutes.
9. Add the salt to the curds, mixing it through carefully. Fold the corners of the muslin in over the salted curds and place a small plate and the weights (or water-filled vase) on top.
10. Allow the curds to drain under weight for an hour. Press the cheese into a dish, cover and refrigerate. Alternatively, roll the cheese in black pepper or pin head oatmeal, wrap and refrigerate.
11. Enjoy your Crowdie!