Que vaut une couronne islandaise? (2)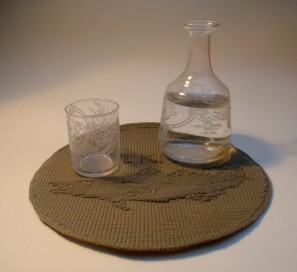 You remember I had knitted an Icelandic Crown (
see previous post
). In whatfollowed, the shop
Herðubreið
contacted me and the Crown set for sale in the shop,
Barónsstígur 27 in Reykjavík
. I decided to make no more than 5 one-of-the-kind pieces, numbered 1 til 5, all in different colors. Here are the first ones. I have a pink one on my needles. If you want to know more about the project
One Icelandic Crown
and
how much it is worth
, have a look
here
!
Vous vous souvenez que j´avais tricoté une couronne islandaise (voir note précédente). Par la suite, la boutique Herðubreið m´a contactée et la couronne est désormais à la vente dans leur boutique, Barónsstígur 27 à Reykjavík. J´ai décidé de ne pas tricoter plus de 5 couronnes, numérotées de 1 à 5, dans des couleurs différentes. Voici les premières. J´en ai une rose sur mes aiguilles. Pour en savoir plus sur le projet Une couronne islandaise et ce qu´il vaut, cliquez ici!