Une bonne année de tricot qui commence!
EDIT 16.01.2011: recette des galettes en français en fin de page; the Laufabrau
ð
recipe in French.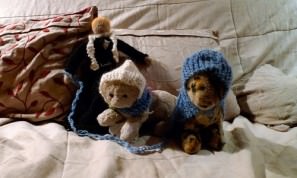 Theodora
is safe, she got some
beautiful knits
and much more that you will have the chance to discover all the year long. Among others things, she got this lovely scarf knitted by my second daughter, of the same name, 8 years old. Rosa and the White Cat escaped the nasty Icelandic cat as well and so did I! Sylvia my oldest daughter, 9 years old, knitted for me a lovely pair of red garter stitch mittens! The holidays were lovely and involved a lot of knitting: the girls were especially allowed to knit in the car (with bamboo short circular for safety) claiming that it kept them from being car-sick (!?). Theodora taught my brother how to knit and I finished a few projects that I can't show right now (sigh…).
Théodora est toujours vivante et s'est fait offert de merveilleux tricots et bien plus encore que vous aurez l'occasion de découvrir au cours de l'année. Parmi celles-ci cependant, cette mignonette écharpe tricotée par am cadette du même nom, 8 ans. Rosa et le Chat Blanc ne se sont pas fait dévorer non plus par l'horrible chat de Noël islandais, et moi non plus! Sylvia mon aînée, 9 ans, m'a offert cette ravissant paire de mitaines rouges! Nous avons passées d'excellentes vacances et beaucoup tricoté: les filles ont exceptionnellement eu le droit de tricoter dans la voiture (avec des aiguilles circulaires très courtes en bambou, moins dangereuses) prétextant que cela les empêchait d'avoir le mal de voiture (!?). Théodora a appris à mon frère à tricoter et j'ai fini quelques projets que je ne peux pas encore vous montrer (soupir…).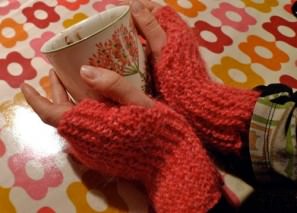 We also cut out a lot of
Laufabrauð
, North of Iceland traditional Icelandic thin Christmas breads, and it was a very creative year I thought!
Nous avons aussi découpé beaucoup de Laufabrauð, ces fines galettes islandaises traditionelles du Nord de l'Islande à Noël, avec cette année de vraiment jolies découpes!
Today school has started again and the snow is gone but here is a backstage picture from the photoshoot of the Beret Brynja, when it was still all white.
Aujourd'hui l'école a repris et la neige est partie mais voici une photo côté jardin de la prise de vue du Béret Brynja lorsque tout était encore blanc.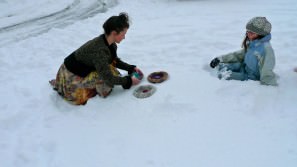 EDIT: c'est la recette de la famille, le seigle lui donne du caractère.
500 g farine blanche
200 g seigle
1 c à café de sel
1 c à café de sucre
1/2 l de lait chaud mais qui n'a pas bouilli (important)
35 g de beurre fondu
On mélange le tout pour faire une pâte un peu sèche. Elle est plus facile à abaisser en galettes fines quand elle est encore tiède. Les galettes sont découpées au couteau et piquetées avec une fourchette (très important) puis cuites dans une friture chaude et pressées dès sorties de la friture (avec un couvercle bien plat, entre des couches de papier journal et papier torchon).