Ástþrúður Síf is a great knitter and is always wearing beautiful knits. She learned how to knit from her mother, who she missed at a young age and knitting is for her a way to keep her memory close. She finds knitting very relaxing and is most of the time knitting after patterns but from time to time, she likes to improvise and create something on her own. She often gets inspiration from Icelandic nature. Her husband is a geophysicist and they spend a lot of time travelling in the highlands.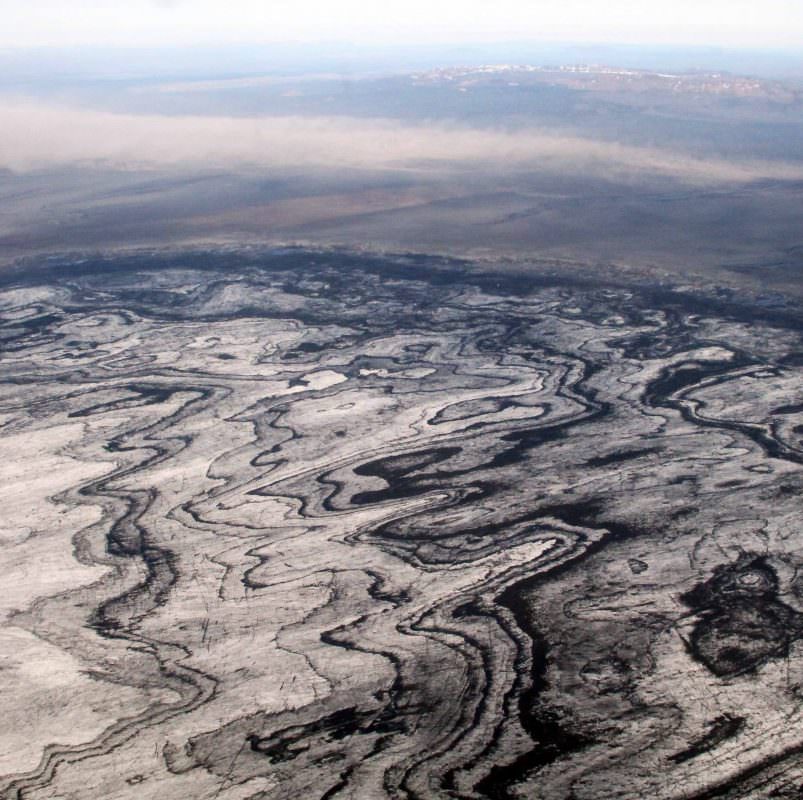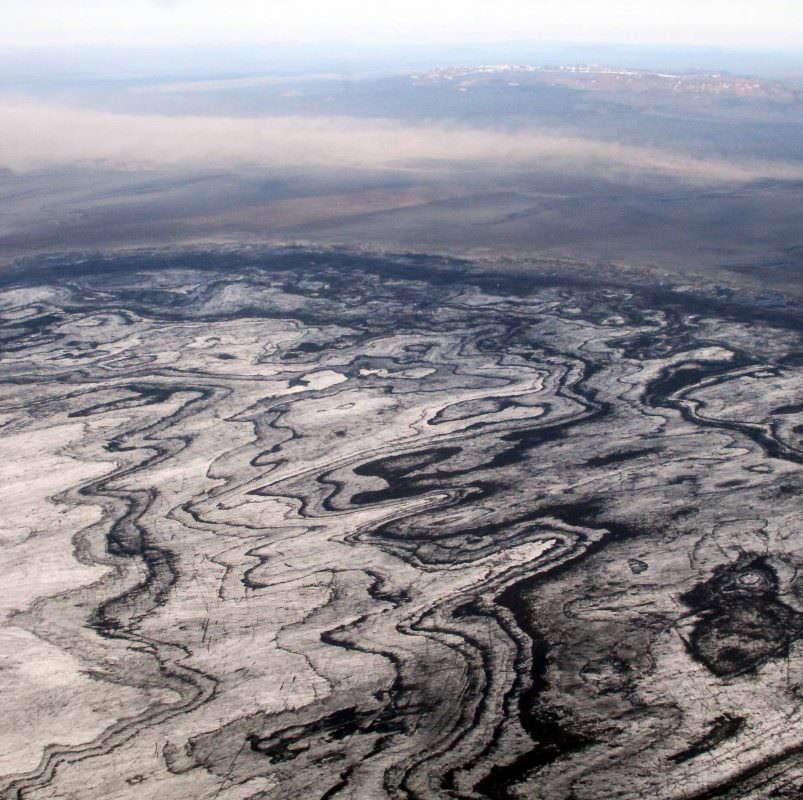 (picture by Þórdís Högnadóttir)
She has already published a few patterns in the magazine Hugur og Hönd and in the Istex patterns books (in Óveður and in the newest Lopi no 37). When asked about writing patterns, she finds it is a lot of work, very difficult and timeconsumming. "It demands both perseverance and endurance to get a pattern out." she says.
She got the idea of the sweater Aska last summer. She made a rough sketch in her note book: some sort of a poncho with sleeves. She found in a pattern book a motif that she liked. She chose the yarn Einrúm E a mix of Icelandic wool and silk, because the silk in it  glitters like the sun on the glacier.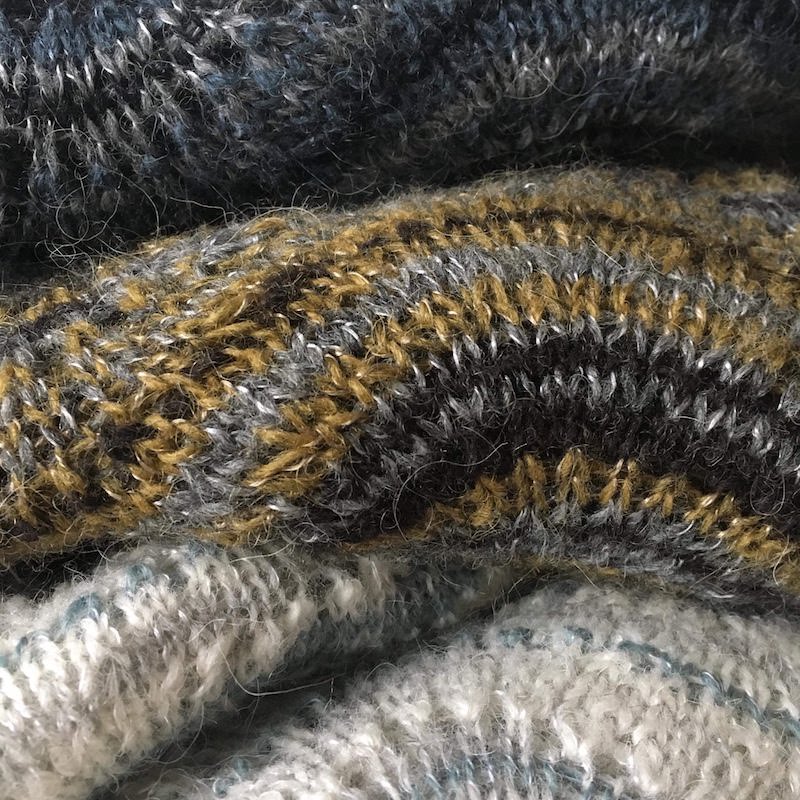 From there, she knew more or less where she was heading and she knitted the white sweater during her summer vacations while travelling around Iceland. But she wasn't so happy with the fit.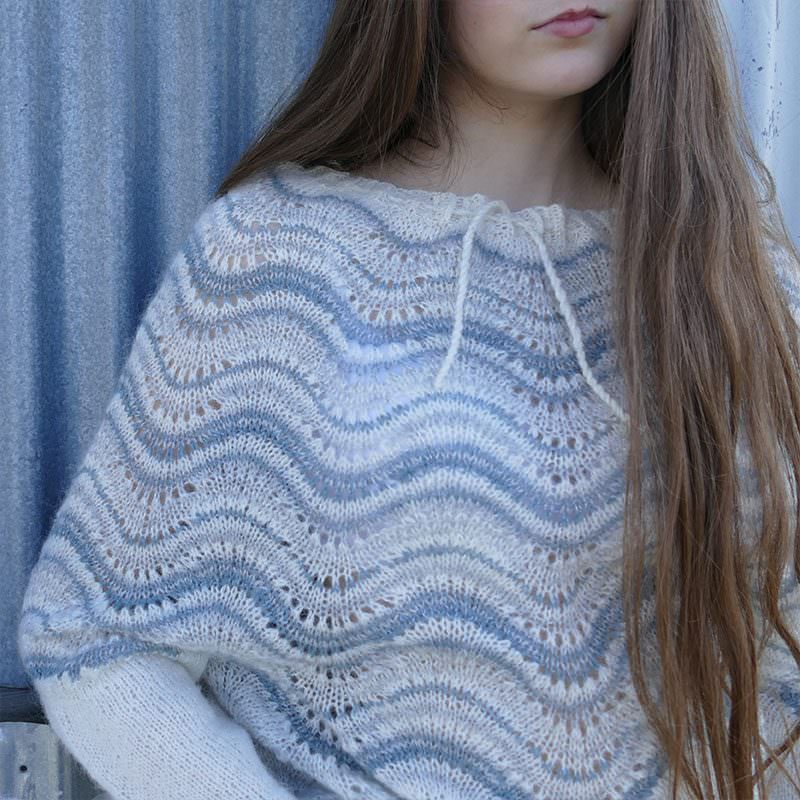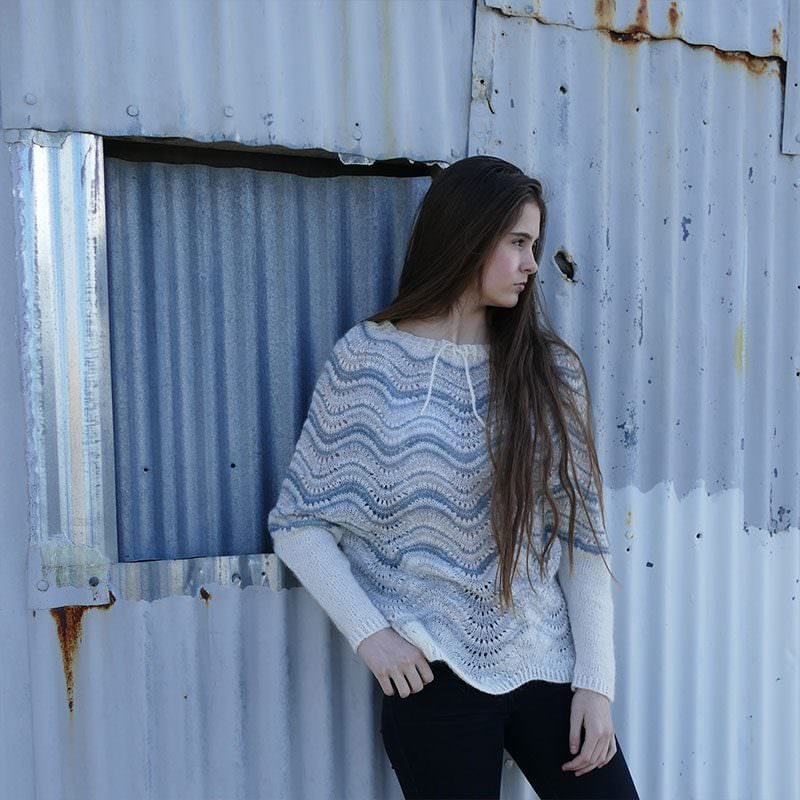 So during the autumn, she knitted another sweater with a more refined fit and in colors that would suit her carnation (rather than the glacier!).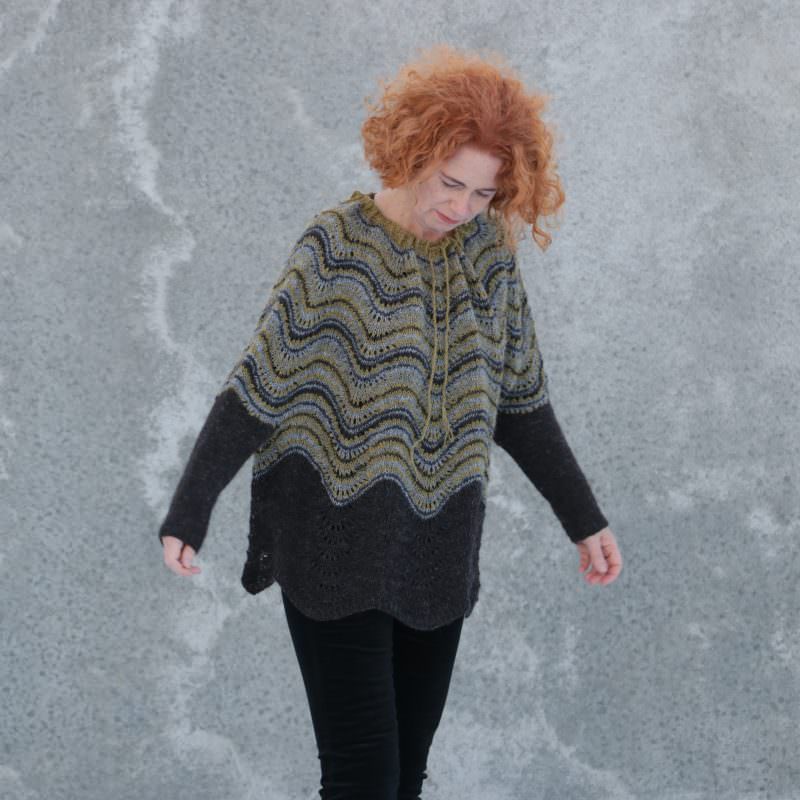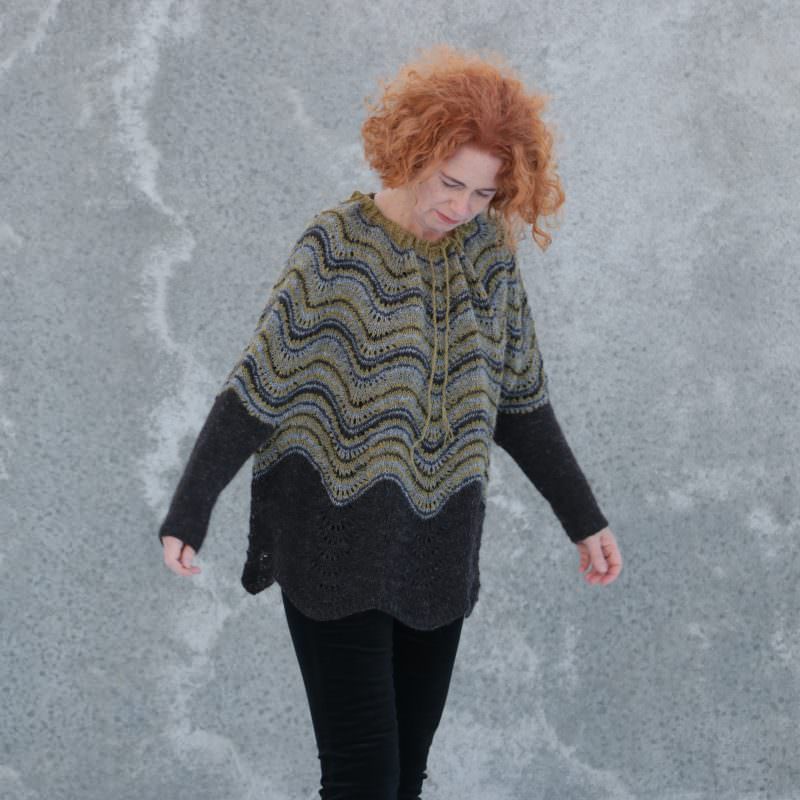 While she was knitting it, she wrote down in her notebook exactly what she was doing. This was some sort of a pattern but she din't intend at that time to publish a pattern at all. She wore the sweater and got a lot of compliments for it. Her friends wanted the pattern and encouraged her to publish one.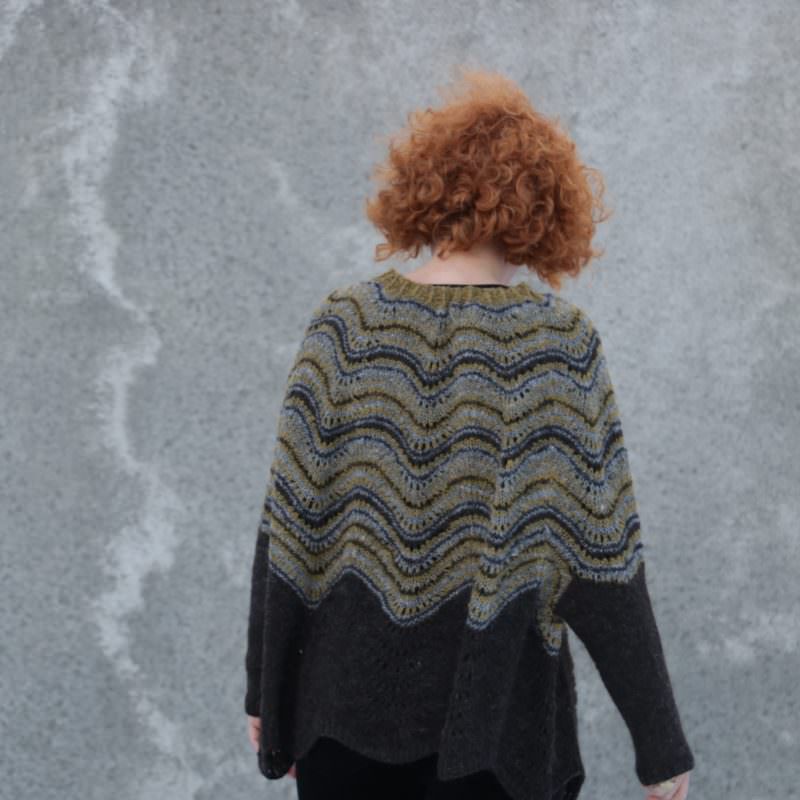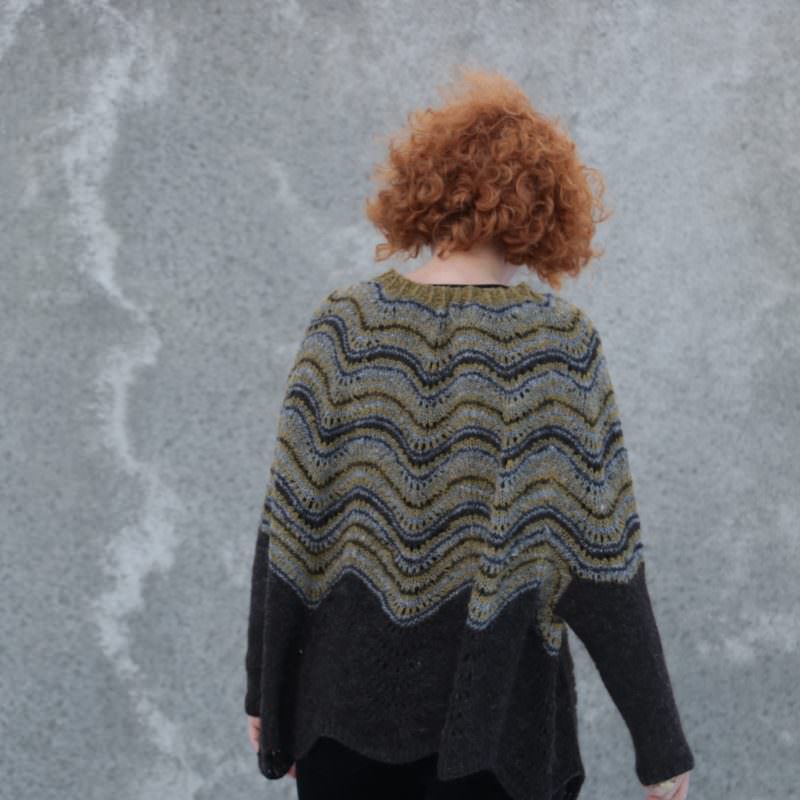 I was one of them. Ásta, like she is often called, and I are neighbours (you may have seen pictures of her adorable red house in my  instagram feed).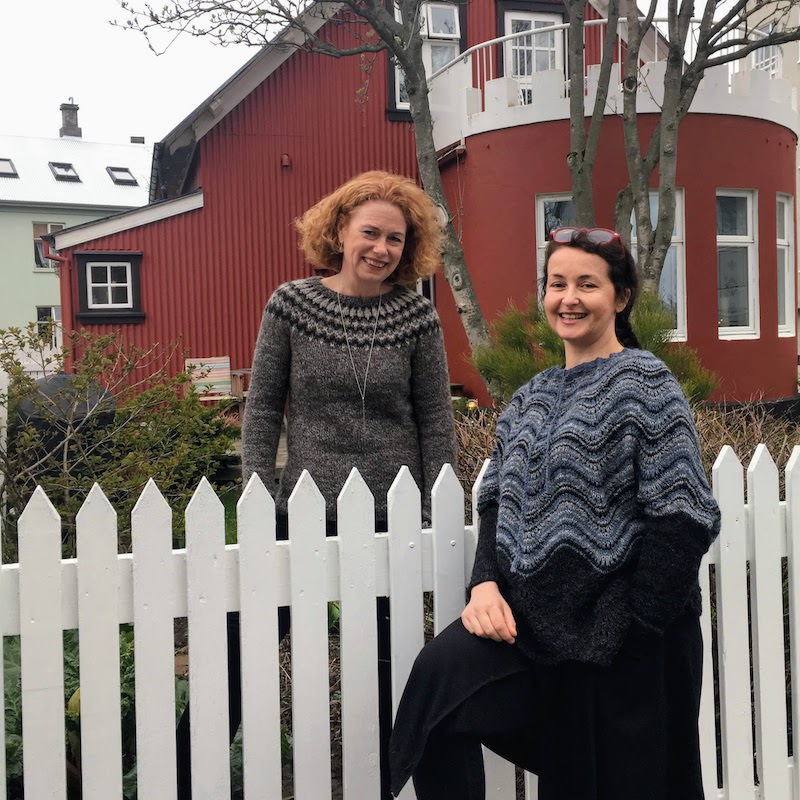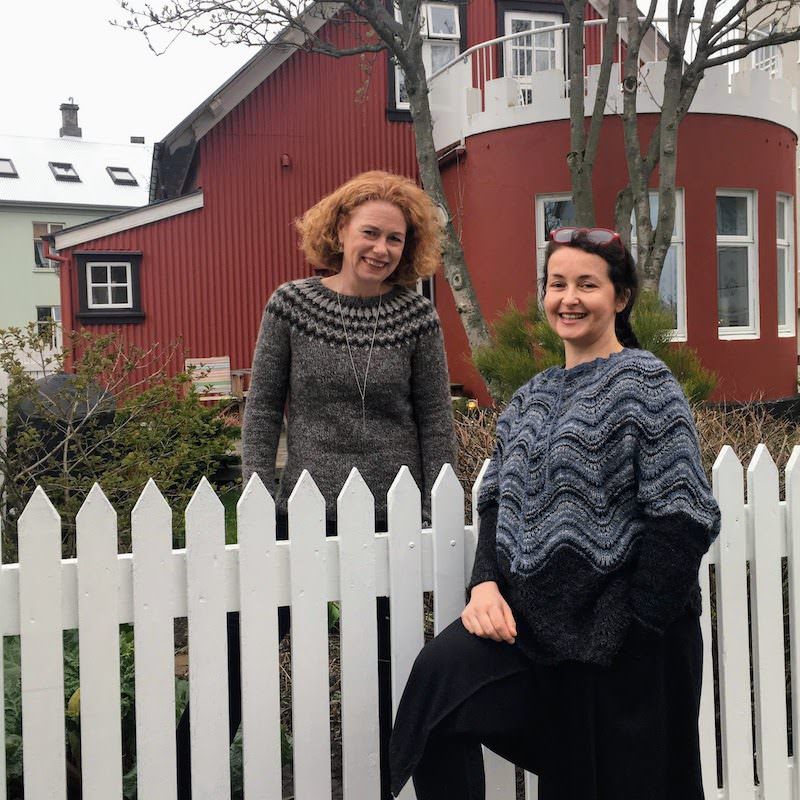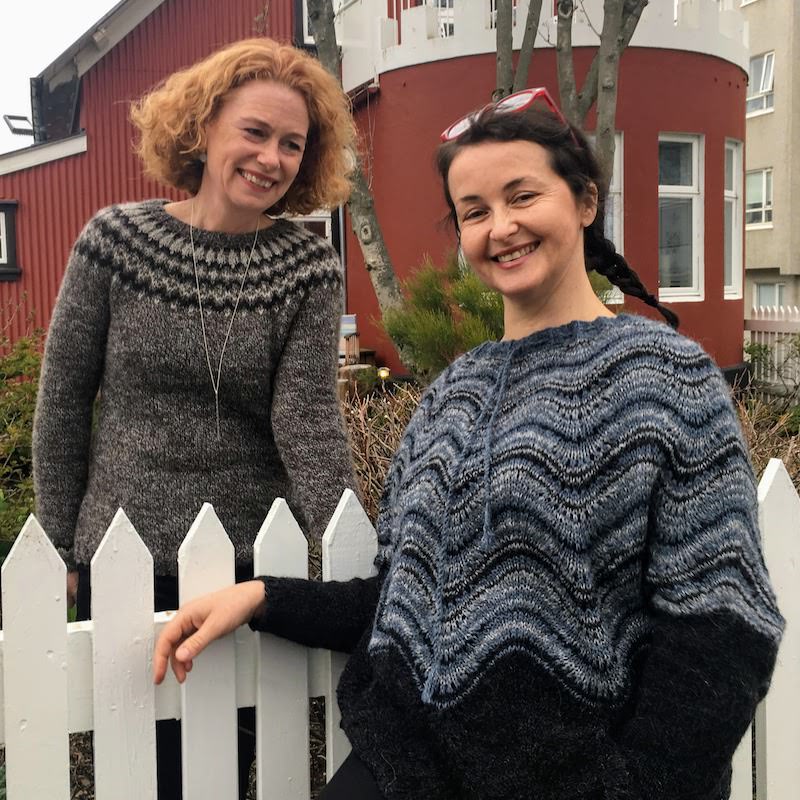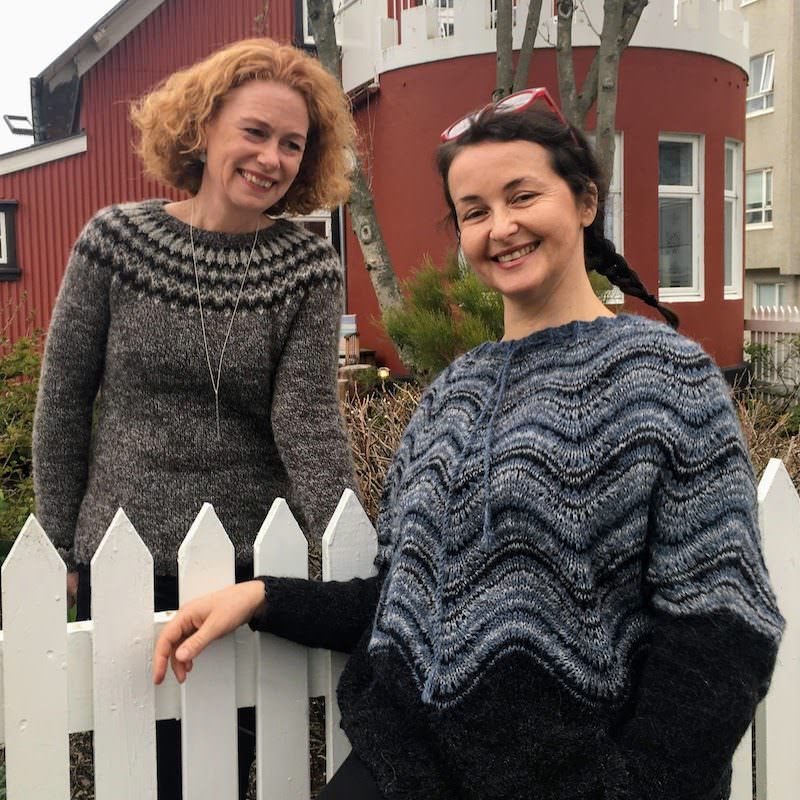 Winter had arrived and the third sweater was on Asta's needles: the blue one. This time, it was more some sort of a test knit of her own instructions which she refined. The colors she choose were those that she found were translating the best the colors on the glacier, and the drawings made by the Icelandic ashes. This is also when the sweater got its name, Aska, ashes.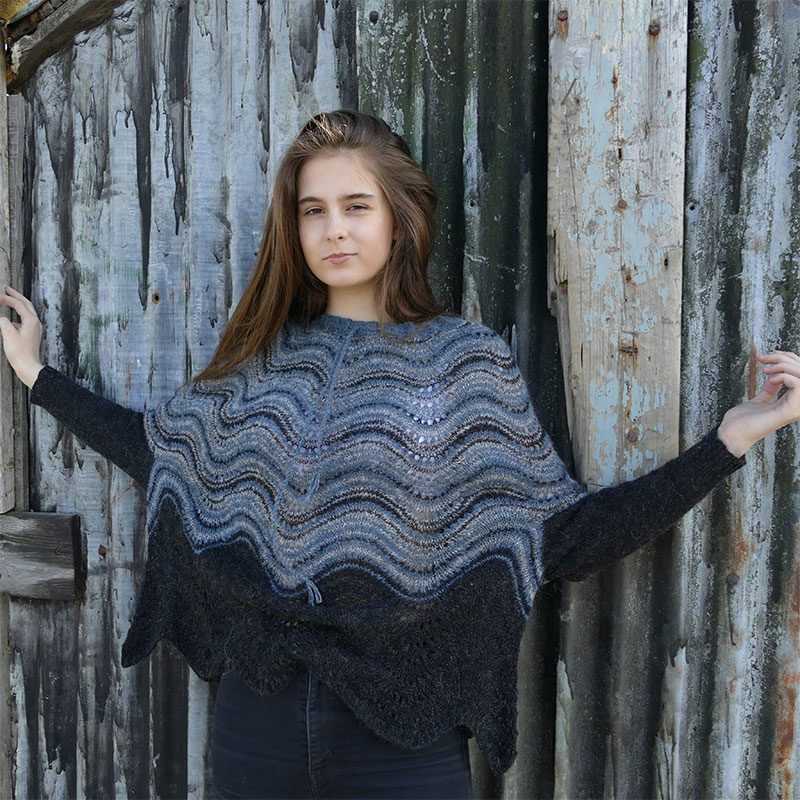 But Ásta was still shy to publish a pattern she was not sure was good enough. She asked me if I could have a look at it. So we met one evening, like neighbourgs do and had a look together. I offered to draw a chart that I found was missing (I love charts and can't visualise a pattern from written instructions!!). And I also insisted that she added a size for the bigger girls out there.
"I thought this was so overwhelming but you encouraged me and made it look easy by cutting the shape into pieces to make the different proportions into pieces and come with a logical formula that it was possible to trust. I had not realised how much knowledge of geometry goes into grading a sweater." says Ásta.
Then Ásta continued working on her pattern that she now finds much better that it used to be and she found the whole experience quite educational.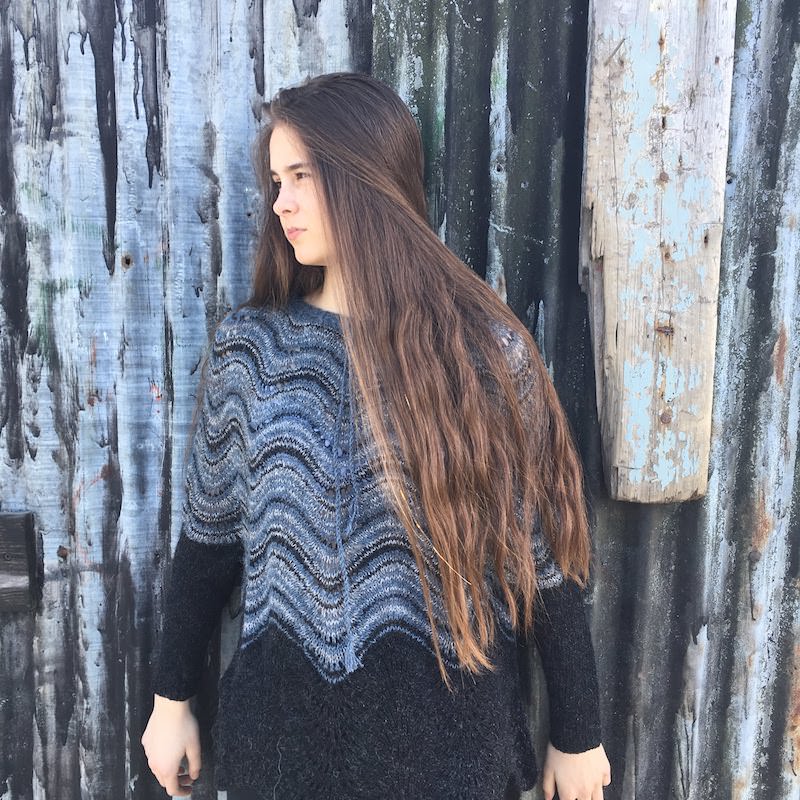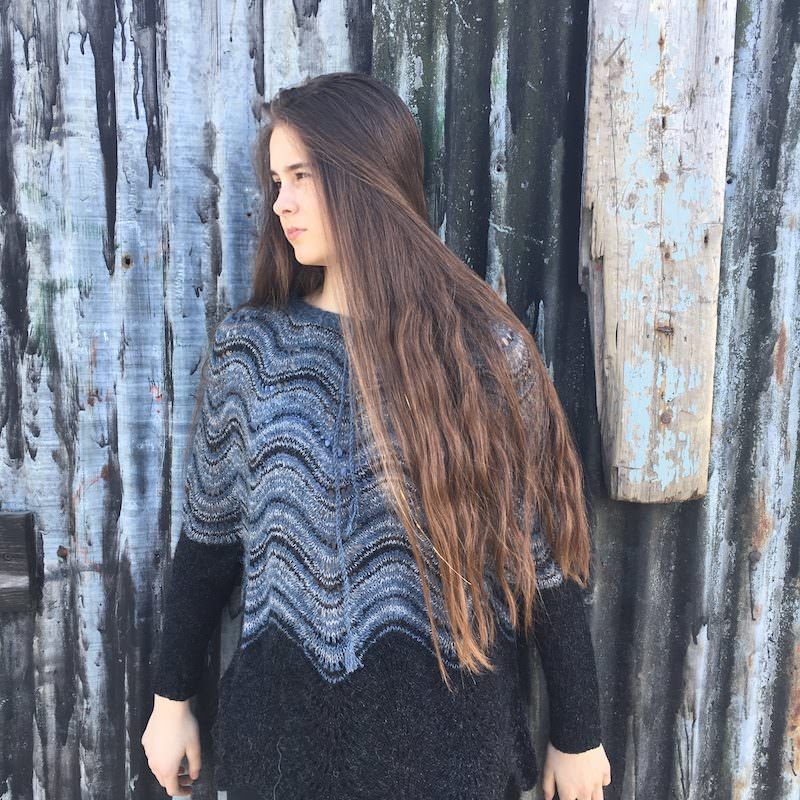 Then I got my beautiful oldest daughter to model the three sweaters for me!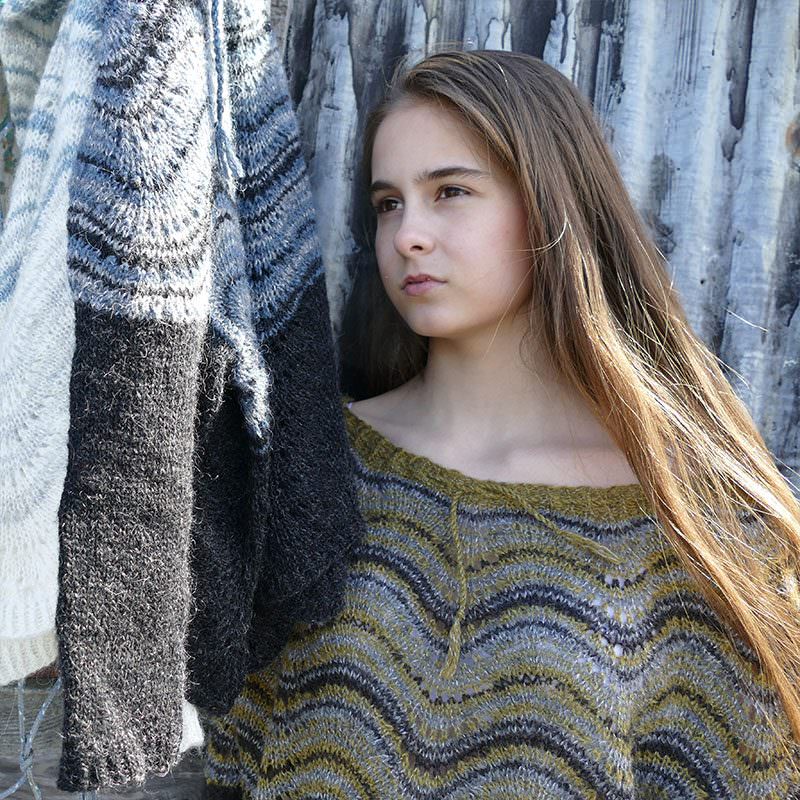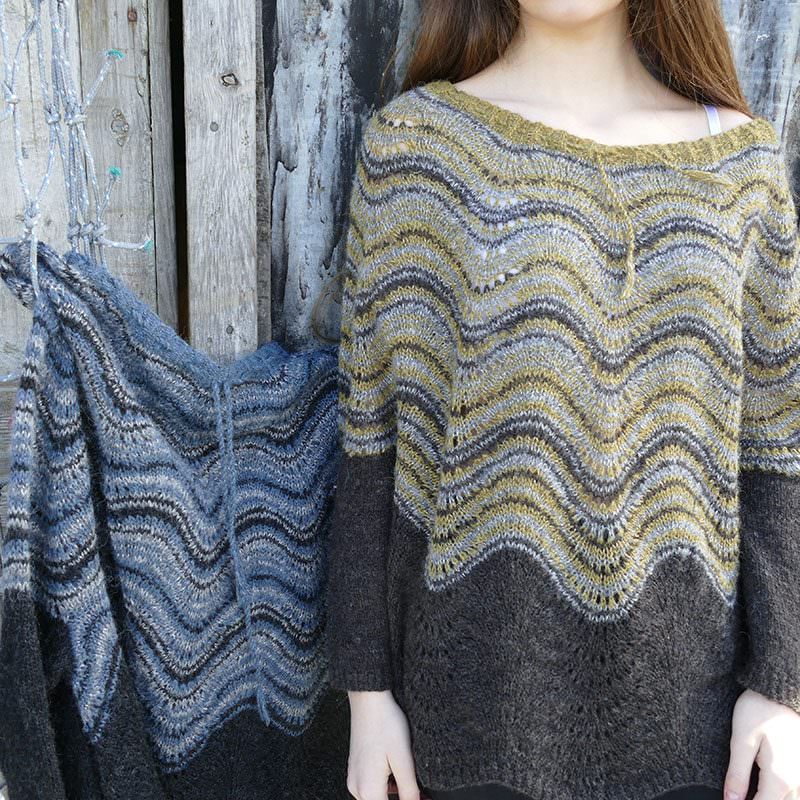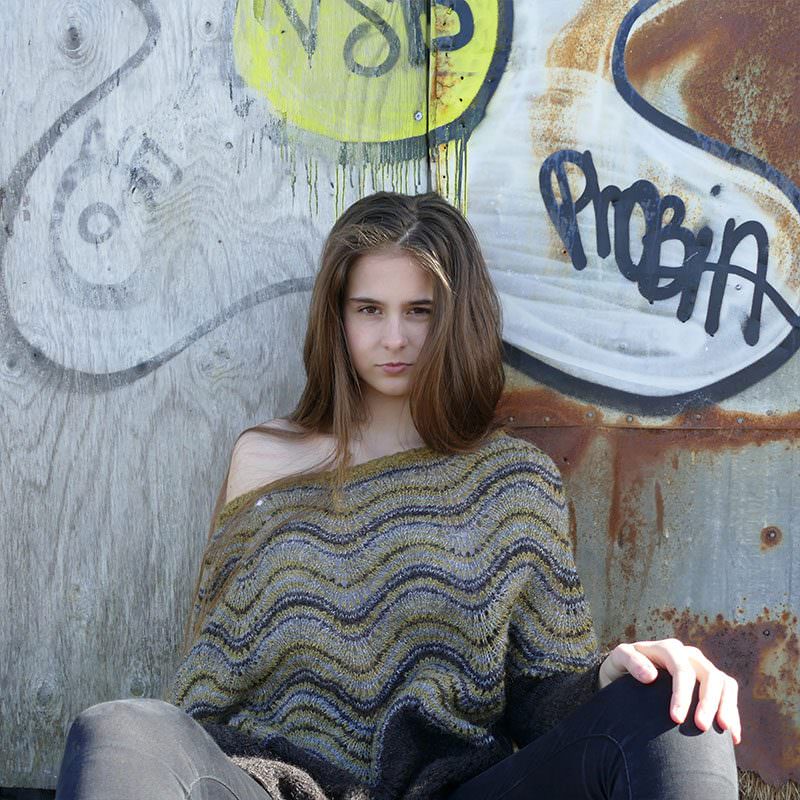 I'm very happy to be able to offer to you this pattern on my website. I polished the pattern a little bit and you can buy it here on my website.
The sweater is oversized and comes in two sizes: the size 1 fits small and medium woman, and the size 2 large and XX-large women.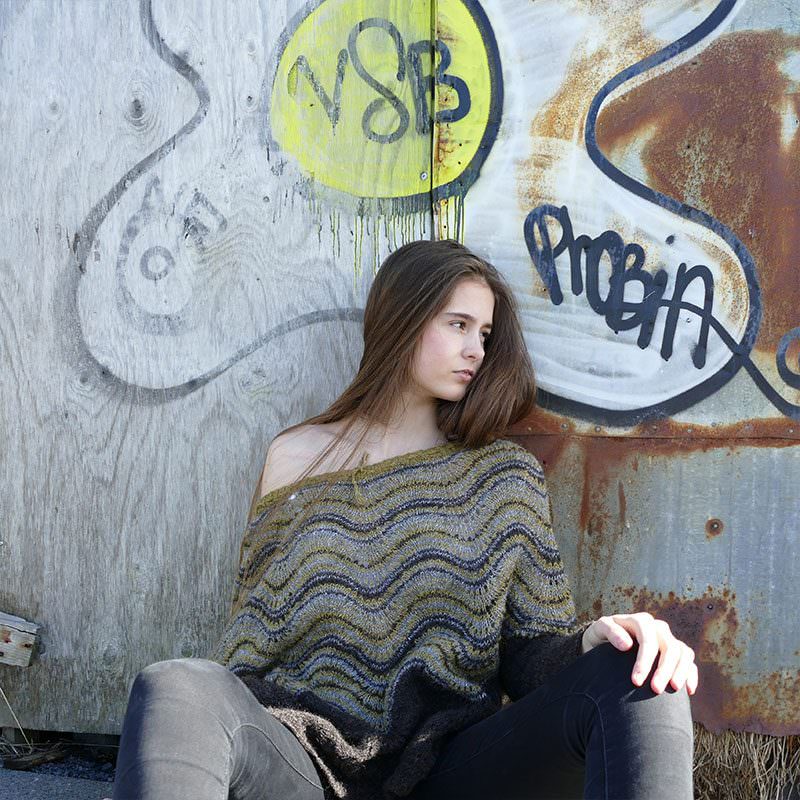 The KIT is also for sale here. It here contains enough Einrúm E (lopi + silk) to knit the sweater in the size chosen and it represents a 10% discount compared if you were going to buy the wool separately. You can also choose you own colors if you want.
And now more pictures of my girl!
Resume: follow links