I love autumn and the amazing colors it comes with, the golden leaves of the arctic birches and willows in the lava fields… And like always at this time of the year, I had a sudden urge to knit something yellow…
In my world, it also means to design something yellow…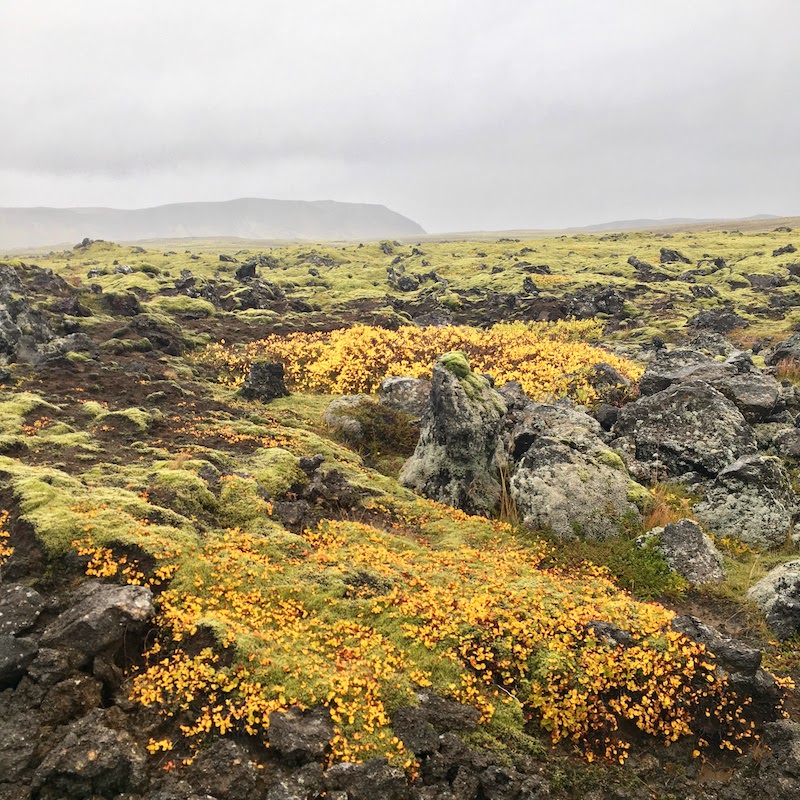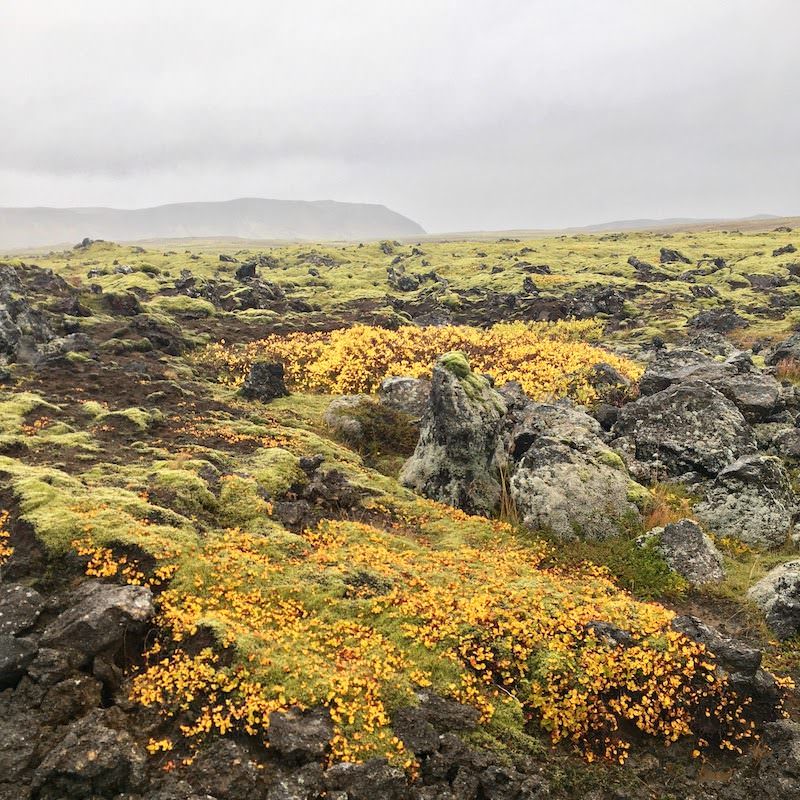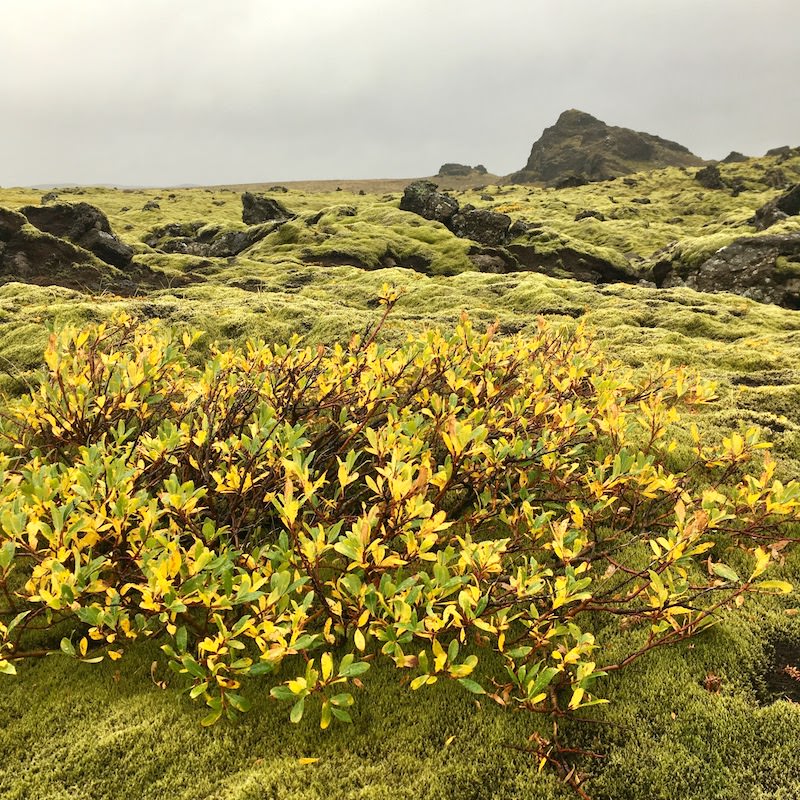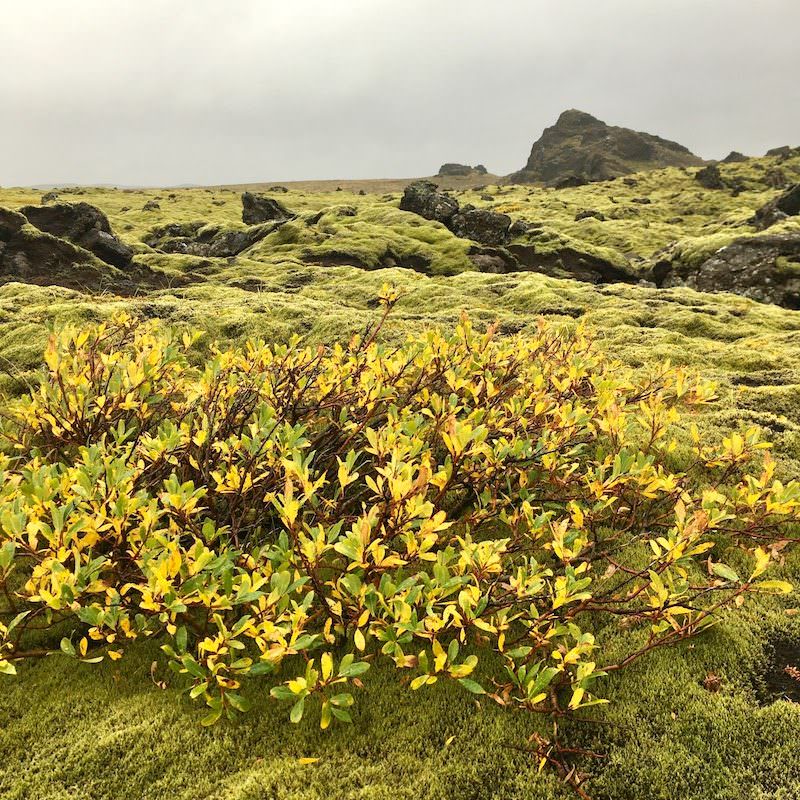 I didn't have to look far away for inspiration: the yellow birch leaves in my garden were calling me. I arranged them together on the patio and … there was a hat!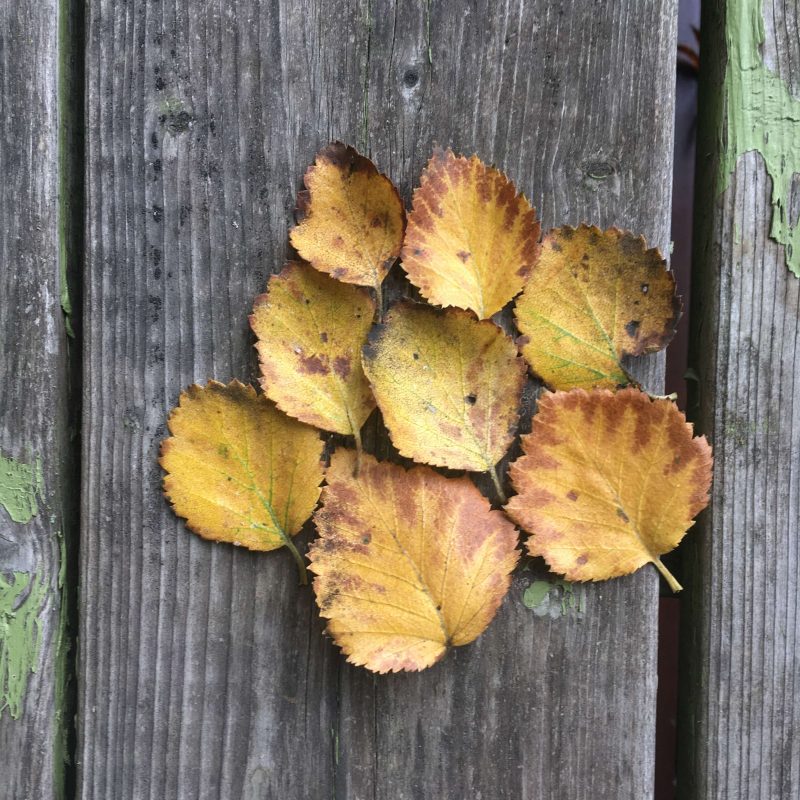 I cast on a beautiful yellow yarn, Hulduband from Uppspuni, our first ever mini mill in Iceland! Hulduband is a 2 ply aran weight yarn, made of truly beautiful Icelandic sheep wool from Hulda's own sheep. You will have guessed; the yellow yarn is hand dyed with Birch leaves at the minimill. I paired it with a brown natural sheep color (not dyed).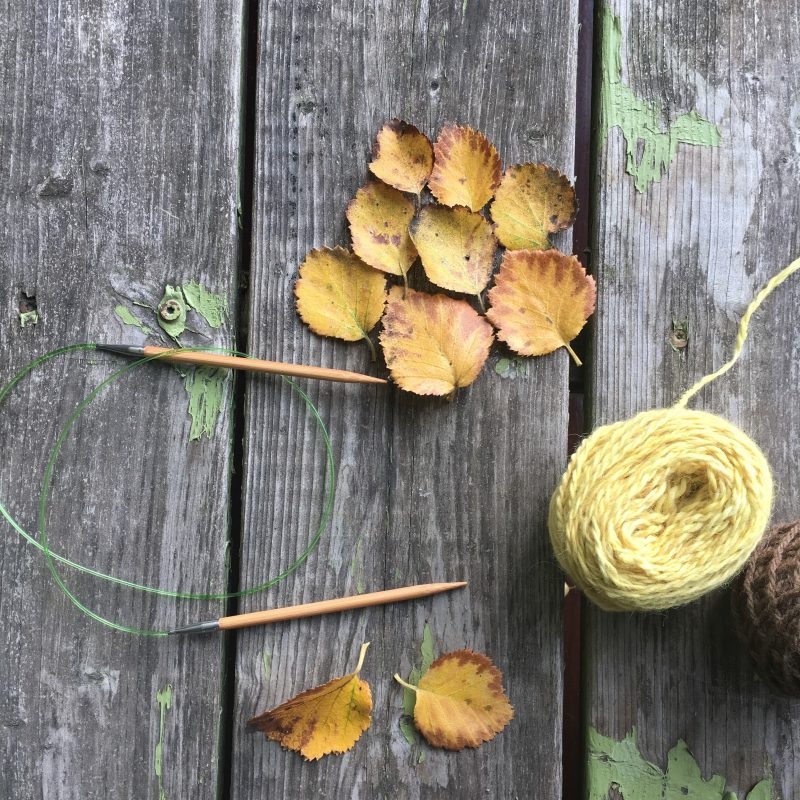 Also I rediscovered the pleasure of knitting with wooden needles: since I got hooked (pun intended) with Magic loop, I have completely abandoned my bamboo double pointed needles and was a bit sad not to find any wooden circular needle truly suitable for Magic loop… That was until I discovered the Hiyahiya bamboo circular needles: with their very flexible and smooth cable and sleek joints, they are just as magical to knit with as the loop! Also for color sake, I quite enjoy the green cable 🌿  Would they be made of Icelandic arctic birch, my hat story would be perfect! 😉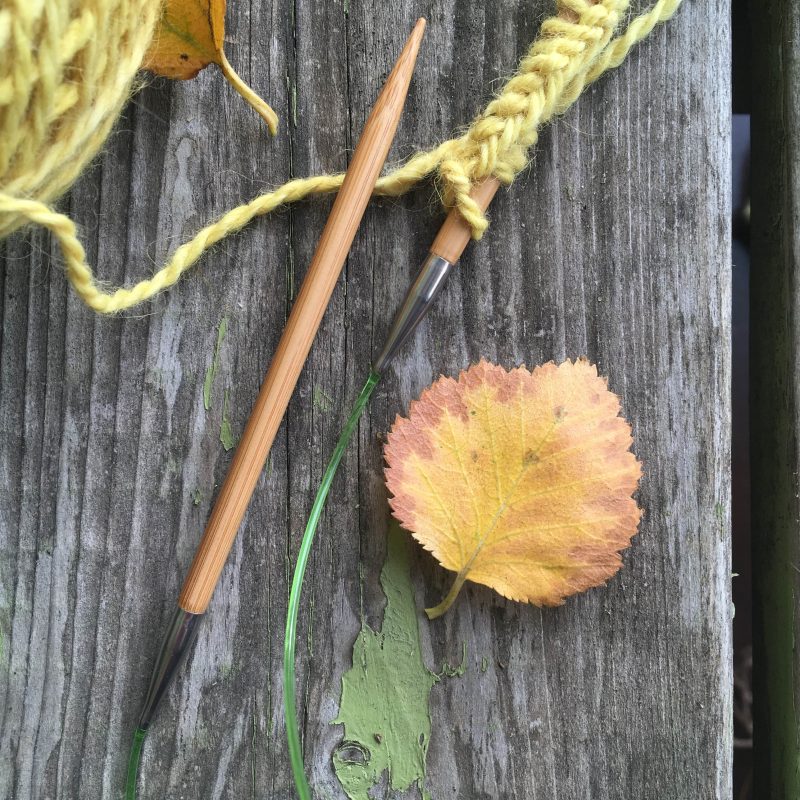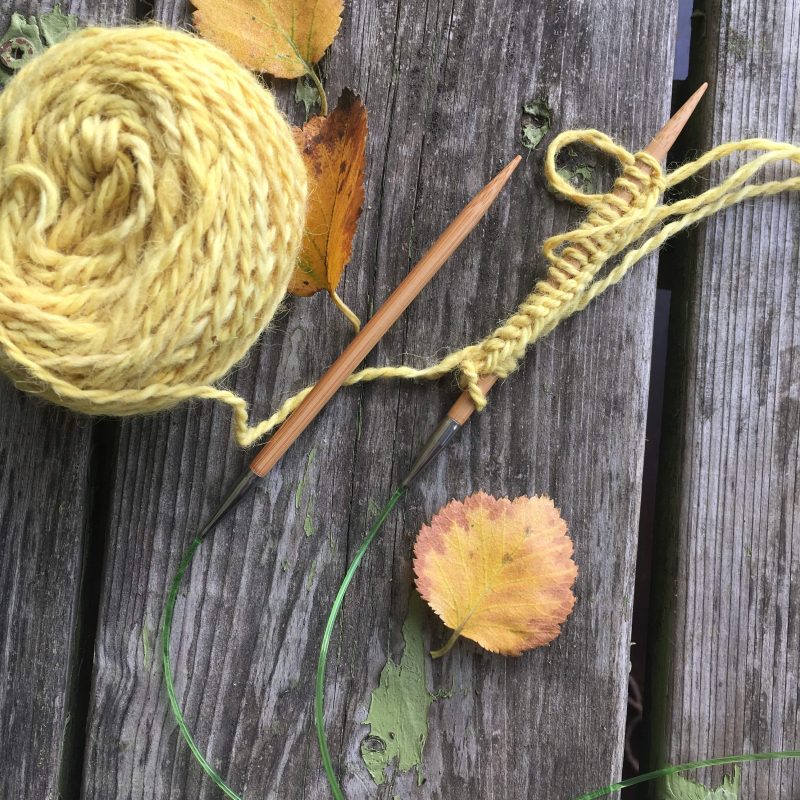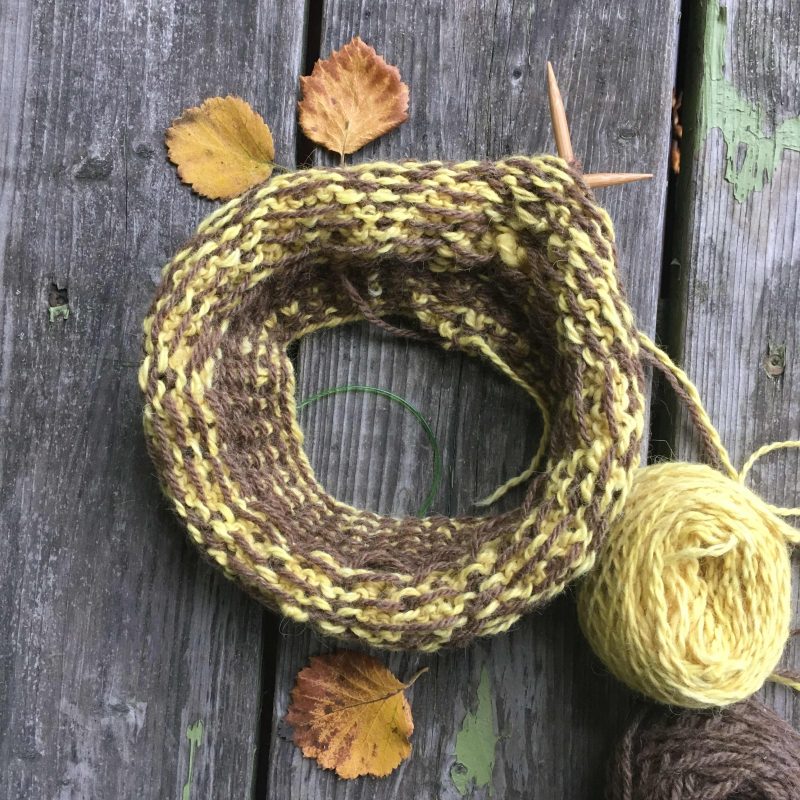 So here is the Birkilauf hat pattern!
Birki means Birch in Icelandic and Lauf means leaves. The arctic birch is a native tree of Iceland. The coastline used to be covered with birch forests but due to different factors, there are today only remnants of those. Maybe this is why it has a special place in Icelandic hearts. Carved by Icelandic designers and crafters, it is also used as a spice or for its medicinal qualities and to dye wool. Birch leaves were my inspiration to design this hat.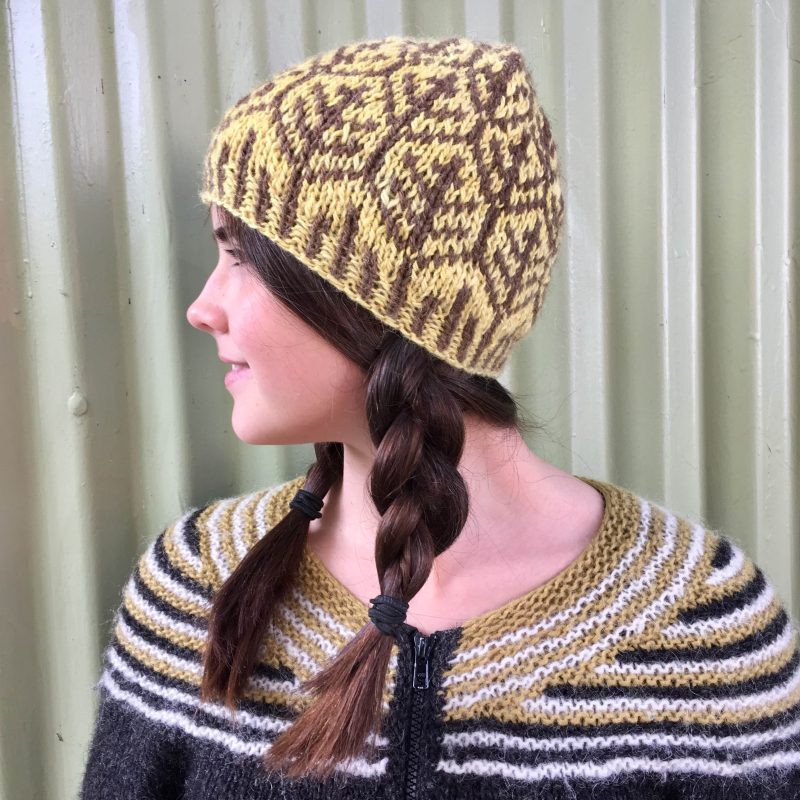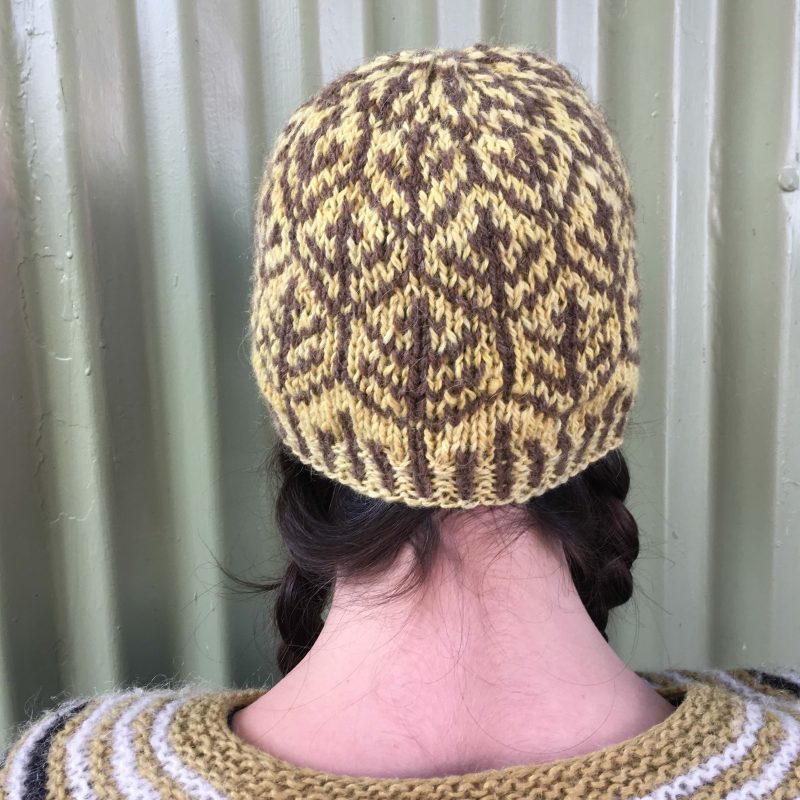 It comes in 3 sizes, S for children and M, L for adults. The grading is obtained by changing the number of leaves around but also by playing with the size of the leaves, thus shaping the crown and also achieving different depths. Still, I could keep the one chart very simple which is quite satisfying as a designer.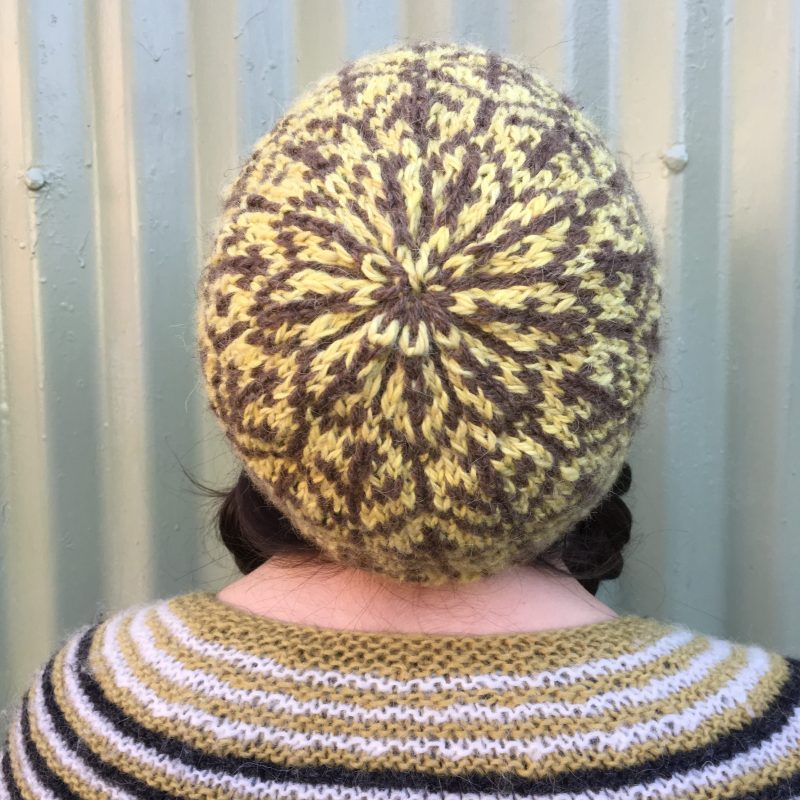 Birkilauf also inspired me a quick little Knit A-long to get those wonderful Hiyahiya bamboo circular needles moving!
The KAL will end on November 13th, 2017 with exciting prices to win:
a Uppspuni Birkilauf kit: the kit contains enough yarn to make a Birkilauf hat using Hulduband yarn spun by Uppspunni, the first ever minimill in Iceland, from selected Icelandic wool. Colors: yellow handyed with birch leaves and natural brown
a bamboo circular needle size 5mm / US 8, 80 cm /32" kindly offered by Hiyahiya
a mixed Einrum KIT: the kit contains one skein of Einrum E (lopi + silk) to use double and 1 skein of Léttlopi, both in the colors of your choice
How to participate:
the KAL uses the pattern Birkilauf
create a Ravelry project and use the tag #birkilaufKAL
use any suitable yarn you want or one of those listed
there is no obligation to have a completed project to be able to enter the giveaway at the end of the KAL on November 13th 2017
You are of course most welcome to share your progress, ask questions, show your colors in the Ravelry thread!
The 3 winners will be chosen by November 13th 2017 (12AM Icelandic times) among the Birkilauf Ravelry projects.
PS: special thank to Hiyahiya to let me test their needles. They definitively are worth the price for me. For a list of Hiyahiya retailers in North America, see here, and in Europe, here.
PS: there will be Uppspuni kits for sale on my website next week but only a limited amount, again, you can use any Aran weight yarn you want for this project!