Un cadeau pour Myrna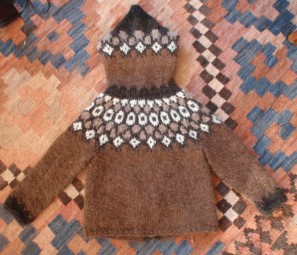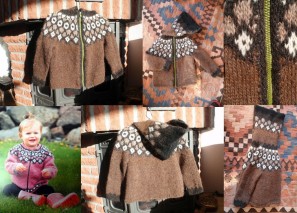 Here is an Icelandic yoke sweater for Myrna. She´s one year old already but this is a birth gift, very useful in the cold weather 🙂 Icelandic Lopi wool is incredibly warm, light, water-repellant and self-cleaning, yes all that !
Pattern is taken from a sweater designed by Védis Jónsdóttir for latest Ístex book nr. 28 (
Ístex
is the first wool producer in Iceland). I made some changes in the motifs (I´m working on my stach!), added a hood and my little color touch for the zip…
Thre are some
free patterns
on Ístex´s website but they don´t sale wool to individuals. On the other hand, you can order Icelandic wool at the
Handknitting Association of Iceland
: it´s very economical right now ! Also available from JCA by Reynolds.
Voici un petit pull islandais pour la jolie Myrna. Elle a déjà plus d´1 an mais c´est son cadeau de naissance, très approprié par les grands froids qui courent 🙂 A peine filée, la laine islandaise Lopi est incroyablement chaude, légère, déperlante et auto-nettoyante, si si, tout ça !
Le modèle est repris d´un modèle créé par Védis Jónsdóttir pour le dernier magasine Ístex
nr. 28 (
Ístex
est la principal produteur de laine en Islande). Avec quelques petits changements dans les motifs, les couleurs (j´utilise mes restes de laine !) et surtout une capuche et ma petite touche de couleur dans la fermeture éclair…
Ístex propose des modèles gratuits sur son site mais ne vend pas de laine au détail. Vous pouvez en revanche la commander à l´Association de tricot d´Islande (
Handknitting Association of Iceland
) : la couronne a tellement baissé que ce serait dommage de ne pas en profiter !