Miam miam… gâteaux en feutre !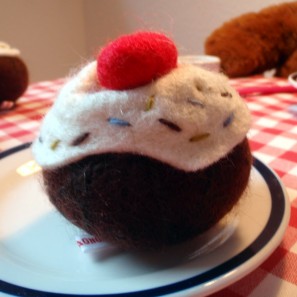 I made this yummy cakes last Christmas for Henrietta, my youngest daughter. The idea was not to make accurate replica of cakes but rather to make THE ultimate cake. Even my husband immediately recognised them as such ! After intensive testing, including tea-party in the sand box and cake-throw in the snow, I decided to do more baking with this delicious recipe… For sale in my ETSY shop.

J´ai cuisiné ces délicieux gâteaux à Noêl pour Henrietta, ma petite dernière. Je n´ai pas cherché à faire une réplique exacte mais plutôt LE gâteau, reconnaissable comme tel par n´importe qui (même mon mari ne s´y est pas trompé !). Après des tests intensifs, un goûter de nounours dans le bac à sable et un lancer de gâteaux dans la neige inclus, j´ai décidé de me lancer un peu plus sérieusement dans la pâtisserie. Les gâteaux sont en vente dans ma boutique ETSY.