Design: Hélène Magnússon
Size: XXS(XS,S,M)(L,XL,2XL)(3XL,4XL,5XL)
You can easily adjust the lengths by adding or withdrawing rnds between the bands of lace.
Recommended positive ease 25 cm /10" around bust and 20 cm / 8" around upper arm.
Shown in Raven black size M with 25 cm /10″ ease and Palagonite ochre size S with 15 cm/6″ ease.
Choose your size: add the desired ease to your own measurements and choose the size the closest to the result.
Sweater finished measurements
A Neckline circumference: 46(46,51,51)55,55,60(60,60,60) cm / 18¼(18¼,20,20)21¾,21¾,23½(23½,23½,23½)"
B Bust circumference: 97(106,111,120)129,143,152.5,161.5,171,180 cm / 38¼ (41¾,43½,47¼)51,56¼),60(63½,67¼,70¾)"
C Body length to underarm: 30(30.5,31,31.5)32,32.5,33(33.5,34,34.5) cm / 11¾(12,12¼,12½)12½,12¾,13,(13¼,13½,13¾)"
D Yoke depth at front: 20(20.5,20.5,22)22,22.5,23(23.5,23.5,24) cm / 7¾(8,8,8½)8½,8¾,9(9¼,9¼,9½)"
E Yoke depth at back: 4 cm / 1½" deeper than at front
F Upper arm circumference: 37(37,41.5,41.5)46,51,55.5(60,64.5,64.5) cm / 14½(14½,16¼,16¼)18¼,20,21¾(23½,25½,25½)"
G Sleeve hem circumference: 21.5(21.5,24.5,24.5)27.5,27.5,27.5(27.5,31,31) cm / 8½(8½,9½,9½)11,11,11(11,12,12)"
H Sleeve length to underarm: 36(37,37.5,38)38.5,39, 39.5(40,40.5,41) cm / 14¼(14½,14¾,15)15¼,15½,15½(15¾,16,16¼)"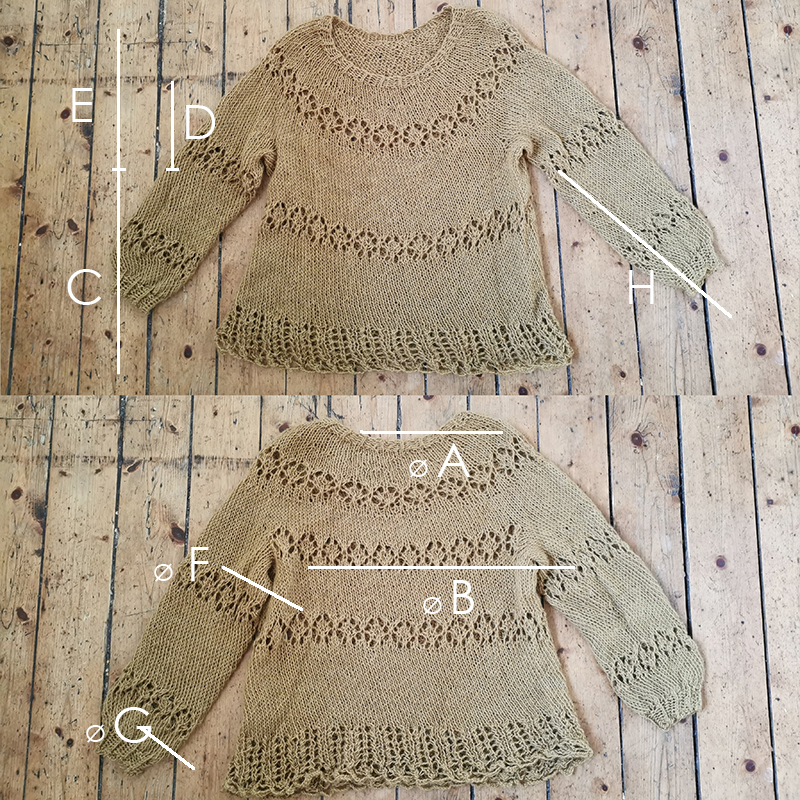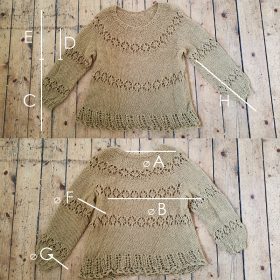 Gauge: 10 cm / 4" = 13 sts and 19 rows/rnds in stocking st on 6 mm / US 10 needle
Yarn: Katla sokkaband by Hélène Magnússon: pure new Icelandic lambswool with a dash of silk (1%), DK/sport weight sock yarn, 4 ply, non superwash, 100g skein = 220 m/ 240 yds: 2(3,3,4)4,5,6(7,8,9) skeins
Yardage used: 394(476,539,627)746,937,1102(1277,1450,1623) m / 430(519,588,685)814,1023,1202(1394,1583,1772) yds
Shown in Raven black size M and Palagonite ochre size S.
Choose your shade among the 11 colors of Katla available!
Needles: 6 mm / US 10 circular needle suitable for magic loop. You can also use double-pointed needle or any method to knit small diameters in the rnd. Adjust needle size as necessary to obtain correct gauge.
Notions: stitch marker, darning needle. Extra needles of same size or smaller or waste yarn to set sleeves sts on hold.
Techniques: The sweater is knitted top down in the round in Stocking stitch with bands of easy lace (charted and written instructions).  At the armholes, the stitches are divided between the back, the front and the sleeves. The sleeves are set on hold. The back is knitted higher back and forth then extra stitches are cast on for the underarms and the body is knitted in the round. Stitches are then picked up at the underarms and along the higher back and the sleeves are knitted in the round from the top down.
Kit: the kit contains the wool but not the needles or the other material. The kit include the PDF pattern. We don't send printed patterns by snail mail. Shipping costs are not included.
Pattern: Once you've made your paiement, you will receive an email with a link to download the pattern PDF. Your PDF will also always be accessible on your Icelandic Knitter account under Downloads. We don't send printed patterns by snail mail.
Shipping and returns: see Terms & conditions here