Mon livre, modèle # 18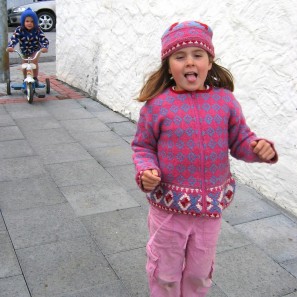 For her fourth birthday, my oldest daughter, Sylvía, wanted a pink sweater (how strange…). I picked up three pink inserts from my collection of pictures (pictures of knitted inserts taken in the Museums of Iceland), translated the patterns into graphs, and then Sylvía helped me arranging and combining the patterns together. I kept the Icelandic intarsia (intarsia in garter stitch) in the borders but I allowed myself to knit main pattern in the round in Fair-Isle and stocking stitch to have the sweater lighter (and easier to knit !). Sylvía absolutly wanted a zip and I added a little matching cap she´s been wearing quite a lot (until it apses on to younger sisters).
Instructions here
.
Pour ses quatre ans, ma plus grande fille, Sylvía, voulait absolument un pull rose (bizarre à cet âge là…). J´ai choisi 3 semelles tricotées de ma collection (photographies prises dans les musées d´Islande), transcrit graphiquement les motifs et c´est Sylvía qui m´a aidée à assembler les motifs ensemble. J´ai utilisé la technique du jacquard islandais (jacquard intarsia au point mousse) pour les bords, mais je me suis permise quelques écarts et ai tricoté le corps du pull en rond en jersey jacquard à fils flottants pour le rendre plus léger (et plus facile à réaliser !). Sylvía voulait absolument une fermeture éclair et j´ai ajouté un petit bonnet qu´elle a d´ ailleurs beaucoup porté (puis ses jeunes soeurs à leur tour).
Instructions ici
.