Thank you!
Un grand grand merci à toutes (et tous!) d'être passés sur mon tout petit bout de stand côte à côte avec celui de Gwenola. Un salon fatiguant car j'étais malade et même si ma
poudre bonne mine
et mon
pull turquoise
faisaient illusion, ma voix cassée ne trompait pas! Les fiches imprimées ont été un franc succès et sont parties en juste quelques jours, les kits pareil! Le stand n'a pas désempli au prix de quelques cartons pas très jolis en arrière plan et de petits problèmes d'organisation au milieu de cet océan de pelotes de laine islandaise… Dimanche après-midi, j'ai improvisé une petite démonstration de boucle magique.
Many thanks for the Craft and Needle show in Paris: I had a tiny little stand close to Gwenola who is carrying Icelandic wool, a very convenient collaboration! It was a real success although very tiring because I was sick but I think I made the illusion with my turkish sweater and bronzing powder despite my broken voice! The stand was literally emptied so on Sunday I improvised a Magic loop demonstration.
Du coup du salon, je n'ai pas vu grand-chose… et je n'ai même pas été capable d'acheter l'aiguille circulaire de 10 mm qui me manquait: pourtant il y avait de quoi faire
juste à côté
!
As a result, I haven't seen much from the show… and I didn't even manage to buy a circular needle I needed for a project…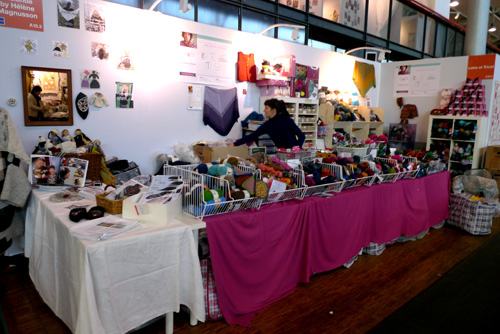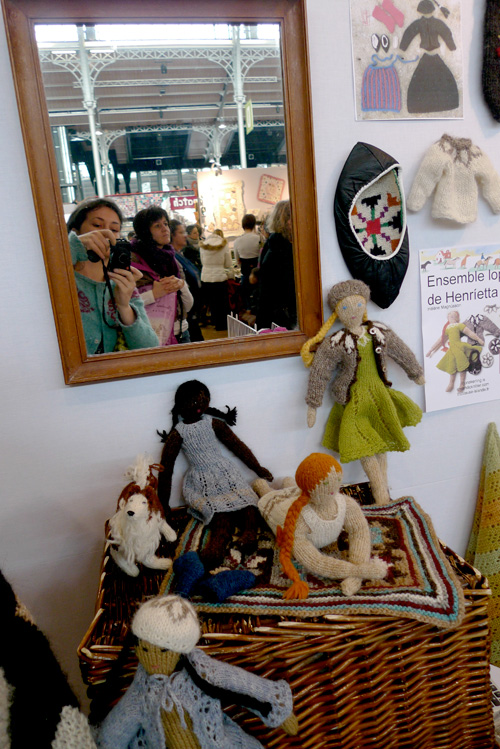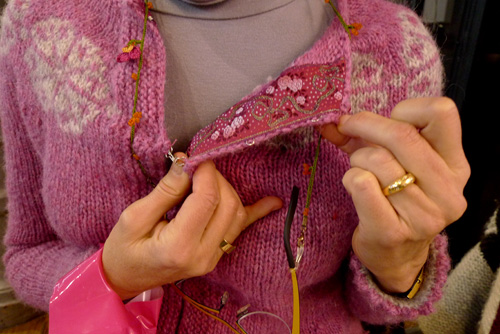 Un joli assortiment de couleurs pour un Brynja (ps: on prononce le j "yeux" et on roule le r)
Nice colors for a Brynja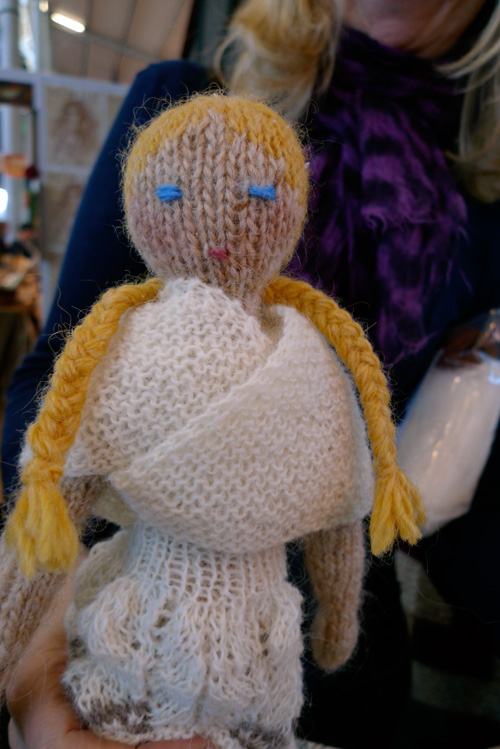 La charmante Theodora de Rose-Marie: on reconnaît la pâte de la maquilleuse de poupées, allez voir son site elle fait des merveilles avec des visages aux expressions poignants – Rose-Marie's version of Theodora: she's a doll maker and makes absolutely stunning handpainted dolls, you should really visit her website and admire the expressive faces
En vrac les quelques photos que j'ai prises…
The few pictures I managed to take...
Toutes les couvertures exposées, plus de 9300 carrés reçus de toutes les généreuses crocheteuses, des heures de travail pour les assembler! Generous crocheters send little grannies. 120 grannies makes 1 blanket … and they became 9300 grannies all assembled and on show at the show!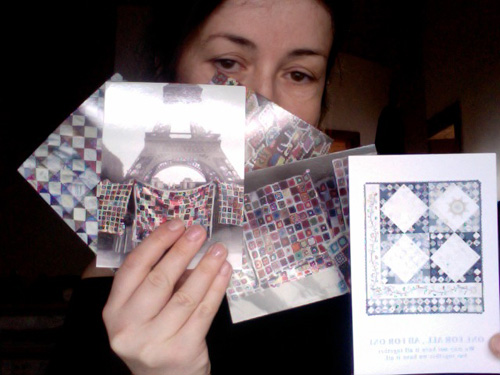 Ces dames on fait de très belles cartes postales pour financer les frais d'envoi des couvertures au Japon: en vente ici, là et là . They were selling postcards to cover the shipping cost to Japan of all the blankets.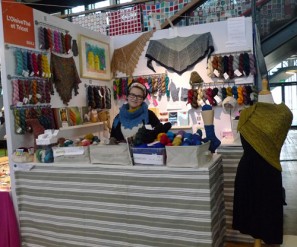 La charmante Aimée de l'Oisivethé: salon de thé, tricot et laine? A ne surtout pas manquer lors d'une prochaine visite à Paris! Wanna a tea, a piece of cake, knit at the same time and buy some awesome wool next time you visit Paris? Don't miss l'Oisivethé: charming Aimée is american so the language will not even be a problem!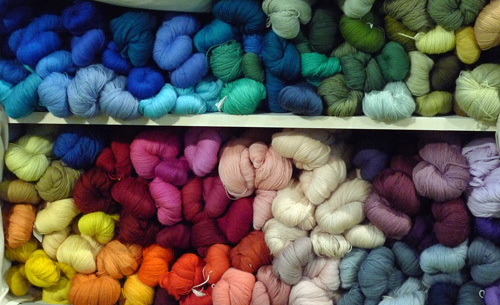 Les belles couleurs de la tapisserie d'Aubusson… Nice colors for the tapestry of Aubusson…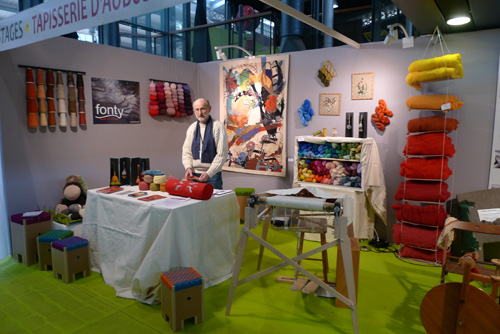 … mais les pelotes ne sont pas à vendre! …not for sale of course (unfortunately)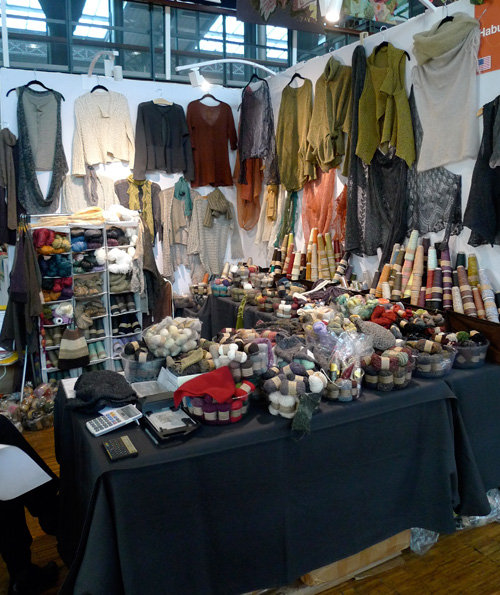 Habu nous fait toujours rêver et voyager… Habu always makes us dream and travel a bit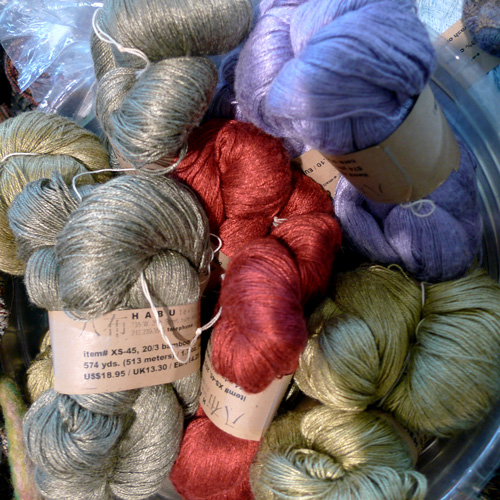 J'essaie de suivre les conseils de mon mari et de ne pas être dogmatique…: il n'y a pas que la laine islandaise dans la vie! – I try to follow my husband's advices and not to be too dogmatic… there is more to life than Icelandic wool!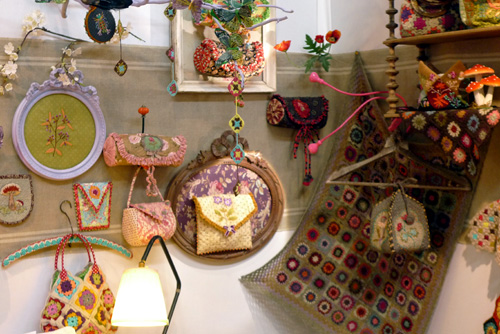 Cécile et son charmant univers bien à elle… merci pour Sylvia!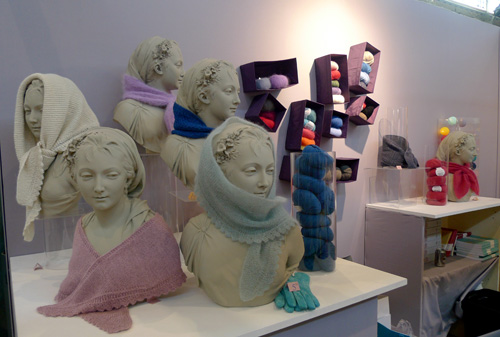 Les plus beaux présentoirs chez Valérie Lejeune – Beautiful heads
J'ai fait quelques emplettes dimanche en courant mais je ne peux pas vous les montrer, c'est pour ma maman qui lit mon blog… I bought a couple of things at the very last minute but I can't show because it's for my mum and she reads my blog…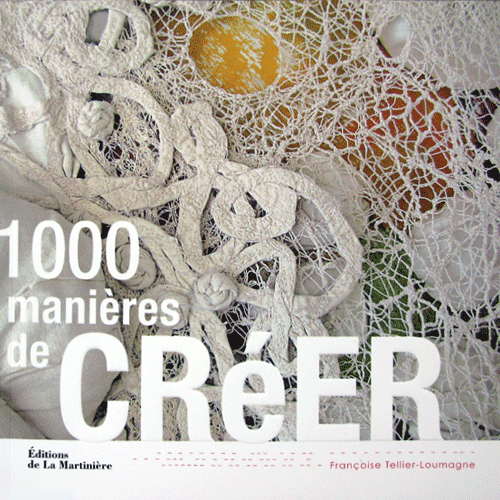 Je n'ai pas acheté le dernier livre de
Françoise Tellier Loumagne
(j'ai tous les autres!) parce qu'ils étaient déjà tous partis mais je lui ai parlé et je l'ai commandé en ligne il y a quelques minutes.
I didn't buy Françoise Tellier Loumagne last book (I have all her books!) because they were sold out but I talked to her and I ordered it online just a couple of minutes ago.