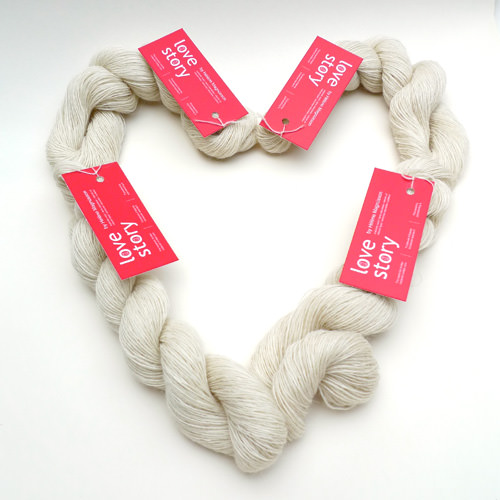 "Love Story
, the soft Icelandic semi-crafted fine lace yarn, is back in stock". This is what I wrote in my last newsletter, but today, two days later, there are only
four skeins left
 !! I spent the past day attaching labels and packaging!! Thank you so much again for all your love, it's very encouraging for the future!
So, what will the future be? Next year I will have more natural sheep colors: brown and black. Those will be unique and limited lots since it's natural colors. I will also have plant dyes colors. Again the lots will be unique even if they look like each other. This is what natural colors and plant dye are all about, being unique, that's why we love them so much… Her is a hint at the color trials I've made this autumn: hope it makes you want to knit with them…lace dresses for example?
"Love Story
, le fil dentelle tout doux en laine islandaise est à nouveau là." Voici ce que je vous disais dans ma dernière newsletter, mais aujourd'hui, deux jours plus tard, il ne reste que 4 écheveaux !! J'e passe mes soirées à attacher des étiquettes et empaqueter!!! Merci à nouveau pour votre accueil on ne peut plus chaleureux, c'est très encourageant pour la suite!
La suite c'est l'année prochaine avec plus de couleurs naturelles: des bruns et des noirs en lots uniques puisque ce sont les couleurs naturelles des moutons, non teintes et pas traitées du tout. C'est aussi des teintures naturelles aux plantes, en lots uniques également. Même si les différents lots se ressembleront, ils ne seront jamais complètement identiques: c'est le propre des couleurs et des teintures naturelles mais aussi ce qui fait leur richesse.
Voici quelques essais de couleurs auxquelles je me suis livrée cet automne: pour vous faire un peu envie…des robes en dentelle peut-être?