Wools of Europe, rotten shark and Black Death.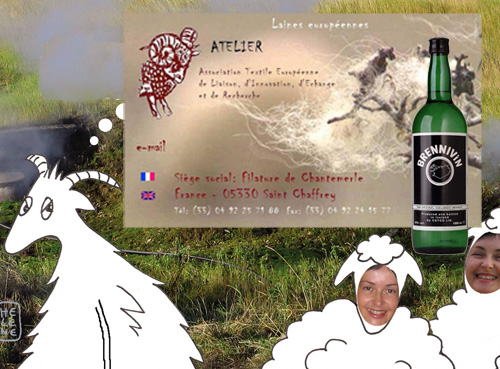 Photo montage: rien à voir avec l'AG! – Photoshop picture, nothing to do with the meeting!
Bonnes nouvelles pour les amoureux de la laine: toutes les personnes intéressées par les activités de
l'association
ATELIER – Laines d'Europe
sont les bienvenues à assister
à l'Assemblée générale
qui aura lieu
le
dimanche 11 mars à 9h30, près de Namur,
dans le gîte « La Ferme d'en Haut » à Lavoir-Héron. L'AG est suivie d'une repas commun à 13h avec des spécialités régionales apportées apr les participants et à 15h par la visite de la Filature du Hibou à Bonnine.
Moi je me dis que je vais apporter des spécialités islandaises comme du requin pourri et de la Mort Noire (brennivin)? Ou alors juste du poisson séché?
Good news for wool lovers: anyone interested by the activities of
ATELIER – Wools of Europe
are welcome to participate in the annual meeting that will take place on Sunday, 11th, March at
9h30 AM, closed to Namur, at the farm
« La Ferme d'en Haut » in Lavoir-Héron. It will be followed by a convivial lunch at 13:00 PM with regional specialities at and at 15:00 PM by teh visit of the mini-mill Filature du Hibou in Bonnine
I thought I would bring Icelandic specialties like rotten shark and Black death (brennivin)? Or just dried fish?
Pour tout renseignement et pour s'inscrire, contactez:
For more information and registration, please conctact:
Marie-Thérèse Chaupin
ATELIER
– Laines d'Europe
c/o Filature de Chantemerle
F-05330 Saint Chaffrey
email:
atelier5 (at) orange.fr