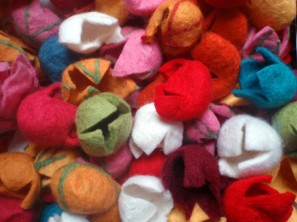 —- The festival
Les Boréales
in
Caen
, Normandy, is all about
Iceland
this year from 17th til 30 th november. Ásdis Ólafsdóttir will give a lecture on Icelandic design tomorrow, nov. 20th , at 19:00 à the Artothèque, place Saint-Pierre, Caen (free entrance). She will talk about me !
—- On Sunday, nov. 22nd in
Reykjavík
, the Women Litterary Festival of Iceland will reward books published by women in 2008 at
Gerðuberg Cultural Center
, between 13:00 and 16:00. There will also be a presentation of all the books that were rewarded in the past, and my knitting book will be there as well because it got the Award in 2006.
—- Finally, in the meanwhile, I´m making felted lights for the
International Bazaar
of
Luxembourg
, nov. 29th and 30th, from 12:30 til 19:00 on Saturday and from 10:00 til 18:00 on Sunday !
—- Cette année le festival Les Boréales à Caen, en Normandie, met à l'honneur l'Islande, du 17 au 30 novembre. Ásdis Ólafsdóttir donnera une conférence sur le design islandais demain, 20 novembre à 19h à l'Artothèque, place Saint-Pierre, Caen (entrée libre). Elle va parler de moi, alors avis à la famille normande !
—- J´expose au Festival d´Art Nordique NICE08 – Nordic art festival à Liverpool du 21 au 30 novembre. Souvenez-vous, je vous en ai parlé ici.
—- Dimanche, 22 novembre, le Festival de littérature fémimine en Islande sera tenu au Centre Culturel Gerðuberg, Reykjavík, entre 13:00 et 16:00 et récompensera les livres publiés par des femmes en 2008. Il y aura aussi une présentation des livres ayant été récompensés dans le passé, et parmi eux, mon livre de tricot, qui a reçu le Prix en 2006.
—- Et finalement, pendant ce temps, je fais des séries lumineuses pour le Bazar international de Kirchberg, Luxembourg, les 29 et 30 novembre de 12:30 à 19:00 le samedi et de 10:00 à 18:00 le dimanche !