Le drapeau britannique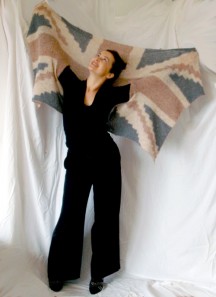 Last issue of
Knitonthenet
is on and I have a pattern in it. It even made it to the front page! Here are the pictures I took, in poor conditions, sick and whithout much light, before the flag was send out. How appropriate is the tutorial I posted just before, don´t you think ?
Le dernier numéro de Knitonthenet, le magasine de tricot britannique sur internet, est sorti et j´ai un modèle dedans. Il est même en couverture ! Voici les photos prises, par un jour gris sans lumière et malade, avant que je n´envoie le drapeau à la rédaction. La petite lecon de tricot du poste précédent tombe bien, non ? Une traduction du modèle est à venir pour celles que ça intéresse.
Knitting this cardigan didn´t go very smooth: remember the moth ? The
giant
one not the
real one
in my stash. About half the sweater, coming home, I found a pair of scissors lying on the floor, my needles with it, my knitting box (3 cereals boxes) with 13 skeins that had been cut off the cardi and…no cardi ! I must say I got a bit hysterical.
Tricoter ce cardigan n´est pas allé sans mal: vous vous souvenez de la mite? La
géante
, pas
celle
dans mes pelotes de laine. J´avais déjà tricoté un bonne moitié quand, un jour en rentrant à la maison, j´ai trouvé par terre une paire de ciseaux, mes aiguilles gisant à côté, ma boite à tricoter (3 boites de céréales) avec ses 13 pelotes de laine, coupées, et … plus de cardigan ! Petite crise d´hystérie.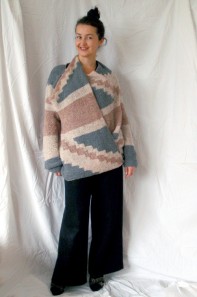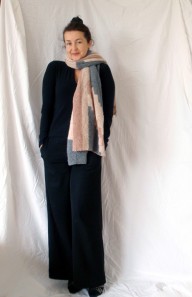 After a lot of screaming and 16 long minutes searching, I finally found the cardi in the toy chest. The moth was granted as it took me more than half an hour to put the stitches back on needles. Them I was so upset, I made a mistake in the pattern, and I had to frog 15 cm (thus being able to show you frogging pictures in the tutorial: that I would not have done on purpose !).
Après 16 mn de hurlements et d´intenses recherches, le cardigan a été retrouvé encore intact au fin fond du coffre à jouets (le repère de la mite). Il y a eu des répercussions pour la mite car il m´a fallu une bonne demi-heure pour remettre les mailles sur les aiguilles. Ensuite j´étais tellement énervée que j´ai fait une erreur dans le motif et j´ai dû détricoter 15 bons cm. De fait, j´ai pu inclure les photos dans ma petite leçon: rien que je n´aurais fait exprès!