Un week-end en Islande: tri des moutons (1) soupe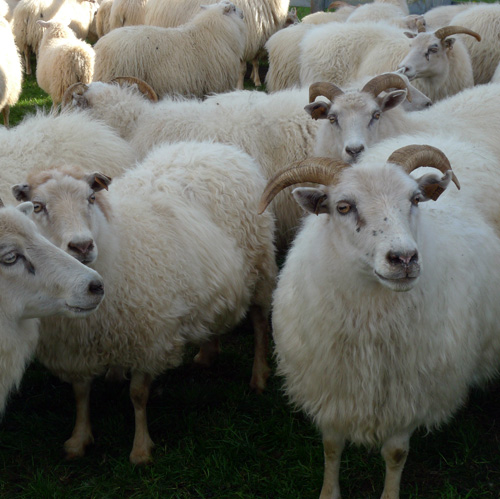 Now that I have moved back to Iceland, I was really looking forward to going to the sheep round-up at Hraun, the farm North Iceland where I worked and learned Icelandic, many years ago (16!). The sheep réttir or round-up is the funniest event where all the friends and family meet. Sheep are herded from the mountains where they graze freely all summer then gathered in réttir, round-up, where they are sorted out between farmers.
Unfortunately, the unexpected winter that came in the area changed the plans… You may have seen some pictures and videos on my
Facebook page or on my
Pinterest board but is has been heavily snowing especially in North Iceland. This happened before the sheep were herded from the mountains. They took refuge from the blizzard in rocks formation and got buried in the snow… Icelandic sheep are quite harsh and can actually survive without food for many days or even a week buried like that, but when the snow is wet, it gets so heavy, and they have a hard time to breeze. They were many losses. Rescuers spent days and days looking for sheep and digging them up from the snow. Still today…
The sheep round-up at Hraun was yesterday an my people were lucky only a small part of their sheep is missing but because of the bad weather, I didn't go… It was a sad round-up…
Maintenant que je suis retounée en Islande, je me faisais une joie d'aller au réttir – triage des moutons – à Hraun, la ferme où j'ai appris l'islandais, il y a très lontemps (16 ans!). Le triage est l'un des plus amusants événements en Islande où famille et amis se retrouvent pour trier les moutons entre les différentes fermes après qu'ils ont été ramenés des montagnes où il pâturent en liberté tout l'été
Malheureusement, l'hiver imprévu qui s'est abattu sur la région a changé mes plans… Vous avez peut-être vu les images et vidéos sur ma
page Facebook ou sur mon
Pinterest
(sur le tableau Icelandic sheep)
mais il a énormément neigé en particulier au nord de l'Islande. Ce avant que les moutons soient ramenés des montagnes. Pendant le blizzard, les moutons se sont abrités dans les creux des rochers et formations de laves et se sont retrouvés enfouis sous la neige… Les moutons islandais sont très résistants et peuvent rester enterrés ainsi sans manger pendant plusieurs jours voire une semaine, mais lorsque la neige est mouillée, elle est très lourde et le risque d'étouffement grand… Il y eu beaucoup de pertes. Les sauveteurs ont passé des jours et des jours à chercher les moutons et les déterrer… Encore maintenant…
Le triage des moutons à Hraun était hier et ma famille ont eu de la chance : seule une petite part de leurs moutons manquent à l'appel, mais à cause du mauvais temps, je n'y suis pas allée… C'était triste cette année…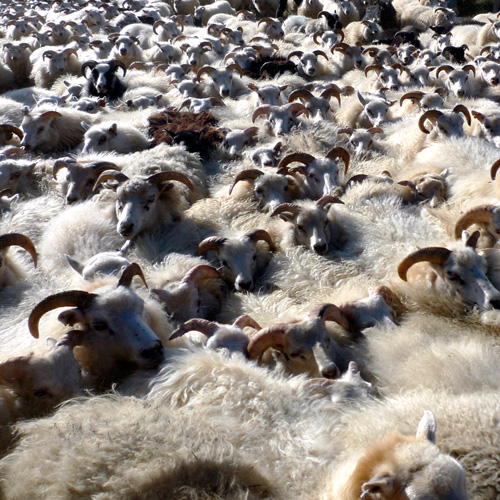 So instead, I made a round-up soup, which is meet soup with lamb traditionally served during the sheep round-up. It's called kjötsúpa in Icelandic and is popular all year round. Every home has its own recipe and this is mine
A la place j'ai fait la soupe traditionnellement servie lors du tri, une sorte d epot au feu de mouton appelé kjötsúpa en islandais et populaire toute l'année. Chaque famille a sa recette, voici la mienne.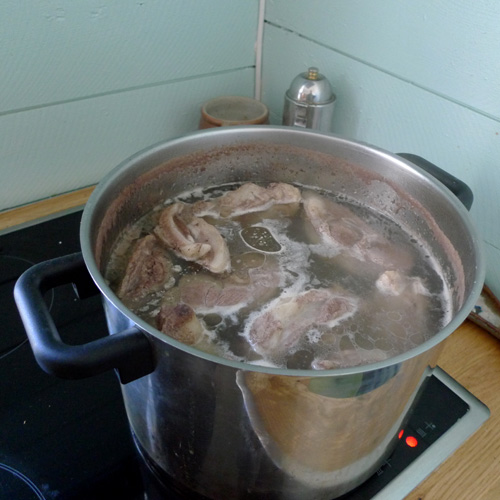 Cover with water 1 kg lamb or mutton peaces on the bone suitable for stew (rather fat and not too refine pieces), bring to the boil.
Recouvrez d'eau 1 kg de morceaux de moutons sur l'os (des morceaux un peu gras et grossiers, pas les bonnes pièces) et amenez au premier bouillon.
Add salt, pepper corn. I often have bouquet garni (bay leaves, dry thyme branch) but I didn't have any, blame the moving, so I used birch leaves from the garden instead, very tasty!
Ajoutez du sel, des graiins de poivre. Souvent je mets un bouquet garni (laurier et thym) mais je n'en avais pas sous la main (le déménagement!), alors à la place j'ai mis des feuilles de bouleau du jardin.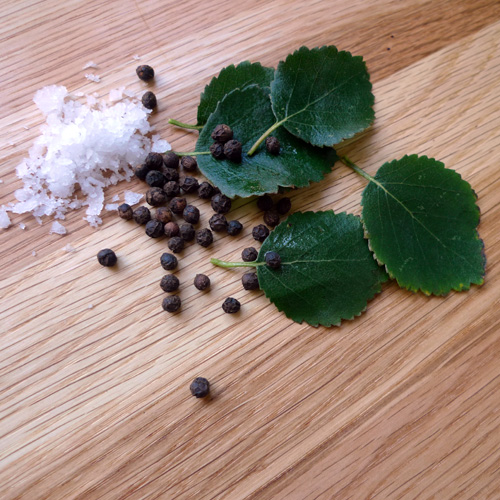 Allow to cook for about 45 mn. Skim. Add vegetables roughly cut in big cubes or slices: leeks, carrots, rutabaga (you can use turnip instead), potatoes, leaks and leave to cook for 30 more mn or until vegetables are well cooked.
Laissez frémir environ 45 mn. Enlevez l'écume. Ajoutez les légumes coupés en gros dés : poireaux, carottes, rutabaga (ou navets si vous n'en trouvez pas mais ce n'ets pas aussi bon), pommes de terre et laissez frémir encore 30 mn ou plus jsuqu'à ce que les légumes soient bien cuits.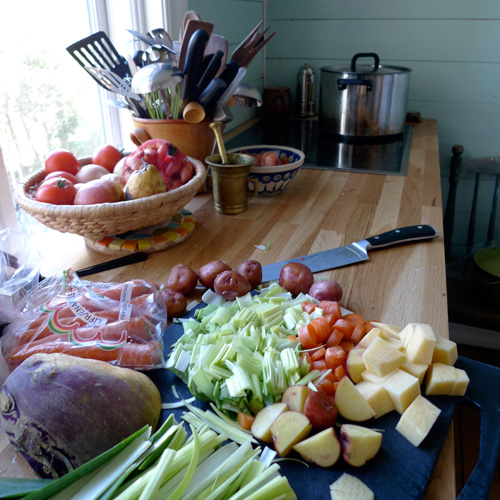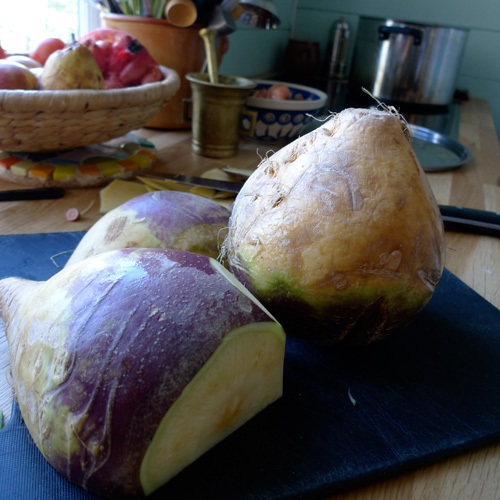 rutabaga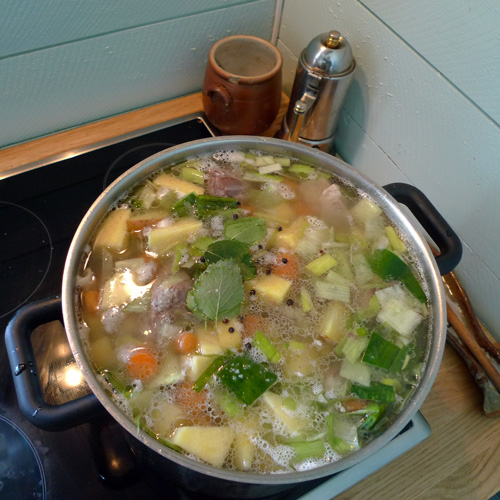 Perfect in cold weather or after a long hike! It can be reheated and tastes even better the next day so we always make a big pot of it and eat through the week!
Parfait quand il fait froid ou après une longue randonnée ! On peut la réchauffer et elle est encoe meilleure le lendemain. Je fais toujours des grandes quantités qu'on mange tout le long de la semaine.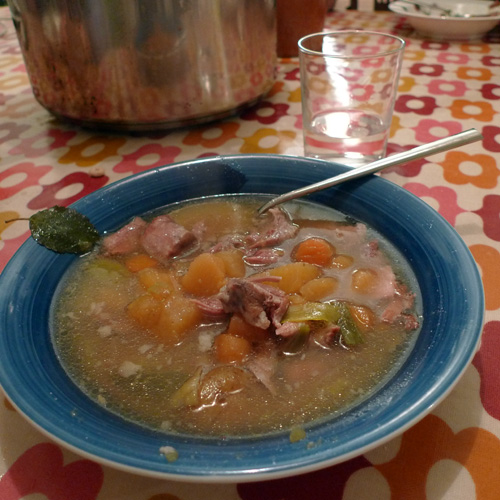 Bon appétit!