03 – Spring
The Icelandic Knitter, the first Icelandic knitting webzine!
There are six inches (16 cm) of snow in Reykjavík but still, it is spring! As a matter of fact, it is officially summer in Iceland ever since April 21st and it is customary to wish a happy summer and give children presents. You got it: a little woolen knit is always welcome up there…
In our Spring Issue, you will find lovely patterns all in wool of course, but they will knit just as beautifully in other fabrics, such as cotton, linen or silk. Meet with the charming Henrietta in "Out of the pen", the first episode of Theodora doll's adventures, written by Harpa Jónsdóttir.
It was last spring already, the Eyjafjallajökull erupted and inspired Anna Dalvi a shawl. Today another volcanic island is disrupting the world and Nanako, the little knitted doll, hopes to be able to play with a little Japanese girl.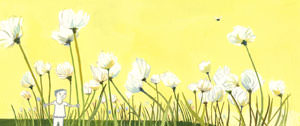 Illustrations: Charline Picard, from the book "Retour d'Islande" (Return from Iceland)
Photography and layout: Hélène Magnússon
The Icelandic Knitter wishes you a happy and merry summer! Gleðileg sumar!
A thought for Japan with Nanako