Back with The Icelandic Knitter is Icelandic designer Hélène Magnússon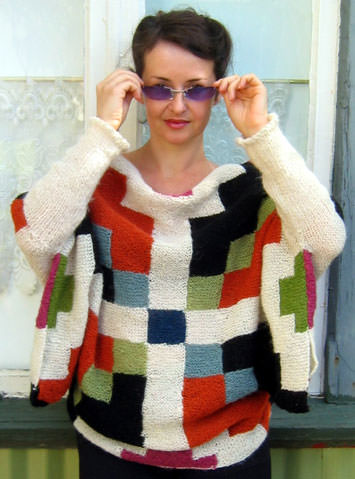 Hélène is a leading knit designer with a degree in textile and fashion. Her research into, and many publications about, Icelandic knitting traditions have earned her the respect of textile historians and museum curators throughout Iceland and around the world. Hélène believes that the best way to preserve traditions is to continue using them, giving them new life.
This is what lead her to found icelandicknitter.com, the first Icelandic online knitting magazine, inspired by tradition but with a modern twist. In the same spirit, she produces Love Story yarns, a range of artisanal yarns that make the best out of the Icelandic wool. She shares her extensive and deep knowledge in the knitting tours she organises in collaboration with Icelandic Mountain Guides where Icelandic traditions and culture, breathtaking nature and master knitting workshops, perfectly balance one another.
Hélène began her professional life as a lawyer in Paris before she made a complete life change and moved to Iceland, where she studied textile and fashion at Iceland Academy of the Arts and worked as a hired girl in a sheep farm and a mountain guide. The varied skills she learned in those early years richly inform the amazing hiking and knitting tours she now passionately guides. Her exclusive designs have been exhibited widely both in Iceland and elsewhere. She was featured as a significant contemporary knitwear designer in Iceland in Knitting around the world by Lela Nargi. She is the author of Icelandic Color Knitting: using Rose Patterns, a colorful book about traditional Icelandic intarsia and translated into many languages. Her two upcoming books, Icelandic Handknits, a collection of heirloom designs from the Textile Museum in Blönduós and The Icelandic lace dresses of Adalbjörg Jónsdóttir are eagerly anticipated by knitting experts and crafters all over the world, who adore Hélène's unique style.
Our partners
All the knitting tours are organized in close parnership with Icelandic Mountain Guides, a leading tour operator in Iceland with over fifteen years of experience serving customers from all over the world. They offer a great selection of guided adventure tours in Iceland and Greenland, including hiking, glacier tours, backpacking, trekking, mountain climbing, ice climbing, cross country skiing and more.
Ístex wool producer kindly provides yarn support for all our projects using their yarns.  Wool processing has been a trade in Mosfellsbaer since 1896, previously with the the company Álafoss of Iceland until the company Ístex was formed and took over the wool processing in 1991. Istex is buying the wool directly from the farmers in Iceland and then process it to yarns. It is Iceland main wool producer.
The Handknitting Association of Iceland sends all the wool and the kits for us at the four corners of the world and kindly provides for the wool used during our workshops and knitting tours. The Association was founded in November 1977 when a few women decided to associate and sell more efficiently their handknitted woolen goods and thus better supplement their families´ income. The first meeting held in Reykjavík was attended by close to 1000 knitters. Soon after, a store was opened. It offers today the largest selection of Icelandic yarns from Ístex.